Free Price Wednesday: Shane Vereen Rookie Cards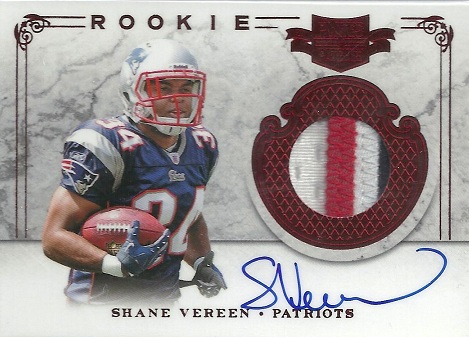 By Susan Lulgjuraj | Beckett Football Editor
A number of football players shined this weekend. Plenty of guys received attention for making plays or remembered for their legacy.
One of the best performances came from New England's Shane Vereen. The second-year wide receiver caught five passes for 83 yards and two touchdowns. He also added 41 rushing yards and another touchdown.
Vereen's game was the epitome of breakout performance.
He barely played last season, and this year didn't see significant playing time until Week 7, and only played in eight regular season games. Despite his lack of time on the field, Vereen has a hefty assortment of cards.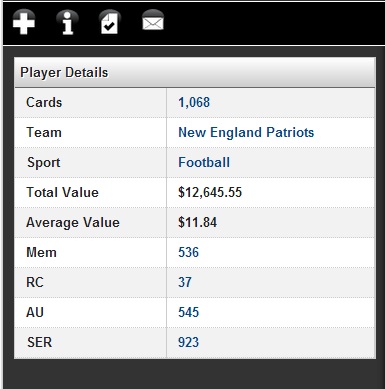 Already, he has 1,068 cards on the market, according to the Beckett Online Price Guide. He also has nearly 550 autographs.
That many autograph cards should make obtaining one easy for Patriot collectors.
For collectors who want to supercollect Vereen, the OPG offers a printable checklist of every card for your player. It even includes a little box for a check mark when you picked up that card.
The checklist is handy because it offers low and high book value, so searching card show for the cards you need become easier if you want to know the range at which a particular cards normally sells.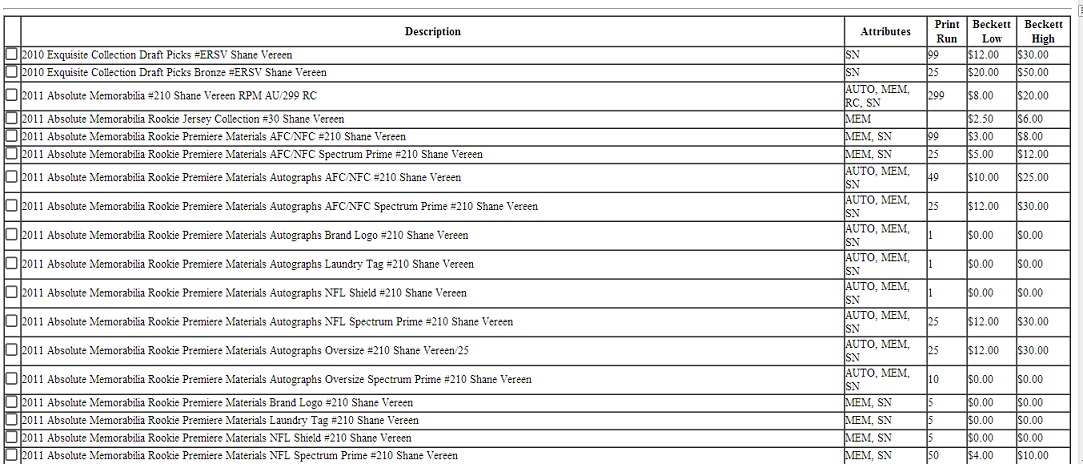 Top Shane Vereen Rookie Cards
– 2011 Playoff National Treasures #336 JSY AU /99

– 2011 Panini Playbook #130 JSY AU /399

– 2011 Crown Royale #215 JSY AU /299

– 2011 Topps Five Star #183

– 2011 Limited #216 JSY AU /299

– 2011 Rookies and Stars #257 AU RC

– 2011 Panini Threads #270 AU /300

– 2011 Topps Platinum Red #14 /25

– 2011 Absolute Memorabilia #210 AU /299

– 2011 Topps Triple Threads #109A JSY AU /99

– 2011 Panini Gridiron Gear #R7 JSY AU/317

– 2011 Panini Gold Standard #266 JSY AU /525

– 2011 Panini Plates and Patches #216 Shane Vereen JSY AU /499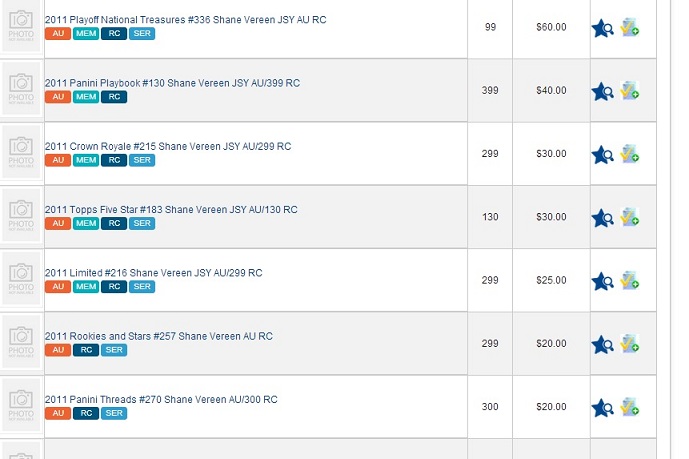 Susan Lulgjuraj is an editor of Beckett Football. You can email her here with questions, comments or ideas. Follow her on Twitter here. Follow Beckett Media on Facebook.