Frank Thomas Rookie Card Guide and Other Top Early Cards
Frank Thomas was one not only one of the most dangerous hitters of the 1990s, he's also one of the most iconic players from the decade in the baseball card collecting world as well. Whether you were a fan of the White Sox or not, just about everyone stopped for a second look when they came across a card of the Big Hurt in a pack. Today, in most instances a Frank Thomas Rookie Card isn't going to cost much. But there are some RC extensions that can be both a challenge to find and cost a good chunk. And if you come across that card without his name on the front, you can go for the nice cut of steak.
1987 Pan Am Team USA Blue BDK has the very first Frank Thomas card. After a couple of Cape Cod Baseball League cards in 1988, things would really open up card-wise in 1990. Taken in the first round of the 1989 draft (seventh overall) by the White Sox, Thomas would make his MLB debut a little more than a year later. At the same time, the hobby was still expanding. As his batting dominance took shape, cards were evolving as well, adding more sets and increasingly large checklists thanks to the mass introduction of inserts and parallels. After 2,468 hits, 521 home runs and over 15,000 different cards, Frank Thomas cards continue to draw attention.
The First Frank Thomas Cards
1987 Pan Am Team USA Blue BDK Frank Thomas #26
It's not just a lot of current prospects that make their baseball card debuts wearing the red, white and blue (even if it's with a black and white photo). The first Frank Thomas card shows him as a member of the USA Baseball team from the 1987 Pan Am Games. It's part of a small team set that also includes Tino Martinez and Jim Abbott. If you're going for Thomas' cardboard debut, make sure you go for the blue border version. There's a similar card with a red border that is actually from 1990.
Buy on: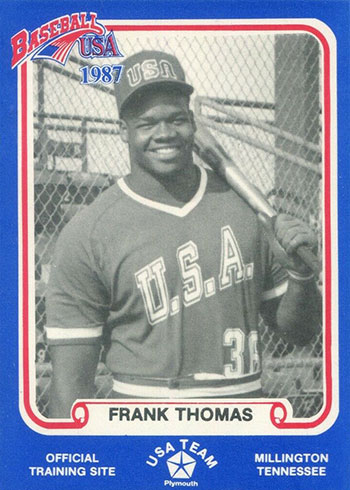 ---
1988 Cape Cod Prospects Ballpark Frank Thomas #14
Ballpark's 1988 Cape Cod Prospects set highlights some of the best prospects from around the league that year. Besides Thomas, there's one of the first cards of another Hall of Famer, Jeff Bagwell. Mo Vaughn is another notable inclusion on the 30-card checklist. Although not an all-time classic in the design department, the large color photo makes this the most attractive of the three Frank Thomas cards to come out before he turned pro.
Buy on: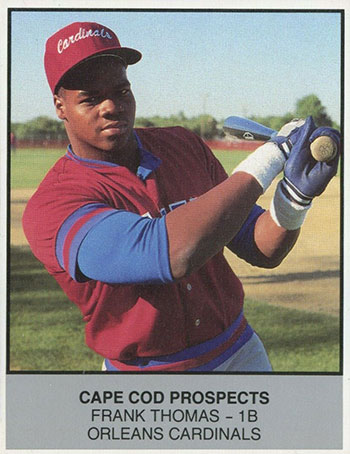 ---
1988 Cape Cod Prospects P & L Productions Frank Thomas #126
The summer of 1988 featured another Cape Cod League set, this one much larger than the Ballpark release with a 186-card checklist. Like the 1987 Pan Am and 1988 Cape Cod Ballpark Frank Thomas cards, this one's certainly tougher to find than mainstream cards from the era. That's to be expected. But to say that they're scarce wouldn't exactly be true either.
Buy on: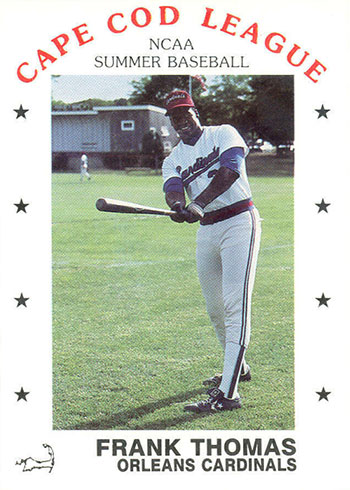 ---
Frank Thomas Rookie Card Guide
The following list highlights every Frank Thomas Rookie Card (cards with the RC tag in the Beckett database) as well as highlights of other key 1990 cards.
1990 Bowman Frank Thomas Rookie Card #320
Although Bowman made its comeback in 1989, it wasn't until 1992 that the product really found its identity with a combination of rookies and premium designs. While 1990 Bowman is an improvement over the previous season simply by going with traditional dimensions over 1989's slightly oversized format, it's still somewhat lost in a growing field of releases. Even Thomas' pleasant smile can't do much to elevate the otherwise plain design outside of the green-yellow-red border that was out of style before the first packs even hit shelves.
Buy on: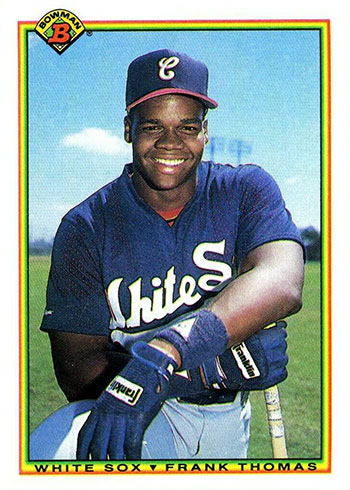 ---
1990 Bowman Tiffany Frank Thomas #320
The 1990 Bowman Tiffany Frank Thomas is for those looking for something on the rare side from early in his cardboard career. With a reported 3,000 copies, that's not massive even by today's standards. But in 1990 when things could be measured by millions, this card is legitimately scarce in comparison.
1990 Bowman Tiffany cards came only in a special collector's edition factory set. There are a couple of ways to tell a 1990 Bowman Tiffany Frank Thomas from a regular Bowman. The first is by touch. Tiffany cards have a glossy front. It's noticeable by touch more than sight, though. Perhaps more definitive is on the back.
Regular Bowman cards have dark stock that's almost grey in the non-blue areas. Tiffany cards are on bright white stock.
Buy on: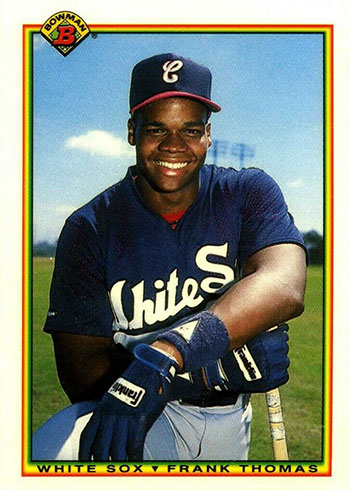 ---
1990 Classic Yellow Frank Thomas #T93
Classic had the jump on Fleer for the bright yellow borders by a year. Thomas' card comes from the company's third set — technically a game — of the year. If there were such a thing as a mainstream oddball card, this would be it.
Buy on: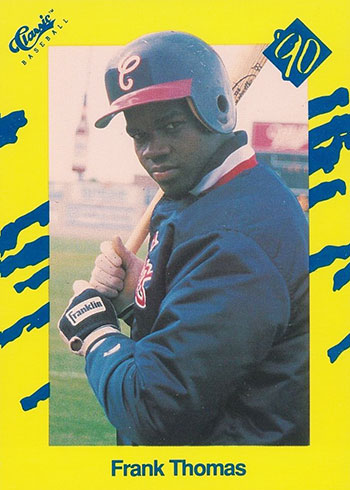 ---
1990 Fleer Update Frank Thomas Rookie Card #87
After missing the boat for the main set, Fleer was sure to include Frank Thomas in their Update box set. Visually, there's a lot of balance in the colors of the card. The portrait photo isn't spectacular but it does the job. Rarity isn't an issue with complete 1990 Fleer Update sets readily available for under $10.
Buy on: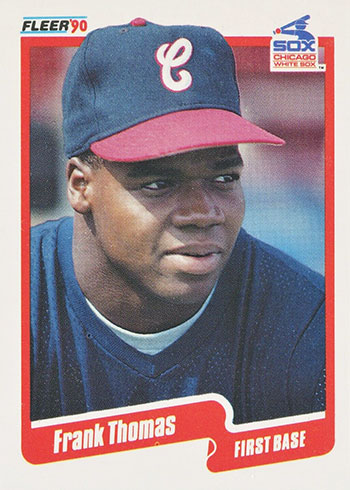 ---
1990 Leaf Frank Thomas Rookie Card #300
The 1990 Leaf Frank Thomas is more than his top Rookie Card. It's one of the most iconic cards of a generation when baseball cards were peaking. It might not be on the same level as the 1989 Upper Deck Ken Griffey Jr. as far as household recognition, but it was consistently one of the hottest cards in the hobby for much of the Big Hurt's career. The kids who dreamed of having one back in the day are revisiting it, often times chasing high-grade copies.
Buy on: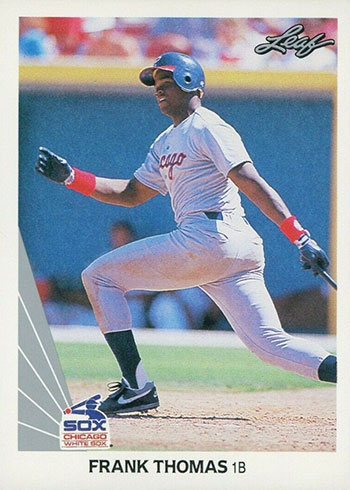 ---
1990 O-Pee-Chee Frank Thomas Rookie Card #414
Here's a stealth Frank Thomas Rookie Card that might be one of his most overlooked. For their 1990 and 1991 baseball sets, O-Pee-Chee went with the Topps name on the cards instead of their own. The Canadian card does have some differences, though, on the back. The most obvious is the bilingual text on the back that's in both English and French. The copyright line at the bottom is the lone mention of O-Pee-Chee on the card.
Given its distribution, the 1990 O-Pee-Chee Frank Thomas is still considered a Rookie Card. However, with distribution focused primarily on the Canadian market, production numbers are much smaller than its Topps counterpart. Prices reflect that to a certain extent now as well.
Buy on: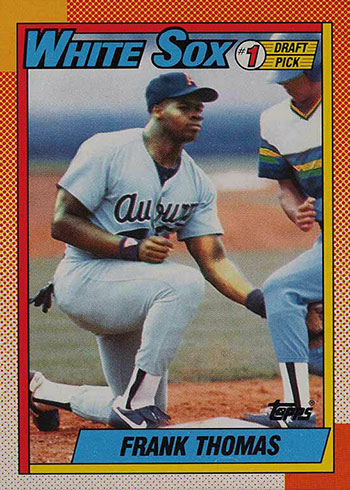 ---
1990 Score Frank Thomas Rookie Card #663
It might not be the most valuable Frank Thomas Rookie Cards, but the 1990 Score might be the most aesthetically pleasing. It's not fancy but everything works. There's the White Sox uniform. There's no awkward pose. Thomas is smiling. Again, basic expectations for a baseball card, but if you go through The Big Hurt's earliest cards, their appeal to the eye is debatable and the lasting appeal is just as much as our personal memories.
Buy on: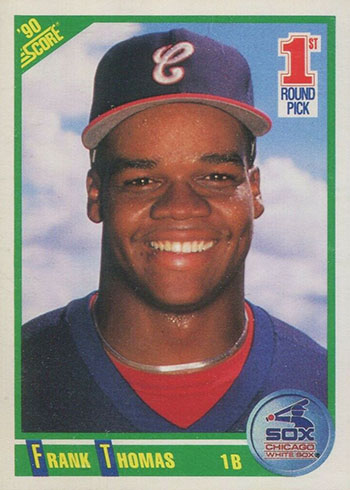 ---
1990 Score Rookie/Traded Frank Thomas #86T
Not only did Thomas land in Score's main 1990 release, but he made the cut in their annual update box set. With the earlier card getting the RC tag, this one doesn't have quite the same prestige or appeal. And even though it only came as part of a factory set and not in packs, rarity is far from an issue. There are plenty out there to go around.
Buy on: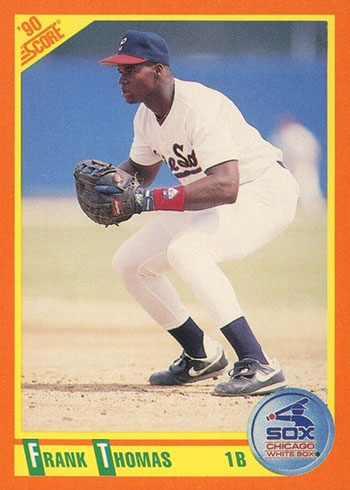 ---
1990 Topps Frank Thomas Rookie Card #414
Thanks to Topps' lasting legacy in baseball cards, this is probably the Frank Thomas Rookie Card that's most engrained on the collective collectors' consciousness. Pictured in his Auburn uniform, it doesn't exactly capture the dangerous bat he would become. But what it lacks in excitement it makes up for in tradition.
Buy on: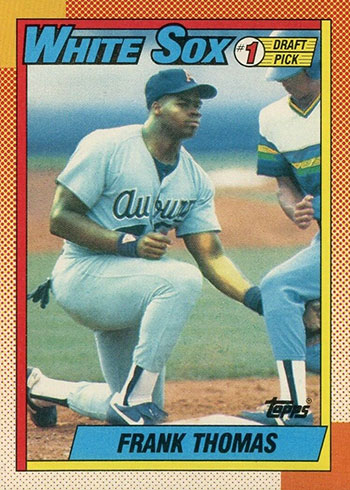 ---
1990 Topps Frank Thomas No Name on Front #414
Mistakes happen in the printing process — even when it's baseball cards. Usually printing errors are more of a novelty, something interesting but, ultimately, limited appeal. But there are exceptions and the 1990 Topps Frank Thomas No Name on Front is a big one.
An exceptionally rare card, it's one that captured the hobby's attention as soon as it was discovered. Today, it's like a unicorn and Bigfoot wrapped into one as far as intrigue and mystique go.
If money is no object — this card goes for thousands today even in fairly rough condition — this is the ultimate Frank Thomas card, rookie-related or otherwise.
Buy on: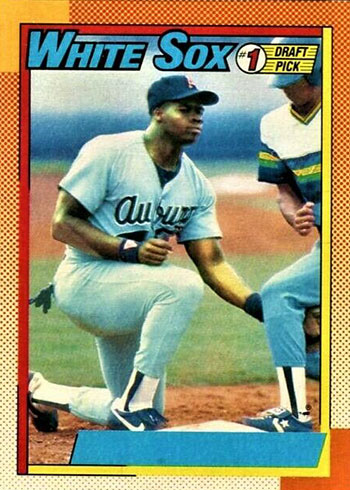 ---
1990 Topps Tiffany Frank Thomas #414
The 1990 Topps Tiffany Frank Thomas is one that never came in packs. It's exclusive to a limited edition box set that's considered the premium version of the regular Topps version. On the front, it's glossy. Pictures don't show this well but it's something you can feel. The telltale signs are on the back. The Tiffany version has bright stock that's close to white. The much more common regular versions look gray inside the lettering.
You can also use the asterisk (*) on the bottom of the card. If there is one, it's the regular Topps RC. If there isn't one, it's a way of confirming that it's a Tiffany.
It is believed that the 1990 Topps Tiffany Frank Thomas has a print run of 15,000 copies. That may sound like a lot now, but it's much less than the Topps card.
Buy on: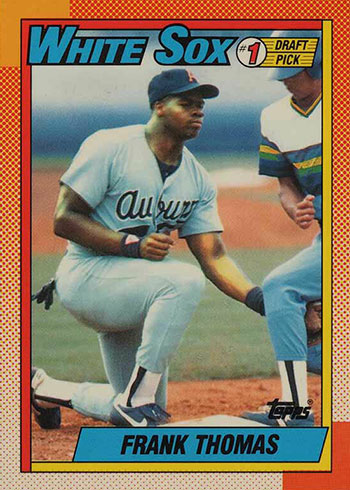 ---
1990 White Sox Coke Frank Thomas
If you have every mainstream Frank Thomas Rookie Card, you can go with something on the oddball side that's much tougher to find. The 1990 White Sox Coke Frank Thomas originally released as part of a team set handed out as a stadium giveaway. Sammy Sosa is also part of the 30-card set.
Buy on: