Fourth series of Legends of Marvel arrives in summer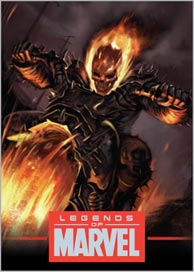 By Susan Lulgjuraj | Contributing Editor
Super heroes are on most people's minds right now. With The Avengers coming out and Free Comic Book Day, the hype around the mystical characters is pretty high.
Hoping to capture some of that magic is Rittenhouse Archives as the non-sport trading card company recently released news on its fourth series of Legends of Marvel.
Each set contains three characters and nine total cards.
Series 4 features Thing, Ms. Marvel and Ghost Rider. It will come out July 11.
Every card is numbered to 1,939 – the year Marvel Comics originated.
Fans who like continuity will also like Rittenhouse's approach to the sets. For those who have purchased Series 1, Series 2 and Series 3 before can retain the same numbering throughout the series.
There are still sets available from the previous series.
Susan Lulgjuraj is a contributing editor for Beckett Media. You can email Susan here. Follow her on Twitter here.