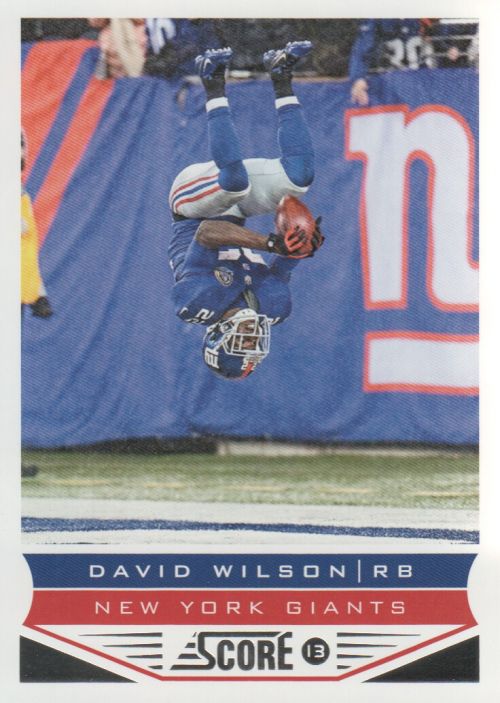 By Susan Lulgjuraj | Beckett Football Editor
When thinking about last year's rookies, Andrew Luck, Robert Griffin III, Russell Wilson, Alfred Morris and Doug Martin have become the players to watch.
But it seems as though the 2012 NFL rookie class may have more to offer than that.
Here are four players on the offensive side of the ball that collectors should watch this season.
David Wilson, RB, New York Giants
Wilson is the feature back this season with the Giants getting rid of Ahmad Bradshaw and Andre Brown breaking his leg. The 2012 draft pick had a rough start last year when he fumbled early in the first game and did not see another touch. However, Wilson set New York's team record for all-purpose yards in a single game on Dec. 9. He had 327 all-purpose yards – 227 kickoff returns with a touchdown and 100 rushing yards with two touchdowns.

Key cards
2012 Panini National Treasures #314 David Wilson JSY AU RC

2012 Topps Chrome Rookie Autographs Refractors #189 David Wilson

2012 Topps 1965 Mini Autographs #148 David Wilson
"My goal is 1,500 (yards)," Miller told NFL.com. Miller might be able to accomplish it now that he is presumed starting back for the Dolphins with Reggie Bush gone. The 2012 draft pick had 250 yards and one touchdown in 13 games last season. He's going to have to step up with production, but it seems as though Miller is ready based on his own goals.
Key cards
2012 Panini National Treasures #312 Lamar Miller JSY AU RC

2012 Topps 1984 Autographs #6 Lamar Miller

2012 Panini Playbook #194 Lamar Miller JSY AU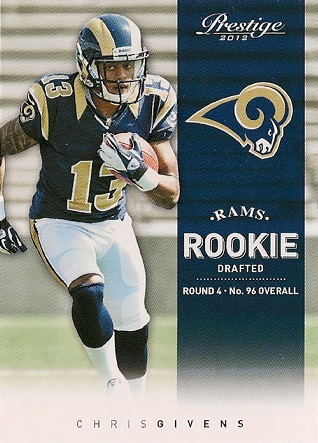 Chris Givens, WR, St. Louis Rams
Givens had a solid rookie season with the Rams. He had 698 receiving yard and three touchdowns on 42 receptions last season – tops on the team. Many believe Sam Bradford is finally poised to have a big year in the NFL, Givens will be on the positive end of that.
Key cards
2012 Panini Playbook #183 Chris Givens JSY AU RC

2012 Crown Royale #258 Chris Givens JSY AU/349 RC

2012 Topps Inception #141 Chris Givens AU RC EXCH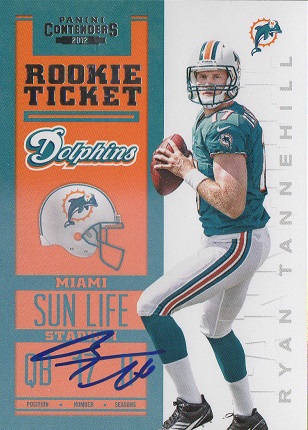 Ryan Tannehill, QB, Miami Dolphins
Tannehill was the rookie quarterback that many forgot about as the 2012 season. But Tannehill had a good first year in the league. He completed 282-of-484 passes (58.3 percent) for 3,294 passes and 12 touchdowns. Tannehill did get picked off 13 times and had nine fumbles. The second-year player has to protect the ball better.
Key cards
2012 Panini National Treasures #304 Ryan Tannehill JSY AU RC

2012 Panini Contenders #204A Ryan Tannehill AU/550* RC/(facing forward)

2012 Topps Five Star #151 Ryan Tannehill JSY AU/50 RC
Susan Lulgjuraj is an editor at Beckett Media. You can email her here with questions, comments or ideas. Follow her on Twitter here. Follow Beckett Media on Facebook and Twitter.