Former Topps executive Sy Berger dies at 91
–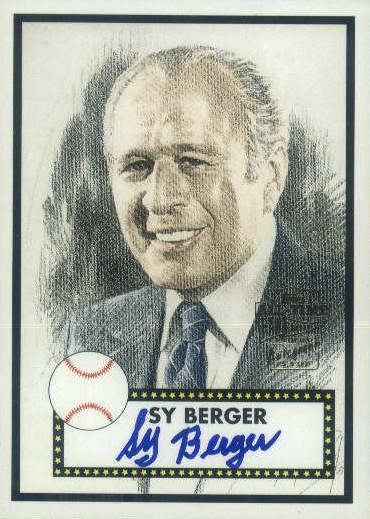 –
By Chris Olds | Beckett Baseball Editor
A baseball card pioneer has passed.
Sy Berger, the man who designed the 1952 Topps baseball card set and personally signed players to contracts the company for years, died Sunday in Rockville Centre, N.Y. He was 91.
"His greatest friend may have been Willie Mays, but he had beloved friendships with thousands of players," said Marty Appel, who announced the news on behalf of Berger's family. "Getting one's picture on a Topps baseball card meant you had 'made it.' Football followed, based on a handshake with NFL Commissioner Bert Bell — and then basketball and hockey.
"Sy handled entertainment products, too, including The Beatles. He flew to London to meet with Brian Epstein, greeted him in Yiddish, and made a deal. There was Elvis, Michael Jackson, and much more."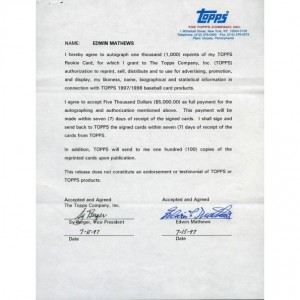 Berger was a Bucknell graduate and a veteran of World War II. He worked for Topps until 2002 with one of his most-famous stories including the company destroying countless cases of 1952 cards years later. (Hear the story in his own words in the video below.)
"We wanted the cards to help sell more gum,"  Berger told Appel in a past piece. "That was the whole idea. We didn't think the cards would take off like they did. We even put 'Year" and "Life" for the stats because we thought we might be selling the same set for several years and didn't want to put '1951.'"
In 2004, Topps placed Berger into packs of Fan Favorites — a release where he signed a limited number of cards in his famed 1952 design. He has only a handful of cardboard appearances through the years, though his signature can often be found right alongside those of the players he signed on their now-collectable Topps contracts.
He is survived by his wife, Gloria, three children and several grandchildren.
Update: On Monday, Topps issued the following statement.
"The Topps family is very saddened by the loss of one of its most-cherished members: Sy Berger. His contributions to the company as well as major professional sports and entertainment properties have been monumental to say the least. Thank you Sy! You have and will continue to put smiles on the faces of children, collectors and fans for generations. Topps extends its heartfelt condolences to the Berger family."
The company also passed along a message from Mays.
"What can I say about Sy Berger? He was my long-time friend," Mays said. "He helped me from my first days in the majors. I never could have made it without him. He always knew the right thing to say or the right thing to do. We worked together. We laughed together. We grew up together. What I can say to you is, 'He was my friend.' What I would say to him is 'So long old pal.'"
[youtube]http://www.youtube.com/watch?v=gCstDCXoLSk[/youtube]
—
Chris Olds is the editor of Beckett Baseball and Beckett Sports Card Monthly magazines. Have a comment, question or idea? Send an email to him at colds@beckett.com. Follow him on Twitter by clicking here.