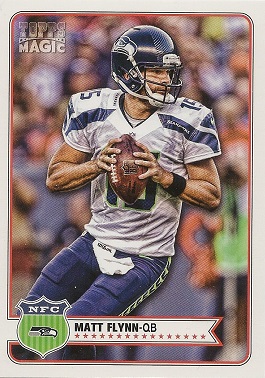 By Susan Lulgjuraj | Beckett Football Editor | Commentary & Opinion
The NFL offseason has seen several players jump teams – by their own choice or not.
The latest were quarterbacks Matt Flynn and Alex Smith, who got dumped for their younger counterparts.
But will the trades help Flynn and Smith's card values? Debatable. And I'm leaning of the side of no, unless the players can lead their new teams deep into the playoffs. Flynn will be with the Oakland Raiders and Smith will be with the Kansas City Chiefs.
Oakland can be a good base for Flynn (get OPG here) as the team has a rabid fan base, but the Raiders haven't had a winning season 2002. Carson Palmer, Oakland's QB last season, was traded to Arizona this week, the latest in a long line of failed Raiders quarterbacks.
If – and that's a big if – Flynn could just get the Raiders to the playoffs, Flynn's cards could see a spike. He falls into Joe Flacco territory though: serviceable, talented, but not a superstar name.
Flacco saw a bump in card prices following his recent Super Bowl run, but he's still nowhere near the territory of  Tom Brady or Peyton and Eli Manning.
Alex Smith's situation is a little different. Smith is a former first-round draft pick. The San Francisco 49ers drafted him in 2005 and anointed him the team's savior with a ridiculous contract.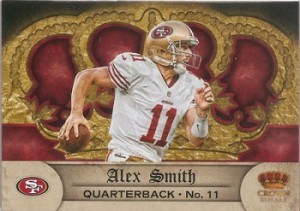 Smith and the team struggled through 2010, but the 49ers stuck with him. The patience paid off in 2011, as Smith led the 49ers to the NFC Championship game.
And, yet, even after all that, Smith still didn't get the type of following you would expect from San Francisco fans. They were still cautious, and baseball took the spotlight with the success of the Giants.
However, maybe it was just Smith – because Bay Area fans embraced fellow QB Colin Kaepernick when Smith missed time with an injury last season. Where Smith's cards barely moved during the preceding half-decade, Kaepernick's card values skyrocketed instantaneously.
Smith is a solid quarterback though and Andy Reid, the new Chiefs coach, loves his QBs. This could be a good system for Smith. Kansas City has a passionate fan base as well, a fan base that hasn't had many top-flight QBs to root for.
Out of the two, Smith likely has the biggest upside. He has proven himself in the NFL already and, like Joe Montana two decades before, has a chip on his shoulder after getting pushed out in San Francisco. Smith could be in line for a huge season in Kansas City – and, really, anything has to be better for Chiefs fans than Brady Quinn or Matt Cassel.
Susan Lulgjuraj is an editor of Beckett Football. You can email her here with questions, comments or ideas. Follow her on Twitter here. Follow Beckett Media on Facebook and Twitter.