Fletch Lives Courtesy of 2015 Leaf Q Chevy Chase Autograph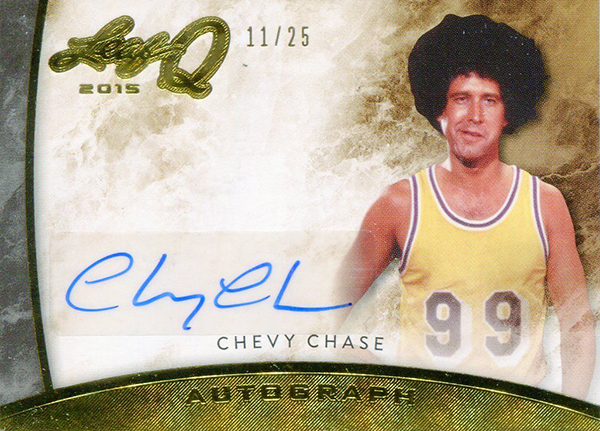 By Ryan Cracknell | Hobby Editor
Chevy Chase is back as Fletch, one of the most memorable characters of his career. Granted, it's not on the big screen (or a Fuller House-esque revival on Netflix for that matter) and it's not in an official capacity. But anyone who sees the 2015 Leaf Q Chevy Chase autograph is going to see a card that is all Fletch.
It is the first Chevy Chase autograph card not counting the handful of cut signatures that are out there. Although it's not licensed by the NBA or Universal Pictures, it's clear what's going on here. It's inspired by Fletch's dream sequence in the 1985 comedy.
The image of Chase is lacking the Lakers logo on the jersey, but it's tough to copyright an afro wig. Most would argue that's the most memorable part of the scene to begin with.
The 2015 Leaf Q Chevy Chase autograph comes in a few different versions, all of which use a sticker for the signature. They have the same photo and can be told apart by the color of the foil on the front and the serial number. The base version comes in with Silver foil and isn't serial numbered. Parallels include Gold (/25), Red (/10), Silver Spectrum (/5) and Gold Spectrum (1/1). There are also Black, Cyan, Magenta and Yellow Printing Plates, each of which is also a one-of-one.
Chase isn't the only member of Hollywood royalty with an autograph in 2015 Leaf Q. Al Pacino is pictured from his role as coach Tony D'Amato in Oliver Stone's football film, Any Given Sunday. Pacino has a similar number of autographs in the product including the same parallels as Chase. The Pacino is signed on-card.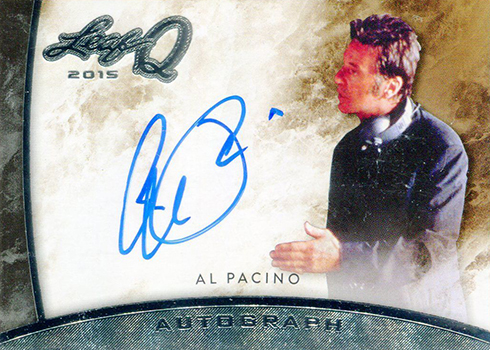 Both cards follow in the footsteps of the popular Ed O'Neill autograph found in 2014 Leaf Q that showed the actor as Al Bundy from Married…With Children, complete with Polk High gear. The Pure-style autograph still sells for more than $100 despite O'Neill having several other autograph cards out there.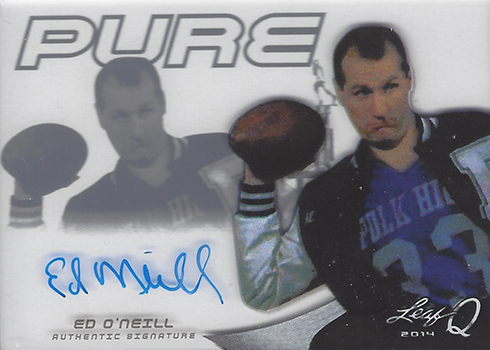 Comments? Questions? Contact Ryan Cracknell on Twitter @tradercracks.