Flawless Football Flashback – Beckett Pricing Insider
This edition of the Beckett Pricing Insider is brought to you by GTS Distribution. Watch Go GTS Live – The Hobby's Web Show, every Thursday at 9 PM EST.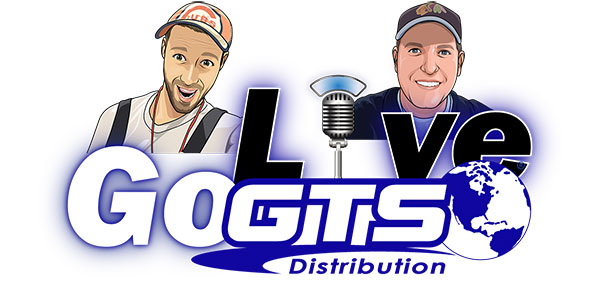 2018 Panini Flawless, the final football product of the season, has arrived. The super high-end product from Panini is full of autographs, awesome patches and other unique memorabilia. And we can't forget about the gems. There are cards with different types of diamonds as well as sapphires and emeralds.
Today let's look back at some of the most recent top sellers from past years' Flawless products.
2017 Panini Flawless Rookie Patch Autographs #4 Platinum Mahomes 1/1 – $9,100
Who else would we start with if not the hottest player in the last year? This Patrick Mahomes card is the highest selling card from this product from the last few months. It has a really cool piece of a patch and an on-card autograph.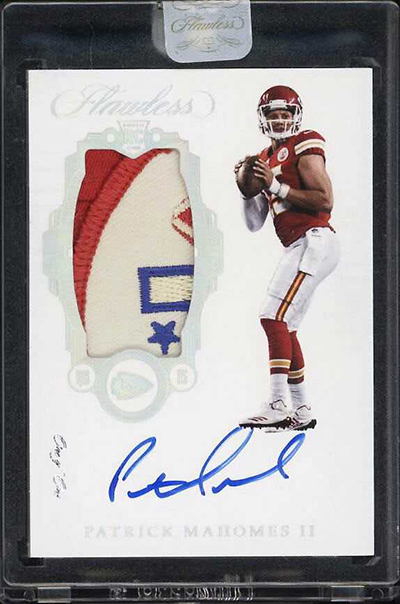 2015 Panini Flawless Greats Dual Patches Autographs Platinum #20 Peyton Manning 1/1 – 2,025
Who wouldn't love to get a 1/1 card of Peyton Manning? Instead of one jumbo patch you get two different pieces. Adding a BGS 9.5 grade just makes this card that much better.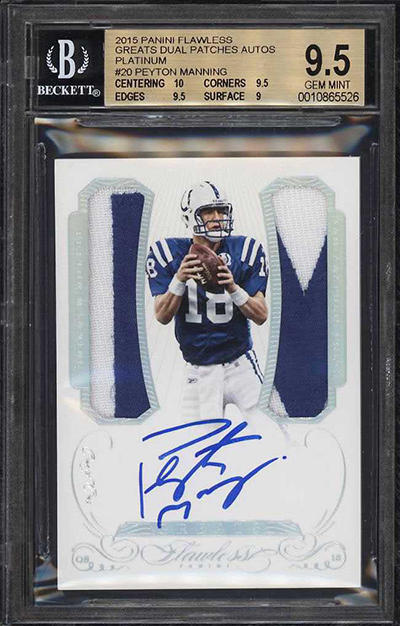 2016 Panini Flawless Platinum #81 Jared Goff 1/1 – $710
We can't have a list like this and not include a card with a diamond in it. 2016 was a good year for rookies and Jared Goff is one of the best. Leading the Rams to the Super Bowl definitely has increased his overall values.