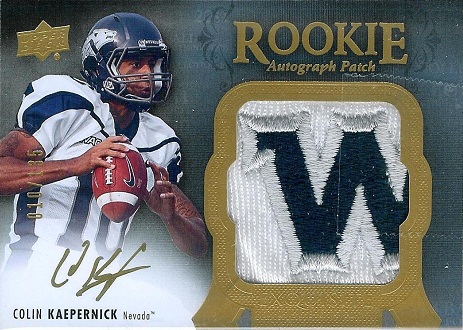 By Susan Lulgjuraj | Beckett Footbal Editor
With football fans and collectors watching the playoffs this weekend, breakout stars have a better chance of grabbing attention. Fans watch just one game at a time, no need to flip channels and scour box scores for outstanding statistics.
Several players had stellar weekends, solidifying their place in the game.
Here are the top five players from the weekend that collectors noticed.
Colin Kaepernick, QB, San Francisco
Kaepernick's stock consistently rose throughout the season. Once he took over as the starting quarterback for San Francisco, collectors ran to get his cards.
However, several collectors are beating themselves up this morning. Many sold Colin Kaepernick's Rookie Cards cheaply last offseason when it seemed Alex Smith was living up to expectations.
Kaepernick completed 17-of-31 passes for 263 yards and two touchdowns. But he also ran for 181 yards and another two scores in a 45-31 win over the Green Bay Packers.
Chase cards
– 2011 Upper Deck Exquisite Autograph Patch

– 2011 Contenders autograph

– 2011 National Treasures

Russell Wilson, QB, Seattle Seahawks
Wilson outlasted the big two rookie quarterbacks in the playoffs. However, Wilson's run came to an end this weekend, but not without putting on a show.
Wilson orchestrated a remarkable comeback after Seattle was down 20-0, and with 31 seconds left against the Atlanta Falcons, Seattle took a lead. Even though the Falcons won with a field goal with 8 seconds left, many still talked about Wilson
The rookie QB completed 24-of-36 passes for 385 yards, two touchdowns and an interception. He also ran for 60 yards and one TD, which should make Russell Wilson's Rookie Cards see a bump in a value.
Chase cards
– 2012 Topps Strata Clear Cut autograph

– 2012 Panini Black Gold Ink autograph/patch

– 2012 Bowman Sterling Superfractor 1/1

Joe Flacco, QB, Baltimore Ravens
Flacco has been consistent throughout his career with the Baltimore Ravens, but has not been able to reach a Super Bowl yet.
Many counted Flacco and the Ravens out this weekend against the Denver Broncos, but Baltimore stuck with them score for score and forced the game into double overtime where the Ravens hit a field goal for the win.
Flacco finished 18-for-34 for 331 yards and three touchdowns in a 38-35 win.
Chase cards
– 2008 SP Authentic autograph/patch

– 2012 Absolute Gold Spectrum Autographs

– 2008 Playoff Contenders autograph

Trindon Holliday, KR, Denver Broncos
Trindon Holliday has been in the league for three years, but he never made much of a mark until Saturday. Holliday ran a punt and kick return back for touchdowns for a 194 total yards. Holliday finished the day with 248 all-purpose yards.
Holliday made his mark, but since Denver lost, it might be the last time his name is mentioned for a while.
Chase cards
-2010 Absolute Memorabilia Spectrum

-2010 SP Authentic

Ray Lewis, LB, Baltimore Ravens
The media continues its lovefest with Lewis as he plans to retire at the end of the season. But it's not only the media, many football fans love Lewis and want to see one of the best defensive players go out on top.
Despite coming back from a triceps injury that should have sidelined him the whole season, Lewis had 17 tackles against the Denver Broncos and his career continues for one more game.
Chase cards
– 1999 SP Signature Autographs

– 1996 Bowman's Best

– 2011 Topps Five Star autograph/jersey
Susan Lulgjuraj is an editor of Beckett Football. You can email her here with questions, comments or ideas. Follow her on Twitter here. Follow Beckett Media on Facebook.