Five key cards of rookie All-Star Filip Forsberg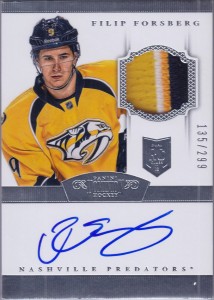 By Eric Norton | Beckett Hockey Analyst
Yesterday, the NHL announced that Nashville Predators star rookie Filip Forsberg would be added to the All-Star roster for this weekend's festivities, as the league's best gather in Columbus.
He was already scheduled to a part of the rookie events, but with Sidney Crosby out with a lower-body injury, Forsberg was the natural choice as his replacement. Forsberg is third overall in the league with a plus-24 and leads all rookies, and the Predators, with 40 points through 45 games.  In many estimations, he should have been on the roster to begin with, but the important thing is that he's there now.
Having only appeared in 13 games in the 2013-14 season he was an afterthought to other rookie standouts like Nathan MacKinnon and Nail Yakupov, but that isn't the case  anymore. Collectors have noticed his stellar play as well and his cards have picked up on the secondary market. Both Upper Deck and Panini offered collectors several choices where his Rookie Cards are concerned and below are five of them that are still affordable but have a nice potential upside if he continues his outstanding play.
Check 'em out …
2013-14 Dominion #170 JSY AU RC/299, $80 (above)
—
2013-14 SP Authentic #269 AU RC/999, $50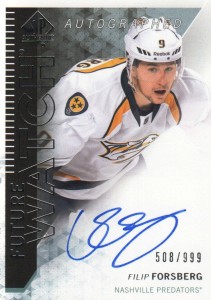 —
2013-14 Upper Deck #451 YG RC, $40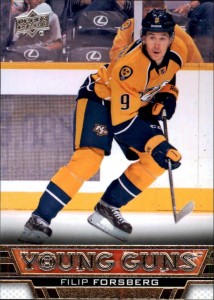 —
2013-14 Fleer Showcase JSY AU RC/375, $40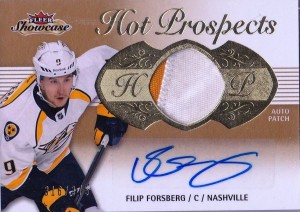 —
2013-14 Panini Prime #132 JSY AU RC/199, $40