Five-card tribute to "Rowdy" Roddy Piper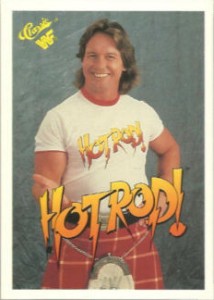 By Matt Bible | Beckett Non-Sports and Gaming Analyst | Commentary
Just when you thought you had the answers, he changed the questions.
The world of professional wrestling suffered another loss last Friday as "Rowdy" Roddy Piper, the legendary icon who headlined the first Wrestlemania, died at the age of 61.
For the last 30 years, Piper had cemented his legacy in professional wrestling as one of the greatest "bad guys" the business had ever seen. He was also a pretty good actor, having starred in several feature films, most notably John Carpenter's cult sci-fi classic, They Live.
However, it was the main event match at 'Mania that changed the game for Piper. He, along with "Mr. Wonderful" Paul Orndorff, challenged Hulk Hogan and Mr. T in a tag team showdown for the ages. Piper's feud with Hogan established a new generation of wrestling fans and put sports entertainment into the national spotlight like never before.
And, with great popularity come great collectibles. Between cards and action figures, there are currently 345 Piper pieces in the Beckett database and the following five cards serve as a tribute to an incredible career.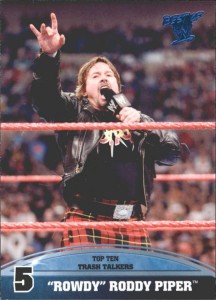 2013 Topps Best of WWE Top 10 Trash Talkers #5 $1.50
If there is one thing that Piper could do better than anyone in his era, it was talk trash. Long before "Stone Cold" Steve Austin swilled beer and CM Punk dropped "pipe bombs," Piper was bullying Cyndi Lauper and Lou Albano, using Piper's Pit as a vessel to start major feuds, and slapping Mr. T around. He was also the quintessential heel to Hulk Hogan's superstar babyface. This mini-tribute to Piper's trash-talking abilities is an easy grab at a buck and a half.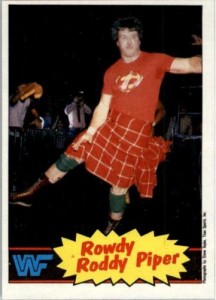 1985 Topps WWF #7 $2.50
Piper's "Rookie Card" captures the very essence of his wrestling persona. A wild look in his eyes and dancing around in a kilt, this image would become a fixture in the WWF for three years as Piper moved from feud to feud. From smashing a coconut into "Superfly" Jimmy Snuka's head to getting down with the Junkyard Dog, everyone seemed to eventually cross Piper's path. With his charisma and in-your-face mentality, it wasn't long before the inevitable happened — he started getting cheered and turned babyface.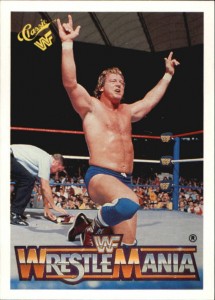 1990 Classic The History of Wrestlemania WWF #18 $0.50
This card chronicles the babyface turn of Piper and the conclusion of his epic feud with "Adorable" Adrian Adonis (who remembers Piper's Pit vs. The Flower Shop?). Within a year's time, Piper went from the most-hated wrestler to the most popular (even more so than Hogan) and it all concluded at Wrestlemania III in what would be his "retirement" match. In front of 90,000-plus at the Pontiac Silverdome, Piper knocked out Adonis with a sleeperhold and cut his hair (per the stipulation).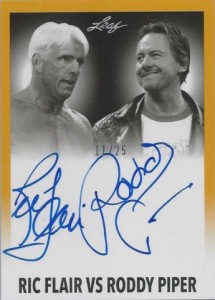 2014 Leaf Originals Wrestling Flair's Epic Battles #RFRP1 $n/a
Considering his titanic feuds with Hogan in the 1980s and the mid-to-late 90s (during his WCW days), Piper's feuds with Ric Flair often get overlooked. This dynamic duo flip-flopped back and forth between being allies and foes, but one thing was certain — they had great chemistry in and out of the ring. They even won the WWE Tag Team titles together in 2006 (and lest we forget switched life roles in a 2012 episode of Celebrity Wife Swap). The above auto could serve as a centerpiece for any die-hard Piper collector.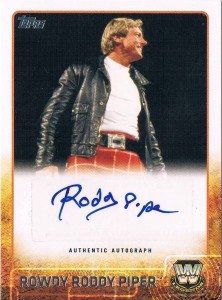 This one is a no-brainer since it is Piper's most recent (and perhaps last) autograph release. It contains just about everything that is vintage Roddy — white t-shirt, leather jacket, the kilt. It is bordered in white and gold with the retro logo (minus the F) above the word Legends. Basically, a fitting final tribute to what Piper was — rowdy before rowdy was cool.
Matt Bible is the non-sports and gaming analyst for Beckett Media. Have a comment, question or idea? Send an email to him at mbible@beckett.com.