Fitness King Jack LaLanne Makes Trading Card Debut in 2011 Topps Allen & Ginter
Allen & Ginter has included plenty of "world's champions" alongside baseball players since its arrival in 2006 and this year's edition from Topps is no different.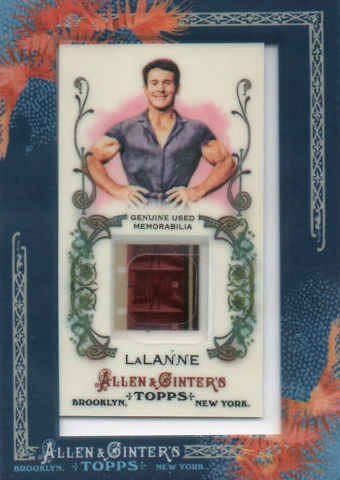 But it includes a different kind of champion, a champion for a cause who was a fitness guru decades before it became big business.
The champion? Jack LaLanne, who died at age 96 in January.
LaLanne hosted a television workout show, which began in 1951 and ran into the 1980s. During this time he also published numerous books about fitness, owned several gyms and pitched products. Oh, and he was a relatively successful athlete and bodybuilder, too.)
LaLanne, who has never had a card before, according to the Beckett.com database, appears on a standard card in Ginter and has another kind of Ginter first in the form of a fitness film Relic as seen above. It's an unusual inclusion that wasn't previously announced as being in the product.