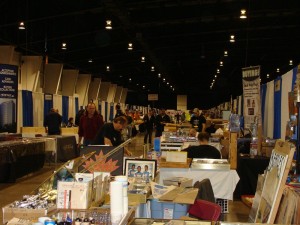 By Stephen Laroche | Beckett Hockey Editor
In the aftermath of the 2014 National sports Collectors Convention, hockey collectors from all over the world are beginning to gear up for the 47th Sportcard and Memorabilia Expo in Toronto, Ontario.
Held twice annually at the Toronto International Centre, early details have surfaced regarding some of the guests that will be appearing over the course of the three-day event which takes place from November 7 to 9, 2014.
Look for a preliminary list of signers after the jump.
On the opening day, A.J. Sportsworld has revealed that upcoming Hockey Hall of Fame inductee and former referee Bill McCreary will be signing along with former New York Rangers defenseman and 1972 Team Canada member Rod Seiling.
The Saturday of the show will give collectors an opportunity to interact with three Hall of Fame members. Dickie Moore, who won six Stanley Cup championships with the Montreal Canadiens, will be in attendance. Another fan favorite in attendance will be Yvan Cournoyer, a speedster who won an incredible 10 Stanley Cup rings during his amazing career with the Habs. Additionally, collectors are able to meet and obtain an autograph from Rod Langway, who was one of hockey's elite defensive blueliners in the 1980s and won the Norris Trophy twice while playing for the Washington Capitals.
Rounding out the show at this time are four more signees that should be popular with fans. Hall of Famer Larry Murphy, who won Stanley Cup titles in Pittsburgh and Detroit during his incredible career will draw some attention from autograph seekers while upcoming Hall of Fame inductee Mike Modano will also be signing soon before he is officially enshrined.
If that wasn't enough, former Toronto Maple Leafs standout Al Iafrate will also be a guest signer along with Esa Tikkanen, who was one of hockey's all-time greatest pests and has a cult collector following.
Naturally, circumstances may arise where some athletes may not be able to attend and there is a possibility that more signers will be added to the lineup in the weeks and months leading up to the show.
Stephen Laroche is the editor of Beckett Hockey and Beckett Basketball magazines. Have a comment, question or idea? Send an e-mail to him at SLaroche@beckett.com. Follow him on Twitter @Stephen_Laroche.