First Pricing: 14-15 Panini Gold Standard Basketball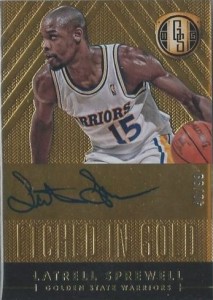 By Derek Ficken | Beckett Basketball Market Analyst
Beckett first pricing for 2014-15 Panini Gold Standard basketball is now live for all subscribers to the Beckett Online Price Guide.
The Online Price Guide allows subscribers to access complete and full pricing for all cards cataloged and priced in our football database. This not only includes full checklists and all pricing for all mainstream products, but also every ancillary or regional set, old and new, that we catalog. The OPG is also the first place that Beckett pricing will appear for new products and the first place price changes on older cards are published.
One of the more popular basketball products on the market today, Gold Standard delivers plenty of base card variations and on-card autographs from retired greats to active players, including rookie sensation Andrew Wiggins. For autograph collectors, this product does not disappoint with some high prices from players including Latrell Sprewell, Tony Parker, and Grant Hill. Sprewell's autographs were surprising the Beckett Basketball Pricing team, and we found the autograph inclusions in Gold Standard are the first of his since the 2001-02 season making the autographs in this year's product a little more special.
The Freshly Minted inserts that are showcased in this year's product have been collector favorites. Key rookies including Wiggins, Joel Embiid, and Jabari Parker have prices in this set starting at $200 and in upwards to $500. This year's rookie class is heavily featured throughout the memorabilia inserts, with some dual, triple, and quad jersey cards selling for upwards of $100.
For complete 2014-15 Panini Gold Standard basketball pricing, access your Beckett OPG account or sign-up here for a new subscription: