First pitches are first surprises in 2015 Topps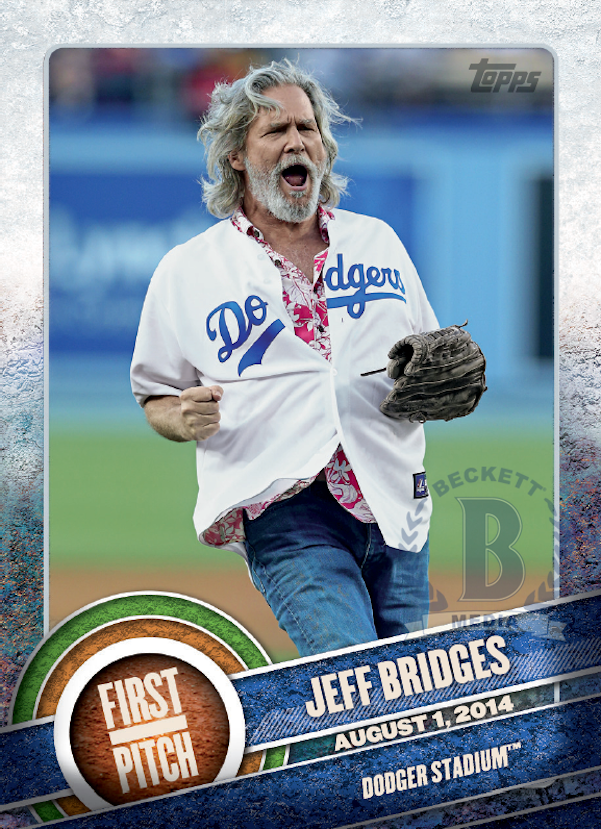 By Chris Olds | Beckett Baseball Editor
The Dude and a seven-nation army might be impressed.
A 15-card set of ceremonial first pitches will be among the baseball cards to be found when this year's first set of cards, 2015 Topps Series 1, arrives on Feb. 6.
Among them are actor Jeff Bridges, musicians Jack White and Eddie Vedder, Olympic gymnast McKayla Maroney and even 50 Cent, whose notoriously bad first pitch at a New York Mets game has become the highlight reel of legend.
Each of them recently threw out the first pitch at a game and should appear in MLB jerseys as the company released their names and team affiliations on a checklist Tuesday. Click here for the full product checklist.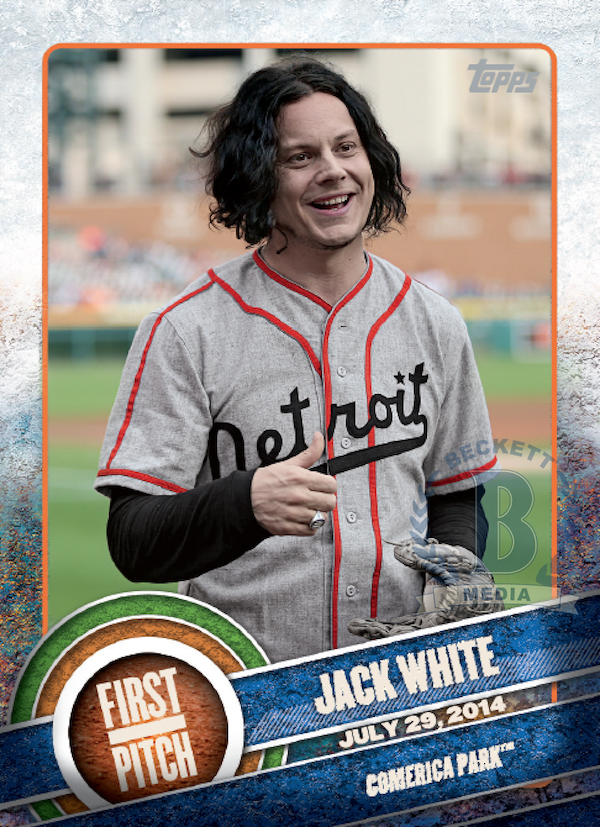 Also among those showcased? A 105-year-old named Agnes McKee, who threw out the first pitch at a Padres game last July, a man named Tom Willis who threw out a first pitch at a game despite being born without arms — something he has done in 18 ballparks and counting — and 20-year-old Bae Suzy a singer-actress from Korea.
Who else made the cut? Check out the checklist below.
Chris Olds is the editor of Beckett Baseball and Beckett Sports Card Monthly magazines. Have a comment, question or idea? Send an email to him at colds@beckett.com. Follow him on Twitter by clicking here.
—
2015 TOPPS FIRST PITCH CHECKLIST
FP-01 Jeff Bridges — Los Angeles Dodgers
FP-02 Jack White — Detroit Tigers
FP-03 McKayla Maroney — Chicago White Sox
FP-04 Eddie Vedder — Chicago Cubs
FP-05 Biz Markie — Oakland Athletics
FP-06 Agnes McKee — San Diego Padres
FP-07 Austin Mahone — Atlanta Braves
FP-08 Jermaine Jones — Los Angeles Dodgers
FP-09 Tom Willis — Kansas City Royals
FP-10 Graham Elliot — Chicago Cubs
FP-11 Tom Morello — Chicago Cubs
FP-12 Macklemore — Seattle Mariners
FP-13 Suzy — Los Angeles Dodgers
FP-14 50 Cent — New York Mets
FP-15 Meb Keflezighi — Boston Red Sox