First look: Upper Deck's Edmonton Oilers Collection (with full checklist)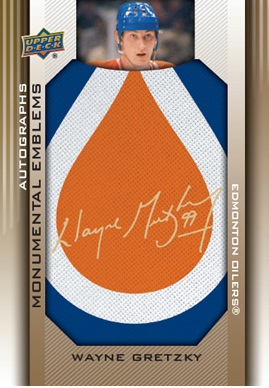 By Susan Lulgjuraj | Beckett Hockey Editor
Upper Deck is creating a set strictly for Edmonton Oilers fans.
The Edmonton Oilers Collection will feature 10 packs per box with 10 cards in each pack. Each box will have three autographs, two manufactured patches and five rainbow foil parallels.
The Oilers have a long history with some of the best players including Wayne Gretzky, Mark Messier and Grant Fuhr. The set will also include Edmonton's newest stars such as Taylor Hall, Ryan Nugent-Hopkins and Nail Yakupov.
The base set will consist of 90 cards. But the chase will come from the inserts and hits.
The manufactured patches will include Monumental Emblems, Championship Banners and Retired Numbers, including signed versions of each.
There will also be up to 100 Team Logo Patches.
One of the biggest hits collectors can pull from the Edmonton Oilers Collection is 1-of-1 hand-painted Masterpieces.
The set is expected to come out in mid-December.
---
| | | | | | | | | |
| --- | --- | --- | --- | --- | --- | --- | --- | --- |
| Set Name | Card | Description | Odds | Serial #d | Auto | Material | Notes | Rookie |
| Base Set | 1 | Wayne Gretzky | | | | | | |
| Base Set | 2 | Al Hamilton | | | | | | |
| Base Set | 3 | Dave Hunter | | | | | | |
| Base Set | 4 | Mark Messier | | | | | | |
| Base Set | 5 | Ronald Low | | | | | | |
| Base Set | 6 | Eddie Mio | | | | | | |
| Base Set | 7 | David Lumley | | | | | | |
| Base Set | 8 | Dave Semenko | | | | | | |
| Base Set | 9 | Lee Fogolin | | | | | | |
| Base Set | 10 | Paul Coffey | | | | | | |
| Base Set | 11 | Charlie Huddy | | | | | | |
| Base Set | 12 | Matti Hagman | | | | | | |
| Base Set | 13 | Andy Moog | | | | | | |
| Base Set | 14 | Jari Kurri | | | | | | |
| Base Set | 15 | Glenn Anderson | | | | | | |
| Base Set | 16 | Don Jackson | | | | | | |
| Base Set | 17 | Randy Gregg | | | | | | |
| Base Set | 18 | Kevin McClelland | | | | | | |
| Base Set | 19 | Grant Fuhr | | | | | | |
| Base Set | 20 | Steve Smith | | | | | | |
| Base Set | 21 | Mike Krushelnyski | | | | | | |
| Base Set | 22 | Jeff Beukeboom | | | | | | |
| Base Set | 23 | Craig MacTavish | | | | | | |
| Base Set | 24 | Marty McSorley | | | | | | |
| Base Set | 25 | Kent Nilsson | | | | | | |
| Base Set | 26 | Craig Muni | | | | | | |
| Base Set | 27 | Kelly Buchberger | | | | | | |
| Base Set | 28 | Craig Simpson | | | | | | |
| Base Set | 29 | Mark Lamb | | | | | | |
| Base Set | 30 | Bill Ranford | | | | | | |
| Base Set | 31 | Ken Linseman | | | | | | |
| Base Set | 32 | Jimmy Carson | | | | | | |
| Base Set | 33 | Joe Murphy | | | | | | |
| Base Set | 34 | Bernie Nicholls | | | | | | |
| Base Set | 35 | Vincent Damphousse | | | | | | |
| Base Set | 36 | Louie Debrusk | | | | | | |
| Base Set | 37 | Dave Manson | | | | | | |
| Base Set | 38 | Doug Weight | | | | | | |
| Base Set | 39 | Todd Marchant | | | | | | |
| Base Set | 40 | Jason Arnott | | | | | | |
| Base Set | 41 | Martin Gelinas | | | | | | |
| Base Set | 42 | Curtis Joseph | | | | | | |
| Base Set | 43 | Bob Essensa | | | | | | |
| Base Set | 44 | Mike Grier | | | | | | |
| Base Set | 45 | Janne Niinimaa | | | | | | |
| Base Set | 46 | Georges Laraque | | | | | | |
| Base Set | 47 | Sheldon Souray | | | | | | |
| Base Set | 48 | Tommy Salo | | | | | | |
| Base Set | 49 | Ethan Moreau | | | | | | |
| Base Set | 50 | Jason Smith | | | | | | |
| Base Set | 51 | Dan Cleary | | | | | | |
| Base Set | 52 | Mike Comrie | | | | | | |
| Base Set | 53 | Jason Chimera | | | | | | |
| Base Set | 54 | Shawn Horcoff | | | | | | |
| Base Set | 55 | Anson Carter | | | | | | |
| Base Set | 56 | Marty Reasoner | | | | | | |
| Base Set | 57 | Ty Conklin | | | | | | |
| Base Set | 58 | Jussi Markkanen | | | | | | |
| Base Set | 59 | Marc-Andre Bergeron | | | | | | |
| Base Set | 60 | Bill Guerin | | | | | | |
| Base Set | 61 | Scott Thornton | | | | | | |
| Base Set | 62 | Jarret Stoll | | | | | | |
| Base Set | 63 | Adam Oates | | | | | | |
| Base Set | 64 | Raffi Torres | | | | | | |
| Base Set | 65 | Matt Greene | | | | | | |
| Base Set | 66 | Fernando Pisani | | | | | | |
| Base Set | 67 | Chris Pronger | | | | | | |
| Base Set | 68 | Dwayne Roloson | | | | | | |
| Base Set | 69 | Robert Nilsson | | | | | | |
| Base Set | 70 | Ladislav Smid | | | | | | |
| Base Set | 71 | Dustin Penner | | | | | | |
| Base Set | 72 | Sam Gagner | | | | | | |
| Base Set | 73 | Andrew Cogliano | | | | | | |
| Base Set | 74 | Mathieu Garon | | | | | | |
| Base Set | 75 | Ryan Smyth | | | | | | |
| Base Set | 76 | Ryan Jones | | | | | | |
| Base Set | 77 | Devan Dubnyk | | | | | | |
| Base Set | 78 | Nikolai Khabibulin | | | | | | |
| Base Set | 79 | Ales Hemsky | | | | | | |
| Base Set | 80 | Jordan Eberle | | | | | | |
| Base Set | 81 | Taylor Hall | | | | | | |
| Base Set | 82 | Magnus Paajarvi | | | | | | |
| Base Set | 83 | Ryan Nugent-Hopkins | | | | | | |
| Base Set | 84 | Darcy Hordichuk | | | | | | |
| Base Set | 85 | Nick Schultz | | | | | | |
| Base Set | 86 | Justin Schultz | | | | | | Rookie |
| Base Set | 87 | Nail Yakupov | | | | | | Rookie |
| Base Set | 88 | Boyd Gordon | | | | | | |
| Base Set | 89 | David Perron | | | | | | |
| Base Set | 90 | Andrew Ference | | | | | | |
| Base Set – Rainbow Foil | 1 | Wayne Gretzky | 1:2 | | | | | |
| Base Set – Rainbow Foil | 2 | Al Hamilton | 1:2 | | | | | |
| Base Set – Rainbow Foil | 3 | Dave Hunter | 1:2 | | | | | |
| Base Set – Rainbow Foil | 4 | Mark Messier | 1:2 | | | | | |
| Base Set – Rainbow Foil | 5 | Ronald Low | 1:2 | | | | | |
| Base Set – Rainbow Foil | 6 | Eddie Mio | 1:2 | | | | | |
| Base Set – Rainbow Foil | 7 | David Lumley | 1:2 | | | | | |
| Base Set – Rainbow Foil | 8 | Dave Semenko | 1:2 | | | | | |
| Base Set – Rainbow Foil | 9 | Lee Fogolin | 1:2 | | | | | |
| Base Set – Rainbow Foil | 10 | Paul Coffey | 1:2 | | | | | |
| Base Set – Rainbow Foil | 11 | Charlie Huddy | 1:2 | | | | | |
| Base Set – Rainbow Foil | 12 | Matti Hagman | 1:2 | | | | | |
| Base Set – Rainbow Foil | 13 | Andy Moog | 1:2 | | | | | |
| Base Set – Rainbow Foil | 14 | Jari Kurri | 1:2 | | | | | |
| Base Set – Rainbow Foil | 15 | Glenn Anderson | 1:2 | | | | | |
| Base Set – Rainbow Foil | 16 | Don Jackson | 1:2 | | | | | |
| Base Set – Rainbow Foil | 17 | Randy Gregg | 1:2 | | | | | |
| Base Set – Rainbow Foil | 18 | Kevin McClelland | 1:2 | | | | | |
| Base Set – Rainbow Foil | 19 | Grant Fuhr | 1:2 | | | | | |
| Base Set – Rainbow Foil | 20 | Steve Smith | 1:2 | | | | | |
| Base Set – Rainbow Foil | 21 | Mike Krushelnyski | 1:2 | | | | | |
| Base Set – Rainbow Foil | 22 | Jeff Beukeboom | 1:2 | | | | | |
| Base Set – Rainbow Foil | 23 | Craig MacTavish | 1:2 | | | | | |
| Base Set – Rainbow Foil | 24 | Marty McSorley | 1:2 | | | | | |
| Base Set – Rainbow Foil | 25 | Kent Nilsson | 1:2 | | | | | |
| Base Set – Rainbow Foil | 26 | Craig Muni | 1:2 | | | | | |
| Base Set – Rainbow Foil | 27 | Kelly Buchberger | 1:2 | | | | | |
| Base Set – Rainbow Foil | 28 | Craig Simpson | 1:2 | | | | | |
| Base Set – Rainbow Foil | 29 | Mark Lamb | 1:2 | | | | | |
| Base Set – Rainbow Foil | 30 | Bill Ranford | 1:2 | | | | | |
| Base Set – Rainbow Foil | 31 | Ken Linseman | 1:2 | | | | | |
| Base Set – Rainbow Foil | 32 | Jimmy Carson | 1:2 | | | | | |
| Base Set – Rainbow Foil | 33 | Joe Murphy | 1:2 | | | | | |
| Base Set – Rainbow Foil | 34 | Bernie Nicholls | 1:2 | | | | | |
| Base Set – Rainbow Foil | 35 | Vincent Damphousse | 1:2 | | | | | |
| Base Set – Rainbow Foil | 36 | Louie Debrusk | 1:2 | | | | | |
| Base Set – Rainbow Foil | 37 | Dave Manson | 1:2 | | | | | |
| Base Set – Rainbow Foil | 38 | Doug Weight | 1:2 | | | | | |
| Base Set – Rainbow Foil | 39 | Todd Marchant | 1:2 | | | | | |
| Base Set – Rainbow Foil | 40 | Jason Arnott | 1:2 | | | | | |
| Base Set – Rainbow Foil | 41 | Martin Gelinas | 1:2 | | | | | |
| Base Set – Rainbow Foil | 42 | Curtis Joseph | 1:2 | | | | | |
| Base Set – Rainbow Foil | 43 | Bob Essensa | 1:2 | | | | | |
| Base Set – Rainbow Foil | 44 | Mike Grier | 1:2 | | | | | |
| Base Set – Rainbow Foil | 45 | Janne Niinimaa | 1:2 | | | | | |
| Base Set – Rainbow Foil | 46 | Georges Laraque | 1:2 | | | | | |
| Base Set – Rainbow Foil | 47 | Sheldon Souray | 1:2 | | | | | |
| Base Set – Rainbow Foil | 48 | Tommy Salo | 1:2 | | | | | |
| Base Set – Rainbow Foil | 49 | Ethan Moreau | 1:2 | | | | | |
| Base Set – Rainbow Foil | 50 | Jason Smith | 1:2 | | | | | |
| Base Set – Rainbow Foil | 51 | Dan Cleary | 1:2 | | | | | |
| Base Set – Rainbow Foil | 52 | Mike Comrie | 1:2 | | | | | |
| Base Set – Rainbow Foil | 53 | Jason Chimera | 1:2 | | | | | |
| Base Set – Rainbow Foil | 54 | Shawn Horcoff | 1:2 | | | | | |
| Base Set – Rainbow Foil | 55 | Anson Carter | 1:2 | | | | | |
| Base Set – Rainbow Foil | 56 | Marty Reasoner | 1:2 | | | | | |
| Base Set – Rainbow Foil | 57 | Ty Conklin | 1:2 | | | | | |
| Base Set – Rainbow Foil | 58 | Jussi Markkanen | 1:2 | | | | | |
| Base Set – Rainbow Foil | 59 | Marc-Andre Bergeron | 1:2 | | | | | |
| Base Set – Rainbow Foil | 60 | Bill Guerin | 1:2 | | | | | |
| Base Set – Rainbow Foil | 61 | Scott Thornton | 1:2 | | | | | |
| Base Set – Rainbow Foil | 62 | Jarret Stoll | 1:2 | | | | | |
| Base Set – Rainbow Foil | 63 | Adam Oates | 1:2 | | | | | |
| Base Set – Rainbow Foil | 64 | Raffi Torres | 1:2 | | | | | |
| Base Set – Rainbow Foil | 65 | Matt Greene | 1:2 | | | | | |
| Base Set – Rainbow Foil | 66 | Fernando Pisani | 1:2 | | | | | |
| Base Set – Rainbow Foil | 67 | Chris Pronger | 1:2 | | | | | |
| Base Set – Rainbow Foil | 68 | Dwayne Roloson | 1:2 | | | | | |
| Base Set – Rainbow Foil | 69 | Robert Nilsson | 1:2 | | | | | |
| Base Set – Rainbow Foil | 70 | Ladislav Smid | 1:2 | | | | | |
| Base Set – Rainbow Foil | 71 | Dustin Penner | 1:2 | | | | | |
| Base Set – Rainbow Foil | 72 | Sam Gagner | 1:2 | | | | | |
| Base Set – Rainbow Foil | 73 | Andrew Cogliano | 1:2 | | | | | |
| Base Set – Rainbow Foil | 74 | Mathieu Garon | 1:2 | | | | | |
| Base Set – Rainbow Foil | 75 | Ryan Smyth | 1:2 | | | | | |
| Base Set – Rainbow Foil | 76 | Ryan Jones | 1:2 | | | | | |
| Base Set – Rainbow Foil | 77 | Devan Dubnyk | 1:2 | | | | | |
| Base Set – Rainbow Foil | 78 | Nikolai Khabibulin | 1:2 | | | | | |
| Base Set – Rainbow Foil | 79 | Ales Hemsky | 1:2 | | | | | |
| Base Set – Rainbow Foil | 80 | Jordan Eberle | 1:2 | | | | | |
| Base Set – Rainbow Foil | 81 | Taylor Hall | 1:2 | | | | | |
| Base Set – Rainbow Foil | 82 | Magnus Paajarvi | 1:2 | | | | | |
| Base Set – Rainbow Foil | 83 | Ryan Nugent-Hopkins | 1:2 | | | | | |
| Base Set – Rainbow Foil | 84 | Darcy Hordichuk | 1:2 | | | | | |
| Base Set – Rainbow Foil | 85 | Nick Schultz | 1:2 | | | | | |
| Base Set – Rainbow Foil | 86 | Justin Schultz | 1:2 | | | | | Rookie |
| Base Set – Rainbow Foil | 87 | Nail Yakupov | 1:2 | | | | | Rookie |
| Base Set – Rainbow Foil | 88 | Boyd Gordon | 1:2 | | | | | |
| Base Set – Rainbow Foil | 89 | David Perron | 1:2 | | | | | |
| Base Set – Rainbow Foil | 90 | Andrew Ference | 1:2 | | | | | |
| Base Set – Printing Plates | 1 | Wayne Gretzky | Random Inserts in Packs | 4 | | | | |
| Base Set – Printing Plates | 2 | Al Hamilton | Random Inserts in Packs | 4 | | | | |
| Base Set – Printing Plates | 3 | Dave Hunter | Random Inserts in Packs | 4 | | | | |
| Base Set – Printing Plates | 4 | Mark Messier | Random Inserts in Packs | 4 | | | | |
| Base Set – Printing Plates | 5 | Ronald Low | Random Inserts in Packs | 4 | | | | |
| Base Set – Printing Plates | 6 | Eddie Mio | Random Inserts in Packs | 4 | | | | |
| Base Set – Printing Plates | 7 | David Lumley | Random Inserts in Packs | 4 | | | | |
| Base Set – Printing Plates | 8 | Dave Semenko | Random Inserts in Packs | 4 | | | | |
| Base Set – Printing Plates | 9 | Lee Fogolin | Random Inserts in Packs | 4 | | | | |
| Base Set – Printing Plates | 10 | Paul Coffey | Random Inserts in Packs | 4 | | | | |
| Base Set – Printing Plates | 11 | Charlie Huddy | Random Inserts in Packs | 4 | | | | |
| Base Set – Printing Plates | 12 | Matti Hagman | Random Inserts in Packs | 4 | | | | |
| Base Set – Printing Plates | 13 | Andy Moog | Random Inserts in Packs | 4 | | | | |
| Base Set – Printing Plates | 14 | Jari Kurri | Random Inserts in Packs | 4 | | | | |
| Base Set – Printing Plates | 15 | Glenn Anderson | Random Inserts in Packs | 4 | | | | |
| Base Set – Printing Plates | 16 | Don Jackson | Random Inserts in Packs | 4 | | | | |
| Base Set – Printing Plates | 17 | Randy Gregg | Random Inserts in Packs | 4 | | | | |
| Base Set – Printing Plates | 18 | Kevin McClelland | Random Inserts in Packs | 4 | | | | |
| Base Set – Printing Plates | 19 | Grant Fuhr | Random Inserts in Packs | 4 | | | | |
| Base Set – Printing Plates | 20 | Steve Smith | Random Inserts in Packs | 4 | | | | |
| Base Set – Printing Plates | 21 | Mike Krushelnyski | Random Inserts in Packs | 4 | | | | |
| Base Set – Printing Plates | 22 | Jeff Beukeboom | Random Inserts in Packs | 4 | | | | |
| Base Set – Printing Plates | 23 | Craig MacTavish | Random Inserts in Packs | 4 | | | | |
| Base Set – Printing Plates | 24 | Marty McSorley | Random Inserts in Packs | 4 | | | | |
| Base Set – Printing Plates | 25 | Kent Nilsson | Random Inserts in Packs | 4 | | | | |
| Base Set – Printing Plates | 26 | Craig Muni | Random Inserts in Packs | 4 | | | | |
| Base Set – Printing Plates | 27 | Kelly Buchberger | Random Inserts in Packs | 4 | | | | |
| Base Set – Printing Plates | 28 | Craig Simpson | Random Inserts in Packs | 4 | | | | |
| Base Set – Printing Plates | 29 | Mark Lamb | Random Inserts in Packs | 4 | | | | |
| Base Set – Printing Plates | 30 | Bill Ranford | Random Inserts in Packs | 4 | | | | |
| Base Set – Printing Plates | 31 | Ken Linseman | Random Inserts in Packs | 4 | | | | |
| Base Set – Printing Plates | 32 | Jimmy Carson | Random Inserts in Packs | 4 | | | | |
| Base Set – Printing Plates | 33 | Joe Murphy | Random Inserts in Packs | 4 | | | | |
| Base Set – Printing Plates | 34 | Bernie Nicholls | Random Inserts in Packs | 4 | | | | |
| Base Set – Printing Plates | 35 | Vincent Damphousse | Random Inserts in Packs | 4 | | | | |
| Base Set – Printing Plates | 36 | Louie Debrusk | Random Inserts in Packs | 4 | | | | |
| Base Set – Printing Plates | 37 | Dave Manson | Random Inserts in Packs | 4 | | | | |
| Base Set – Printing Plates | 38 | Doug Weight | Random Inserts in Packs | 4 | | | | |
| Base Set – Printing Plates | 39 | Todd Marchant | Random Inserts in Packs | 4 | | | | |
| Base Set – Printing Plates | 40 | Jason Arnott | Random Inserts in Packs | 4 | | | | |
| Base Set – Printing Plates | 41 | Martin Gelinas | Random Inserts in Packs | 4 | | | | |
| Base Set – Printing Plates | 42 | Curtis Joseph | Random Inserts in Packs | 4 | | | | |
| Base Set – Printing Plates | 43 | Bob Essensa | Random Inserts in Packs | 4 | | | | |
| Base Set – Printing Plates | 44 | Mike Grier | Random Inserts in Packs | 4 | | | | |
| Base Set – Printing Plates | 45 | Janne Niinimaa | Random Inserts in Packs | 4 | | | | |
| Base Set – Printing Plates | 46 | Georges Laraque | Random Inserts in Packs | 4 | | | | |
| Base Set – Printing Plates | 47 | Sheldon Souray | Random Inserts in Packs | 4 | | | | |
| Base Set – Printing Plates | 48 | Tommy Salo | Random Inserts in Packs | 4 | | | | |
| Base Set – Printing Plates | 49 | Ethan Moreau | Random Inserts in Packs | 4 | | | | |
| Base Set – Printing Plates | 50 | Jason Smith | Random Inserts in Packs | 4 | | | | |
| Base Set – Printing Plates | 51 | Dan Cleary | Random Inserts in Packs | 4 | | | | |
| Base Set – Printing Plates | 52 | Mike Comrie | Random Inserts in Packs | 4 | | | | |
| Base Set – Printing Plates | 53 | Jason Chimera | Random Inserts in Packs | 4 | | | | |
| Base Set – Printing Plates | 54 | Shawn Horcoff | Random Inserts in Packs | 4 | | | | |
| Base Set – Printing Plates | 55 | Anson Carter | Random Inserts in Packs | 4 | | | | |
| Base Set – Printing Plates | 56 | Marty Reasoner | Random Inserts in Packs | 4 | | | | |
| Base Set – Printing Plates | 57 | Ty Conklin | Random Inserts in Packs | 4 | | | | |
| Base Set – Printing Plates | 58 | Jussi Markkanen | Random Inserts in Packs | 4 | | | | |
| Base Set – Printing Plates | 59 | Marc-Andre Bergeron | Random Inserts in Packs | 4 | | | | |
| Base Set – Printing Plates | 60 | Bill Guerin | Random Inserts in Packs | 4 | | | | |
| Base Set – Printing Plates | 61 | Scott Thornton | Random Inserts in Packs | 4 | | | | |
| Base Set – Printing Plates | 62 | Jarret Stoll | Random Inserts in Packs | 4 | | | | |
| Base Set – Printing Plates | 63 | Adam Oates | Random Inserts in Packs | 4 | | | | |
| Base Set – Printing Plates | 64 | Raffi Torres | Random Inserts in Packs | 4 | | | | |
| Base Set – Printing Plates | 65 | Matt Greene | Random Inserts in Packs | 4 | | | | |
| Base Set – Printing Plates | 66 | Fernando Pisani | Random Inserts in Packs | 4 | | | | |
| Base Set – Printing Plates | 67 | Chris Pronger | Random Inserts in Packs | 4 | | | | |
| Base Set – Printing Plates | 68 | Dwayne Roloson | Random Inserts in Packs | 4 | | | | |
| Base Set – Printing Plates | 69 | Robert Nilsson | Random Inserts in Packs | 4 | | | | |
| Base Set – Printing Plates | 70 | Ladislav Smid | Random Inserts in Packs | 4 | | | | |
| Base Set – Printing Plates | 71 | Dustin Penner | Random Inserts in Packs | 4 | | | | |
| Base Set – Printing Plates | 72 | Sam Gagner | Random Inserts in Packs | 4 | | | | |
| Base Set – Printing Plates | 73 | Andrew Cogliano | Random Inserts in Packs | 4 | | | | |
| Base Set – Printing Plates | 74 | Mathieu Garon | Random Inserts in Packs | 4 | | | | |
| Base Set – Printing Plates | 75 | Ryan Smyth | Random Inserts in Packs | 4 | | | | |
| Base Set – Printing Plates | 76 | Ryan Jones | Random Inserts in Packs | 4 | | | | |
| Base Set – Printing Plates | 77 | Devan Dubnyk | Random Inserts in Packs | 4 | | | | |
| Base Set – Printing Plates | 78 | Nikolai Khabibulin | Random Inserts in Packs | 4 | | | | |
| Base Set – Printing Plates | 79 | Ales Hemsky | Random Inserts in Packs | 4 | | | | |
| Base Set – Printing Plates | 80 | Jordan Eberle | Random Inserts in Packs | 4 | | | | |
| Base Set – Printing Plates | 81 | Taylor Hall | Random Inserts in Packs | 4 | | | | |
| Base Set – Printing Plates | 82 | Magnus Paajarvi | Random Inserts in Packs | 4 | | | | |
| Base Set – Printing Plates | 83 | Ryan Nugent-Hopkins | Random Inserts in Packs | 4 | | | | |
| Base Set – Printing Plates | 84 | Darcy Hordichuk | Random Inserts in Packs | 4 | | | | |
| Base Set – Printing Plates | 85 | Nick Schultz | Random Inserts in Packs | 4 | | | | |
| Base Set – Printing Plates | 86 | Justin Schultz | Random Inserts in Packs | 4 | | | | Rookie |
| Base Set – Printing Plates | 87 | Nail Yakupov | Random Inserts in Packs | 4 | | | | Rookie |
| Base Set – Printing Plates | 88 | Boyd Gordon | Random Inserts in Packs | 4 | | | | |
| Base Set – Printing Plates | 89 | David Perron | Random Inserts in Packs | 4 | | | | |
| Base Set – Printing Plates | 90 | Andrew Ference | Random Inserts in Packs | 4 | | | | |
| Championship Banners | CB-AM | Andy Moog 1983-84 | Random inserts in Packs | 99 | | Manufactured Patch | | |
| Championship Banners | CB-AM | Andy Moog 1984-85 | Random inserts in Packs | 25 | | Manufactured Patch | | |
| Championship Banners | CB-AM | Andy Moog 1986-87 | Random inserts in Packs | 10 | | Manufactured Patch | | |
| Championship Banners | CB-BR | Bill Ranford 1989-90 | Random inserts in Packs | 99 | | Manufactured Patch | | |
| Championship Banners | CB-CH | Charlie Huddy 1983-84 | Random inserts in Packs | 10 | | Manufactured Patch | | |
| Championship Banners | CB-CH | Charlie Huddy 1984-85 | Random inserts in Packs | 99 | | Manufactured Patch | | |
| Championship Banners | CB-CH | Charlie Huddy 1986-87 | Random inserts in Packs | 15 | | Manufactured Patch | | |
| Championship Banners | CB-CH | Charlie Huddy 1987-88 | Random inserts in Packs | 25 | | Manufactured Patch | | |
| Championship Banners | CB-CH | Charlie Huddy 1989-90 | Random inserts in Packs | 25 | | Manufactured Patch | | |
| Championship Banners | CB-CM | Craig MacTavish 1986-87 | Random inserts in Packs | 99 | | Manufactured Patch | | |
| Championship Banners | CB-CM | Craig MacTavish 1987-88 | Random inserts in Packs | 25 | | Manufactured Patch | | |
| Championship Banners | CB-CM | Craig MacTavish 1989-90 | Random inserts in Packs | 10 | | Manufactured Patch | | |
| Championship Banners | CB-MU | Craig Muni 1986-87 | Random inserts in Packs | 25 | | Manufactured Patch | | |
| Championship Banners | CB-MU | Craig Muni 1987-88 | Random inserts in Packs | 99 | | Manufactured Patch | | |
| Championship Banners | CB-MU | Craig Muni 1989-90 | Random inserts in Packs | 10 | | Manufactured Patch | | |
| Championship Banners | CB-CS | Craig Simpson 1987-88 | Random inserts in Packs | 99 | | Manufactured Patch | | |
| Championship Banners | CB-CS | Craig Simpson 1989-90 | Random inserts in Packs | 25 | | Manufactured Patch | | |
| Championship Banners | CB-DH | Dave Hunter 1983-84 | Random inserts in Packs | 99 | | Manufactured Patch | | |
| Championship Banners | CB-DH | Dave Hunter 1984-85 | Random inserts in Packs | 25 | | Manufactured Patch | | |
| Championship Banners | CB-DH | Dave Hunter 1986-87 | Random inserts in Packs | 10 | | Manufactured Patch | | |
| Championship Banners | CB-DS | Dave Semenko 1983-84 | Random inserts in Packs | 25 | | Manufactured Patch | | |
| Championship Banners | CB-DS | Dave Semenko 1984-85 | Random inserts in Packs | 99 | | Manufactured Patch | | |
| Championship Banners | CB-DL | David Lumley 1983-84 | Random inserts in Packs | 99 | | Manufactured Patch | | |
| Championship Banners | CB-DJ | Don Jackson 1983-84 | Random inserts in Packs | 25 | | Manufactured Patch | | |
| Championship Banners | CB-DJ | Don Jackson 1984-85 | Random inserts in Packs | 10 | | Manufactured Patch | | |
| Championship Banners | CB-GA | Glenn Anderson 1983-84 | Random inserts in Packs | 15 | | Manufactured Patch | | |
| Championship Banners | CB-GA | Glenn Anderson 1984-85 | Random inserts in Packs | 25 | | Manufactured Patch | | |
| Championship Banners | CB-GA | Glenn Anderson 1986-87 | Random inserts in Packs | 99 | | Manufactured Patch | | |
| Championship Banners | CB-GA | Glenn Anderson 1987-88 | Random inserts in Packs | 25 | | Manufactured Patch | | |
| Championship Banners | CB-GA | Glenn Anderson 1989-90 | Random inserts in Packs | 99 | | Manufactured Patch | | |
| Championship Banners | CB-GF | Grant Fuhr 1983-84 | Random inserts in Packs | 99 | | Manufactured Patch | | |
| Championship Banners | CB-GF | Grant Fuhr 1984-85 | Random inserts in Packs | 25 | | Manufactured Patch | | |
| Championship Banners | CB-GF | Grant Fuhr 1986-87 | Random inserts in Packs | 10 | | Manufactured Patch | | |
| Championship Banners | CB-GF | Grant Fuhr 1987-88 | Random inserts in Packs | 25 | | Manufactured Patch | | |
| Championship Banners | CB-GF | Grant Fuhr 1989-90 | Random inserts in Packs | 99 | | Manufactured Patch | | |
| Championship Banners | CB-JK | Jari Kurri 1983-84 | Random inserts in Packs | 25 | | Manufactured Patch | | |
| Championship Banners | CB-JK | Jari Kurri 1984-85 | Random inserts in Packs | 99 | | Manufactured Patch | | |
| Championship Banners | CB-JK | Jari Kurri 1986-87 | Random inserts in Packs | 25 | | Manufactured Patch | | |
| Championship Banners | CB-JK | Jari Kurri 1987-88 | Random inserts in Packs | 10 | | Manufactured Patch | | |
| Championship Banners | CB-JK | Jari Kurri 1989-90 | Random inserts in Packs | 99 | | Manufactured Patch | | |
| Championship Banners | CB-JB | Jeff Beukeboom 1987-88 | Random inserts in Packs | 25 | | Manufactured Patch | | |
| Championship Banners | CB-JB | Jeff Beukeboom 1989-90 | Random inserts in Packs | 99 | | Manufactured Patch | | |
| Championship Banners | CB-JM | Joe Murphy 1989-90 | Random inserts in Packs | 99 | | Manufactured Patch | | |
| Championship Banners | CB-KB | Kelly Buchberger 1989-90 | Random inserts in Packs | 99 | | Manufactured Patch | | |
| Championship Banners | CB-KL | Ken Linseman 1983-84 | Random inserts in Packs | 25 | | Manufactured Patch | | |
| Championship Banners | CB-KN | Kent Nilsson 1986-87 | Random inserts in Packs | 99 | | Manufactured Patch | | |
| Championship Banners | CB-KM | Kevin McClelland 1983-84 | Random inserts in Packs | 99 | | Manufactured Patch | | |
| Championship Banners | CB-KM | Kevin McClelland 1984-85 | Random inserts in Packs | 10 | | Manufactured Patch | | |
| Championship Banners | CB-KM | Kevin McClelland 1986-87 | Random inserts in Packs | 25 | | Manufactured Patch | | |
| Championship Banners | CB-KM | Kevin McClelland 1987-88 | Random inserts in Packs | 25 | | Manufactured Patch | | |
| Championship Banners | CB-LF | Lee Fogolin 1983-84 | Random inserts in Packs | 25 | | Manufactured Patch | | |
| Championship Banners | CB-LF | Lee Fogolin 1984-85 | Random inserts in Packs | 99 | | Manufactured Patch | | |
| Championship Banners | CB-ML | Mark Lamb 1989-90 | Random inserts in Packs | 25 | | Manufactured Patch | | |
| Championship Banners | CB-MM | Mark Messier 1983-84 | Random inserts in Packs | 25 | | Manufactured Patch | | |
| Championship Banners | CB-MM | Mark Messier 1984-85 | Random inserts in Packs | 25 | | Manufactured Patch | | |
| Championship Banners | CB-MM | Mark Messier 1986-87 | Random inserts in Packs | 25 | | Manufactured Patch | | |
| Championship Banners | CB-MM | Mark Messier 1987-88 | Random inserts in Packs | 25 | | Manufactured Patch | | |
| Championship Banners | CB-MM | Mark Messier 1989-90 | Random inserts in Packs | 99 | | Manufactured Patch | | |
| Championship Banners | CB-MG | Martin Gelinas 1989-90 | Random inserts in Packs | 99 | | Manufactured Patch | | |
| Championship Banners | CB-MC | Marty McSorley 1986-87 | Random inserts in Packs | 25 | | Manufactured Patch | | |
| Championship Banners | CB-MC | Marty McSorley 1987-88 | Random inserts in Packs | 99 | | Manufactured Patch | | |
| Championship Banners | CB-MK | Mike Krushelnyski 1984-85 | Random inserts in Packs | 99 | | Manufactured Patch | | |
| Championship Banners | CB-MK | Mike Krushelnyski 1986-87 | Random inserts in Packs | 10 | | Manufactured Patch | | |
| Championship Banners | CB-MK | Mike Krushelnyski 1987-88 | Random inserts in Packs | 25 | | Manufactured Patch | | |
| Championship Banners | CB-PC | Paul Coffey 1983-84 | Random inserts in Packs | 25 | | Manufactured Patch | | |
| Championship Banners | CB-PC | Paul Coffey 1984-85 | Random inserts in Packs | 25 | | Manufactured Patch | | |
| Championship Banners | CB-PC | Paul Coffey 1986-87 | Random inserts in Packs | 99 | | Manufactured Patch | | |
| Championship Banners | CB-RG | Randy Gregg 1983-84 | Random inserts in Packs | 25 | | Manufactured Patch | | |
| Championship Banners | CB-RG | Randy Gregg 1984-85 | Random inserts in Packs | 10 | | Manufactured Patch | | |
| Championship Banners | CB-RG | Randy Gregg 1986-87 | Random inserts in Packs | 99 | | Manufactured Patch | | |
| Championship Banners | CB-RG | Randy Gregg 1987-88 | Random inserts in Packs | 99 | | Manufactured Patch | | |
| Championship Banners | CB-RG | Randy Gregg 1989-90 | Random inserts in Packs | 25 | | Manufactured Patch | | |
| Championship Banners | CB-SS | Steve Smith 1986-87 | Random inserts in Packs | 10 | | Manufactured Patch | | |
| Championship Banners | CB-SS | Steve Smith 1987-88 | Random inserts in Packs | 99 | | Manufactured Patch | | |
| Championship Banners | CB-SS | Steve Smith 1989-90 | Random inserts in Packs | 25 | | Manufactured Patch | | |
| Championship Banners | CB-WG | Wayne Gretzky 1983-84 | Random inserts in Packs | 99 | | Manufactured Patch | | |
| Championship Banners | CB-WG | Wayne Gretzky 1984-85 | Random inserts in Packs | 10 | | Manufactured Patch | | |
| Championship Banners | CB-WG | Wayne Gretzky 1986-87 | Random inserts in Packs | 25 | | Manufactured Patch | | |
| Championship Banners | CB-WG | Wayne Gretzky 1987-88 | Random inserts in Packs | 99 | | Manufactured Patch | | |
| Championship Banners Signatures | CB-AM | Andy Moog 1983-84 | Random inserts in Packs | 25 | Auto | Manufactured Patch | | |
| Championship Banners Signatures | CB-AM | Andy Moog 1984-85 | Random inserts in Packs | 10 | Auto | Manufactured Patch | | |
| Championship Banners Signatures | CB-AM | Andy Moog 1986-87 | Random inserts in Packs | 5 | Auto | Manufactured Patch | | |
| Championship Banners Signatures | CB-BR | Bill Ranford 1989-90 | Random inserts in Packs | 25 | Auto | Manufactured Patch | | |
| Championship Banners Signatures | CB-CH | Charlie Huddy 1983-84 | Random inserts in Packs | 15 | Auto | Manufactured Patch | | |
| Championship Banners Signatures | CB-CH | Charlie Huddy 1984-85 | Random inserts in Packs | 10 | Auto | Manufactured Patch | | |
| Championship Banners Signatures | CB-CH | Charlie Huddy 1986-87 | Random inserts in Packs | 5 | Auto | Manufactured Patch | | |
| Championship Banners Signatures | CB-CH | Charlie Huddy 1987-88 | Random inserts in Packs | 15 | Auto | Manufactured Patch | | |
| Championship Banners Signatures | CB-CH | Charlie Huddy 1989-90 | Random inserts in Packs | 10 | Auto | Manufactured Patch | | |
| Championship Banners Signatures | CB-CM | Craig MacTavish 1986-87 | Random inserts in Packs | 25 | Auto | Manufactured Patch | | |
| Championship Banners Signatures | CB-CM | Craig MacTavish 1987-88 | Random inserts in Packs | 15 | Auto | Manufactured Patch | | |
| Championship Banners Signatures | CB-CM | Craig MacTavish 1989-90 | Random inserts in Packs | 10 | Auto | Manufactured Patch | | |
| Championship Banners Signatures | CB-MU | Craig Muni 1986-87 | Random inserts in Packs | 10 | Auto | Manufactured Patch | | |
| Championship Banners Signatures | CB-MU | Craig Muni 1987-88 | Random inserts in Packs | 25 | Auto | Manufactured Patch | | |
| Championship Banners Signatures | CB-MU | Craig Muni 1989-90 | Random inserts in Packs | 10 | Auto | Manufactured Patch | | |
| Championship Banners Signatures | CB-CS | Craig Simpson 1987-88 | Random inserts in Packs | 15 | Auto | Manufactured Patch | | |
| Championship Banners Signatures | CB-CS | Craig Simpson 1989-90 | Random inserts in Packs | 25 | Auto | Manufactured Patch | | |
| Championship Banners Signatures | CB-DL | David Lumley 1983-84 | Random inserts in Packs | 25 | Auto | Manufactured Patch | | |
| Championship Banners Signatures | CB-GA | Glenn Anderson 1983-84 | Random inserts in Packs | 10 | Auto | Manufactured Patch | | |
| Championship Banners Signatures | CB-GA | Glenn Anderson 1984-85 | Random inserts in Packs | 10 | Auto | Manufactured Patch | | |
| Championship Banners Signatures | CB-GA | Glenn Anderson 1986-87 | Random inserts in Packs | 15 | Auto | Manufactured Patch | | |
| Championship Banners Signatures | CB-GA | Glenn Anderson 1987-88 | Random inserts in Packs | 15 | Auto | Manufactured Patch | | |
| Championship Banners Signatures | CB-GA | Glenn Anderson 1989-90 | Random inserts in Packs | 25 | Auto | Manufactured Patch | | |
| Championship Banners Signatures | CB-GF | Grant Fuhr 1983-84 | Random inserts in Packs | 15 | Auto | Manufactured Patch | | |
| Championship Banners Signatures | CB-GF | Grant Fuhr 1984-85 | Random inserts in Packs | 15 | Auto | Manufactured Patch | | |
| Championship Banners Signatures | CB-GF | Grant Fuhr 1986-87 | Random inserts in Packs | 10 | Auto | Manufactured Patch | | |
| Championship Banners Signatures | CB-GF | Grant Fuhr 1987-88 | Random inserts in Packs | 10 | Auto | Manufactured Patch | | |
| Championship Banners Signatures | CB-GF | Grant Fuhr 1989-90 | Random inserts in Packs | 10 | Auto | Manufactured Patch | | |
| Championship Banners Signatures | CB-JK | Jari Kurri 1983-84 | Random inserts in Packs | 15 | Auto | Manufactured Patch | | |
| Championship Banners Signatures | CB-JK | Jari Kurri 1984-85 | Random inserts in Packs | 15 | Auto | Manufactured Patch | | |
| Championship Banners Signatures | CB-JK | Jari Kurri 1986-87 | Random inserts in Packs | 10 | Auto | Manufactured Patch | | |
| Championship Banners Signatures | CB-JK | Jari Kurri 1987-88 | Random inserts in Packs | 5 | Auto | Manufactured Patch | | |
| Championship Banners Signatures | CB-JK | Jari Kurri 1989-90 | Random inserts in Packs | 25 | Auto | Manufactured Patch | | |
| Championship Banners Signatures | CB-JB | Jeff Beukeboom 1987-88 | Random inserts in Packs | 10 | Auto | Manufactured Patch | | |
| Championship Banners Signatures | CB-JB | Jeff Beukeboom 1989-90 | Random inserts in Packs | 25 | Auto | Manufactured Patch | | |
| Championship Banners Signatures | CB-JM | Joe Murphy 1989-90 | Random inserts in Packs | 25 | Auto | Manufactured Patch | | |
| Championship Banners Signatures | CB-KB | Kelly Buchberger 1989-90 | Random inserts in Packs | 25 | Auto | Manufactured Patch | | |
| Championship Banners Signatures | CB-KN | Kent Nilsson 1986-87 | Random inserts in Packs | 10 | Auto | Manufactured Patch | | |
| Championship Banners Signatures | CB-KM | Kevin McClelland 1983-84 | Random inserts in Packs | 25 | Auto | Manufactured Patch | | |
| Championship Banners Signatures | CB-KM | Kevin McClelland 1984-85 | Random inserts in Packs | 15 | Auto | Manufactured Patch | | |
| Championship Banners Signatures | CB-KM | Kevin McClelland 1986-87 | Random inserts in Packs | 15 | Auto | Manufactured Patch | | |
| Championship Banners Signatures | CB-KM | Kevin McClelland 1987-88 | Random inserts in Packs | 10 | Auto | Manufactured Patch | | |
| Championship Banners Signatures | CB-LF | Lee Fogolin 1983-84 | Random inserts in Packs | 15 | Auto | Manufactured Patch | | |
| Championship Banners Signatures | CB-LF | Lee Fogolin 1984-85 | Random inserts in Packs | 10 | Auto | Manufactured Patch | | |
| Championship Banners Signatures | CB-ML | Mark Lamb 1989-90 | Random inserts in Packs | 25 | Auto | Manufactured Patch | | |
| Championship Banners Signatures | CB-MM | Mark Messier 1983-84 | Random inserts in Packs | 10 | Auto | Manufactured Patch | | |
| Championship Banners Signatures | CB-MM | Mark Messier 1984-85 | Random inserts in Packs | 5 | Auto | Manufactured Patch | | |
| Championship Banners Signatures | CB-MM | Mark Messier 1986-87 | Random inserts in Packs | 10 | Auto | Manufactured Patch | | |
| Championship Banners Signatures | CB-MM | Mark Messier 1987-88 | Random inserts in Packs | 5 | Auto | Manufactured Patch | | |
| Championship Banners Signatures | CB-MM | Mark Messier 1989-90 | Random inserts in Packs | 15 | Auto | Manufactured Patch | | |
| Championship Banners Signatures | CB-MG | Martin Gelinas 1989-90 | Random inserts in Packs | 25 | Auto | Manufactured Patch | | |
| Championship Banners Signatures | CB-MC | Marty McSorley 1986-87 | Random inserts in Packs | 10 | Auto | Manufactured Patch | | |
| Championship Banners Signatures | CB-MC | Marty McSorley 1987-88 | Random inserts in Packs | 25 | Auto | Manufactured Patch | | |
| Championship Banners Signatures | CB-MK | Mike Krushelnyski 1984-85 | Random inserts in Packs | 25 | Auto | Manufactured Patch | | |
| Championship Banners Signatures | CB-MK | Mike Krushelnyski 1986-87 | Random inserts in Packs | 5 | Auto | Manufactured Patch | | |
| Championship Banners Signatures | CB-MK | Mike Krushelnyski 1987-88 | Random inserts in Packs | 25 | Auto | Manufactured Patch | | |
| Championship Banners Signatures | CB-PC | Paul Coffey 1983-84 | Random inserts in Packs | 10 | Auto | Manufactured Patch | | |
| Championship Banners Signatures | CB-PC | Paul Coffey 1984-85 | Random inserts in Packs | 15 | Auto | Manufactured Patch | | |
| Championship Banners Signatures | CB-PC | Paul Coffey 1986-87 | Random inserts in Packs | 10 | Auto | Manufactured Patch | | |
| Championship Banners Signatures | CB-RG | Randy Gregg 1983-84 | Random inserts in Packs | 15 | Auto | Manufactured Patch | | |
| Championship Banners Signatures | CB-RG | Randy Gregg 1984-85 | Random inserts in Packs | 10 | Auto | Manufactured Patch | | |
| Championship Banners Signatures | CB-RG | Randy Gregg 1986-87 | Random inserts in Packs | 10 | Auto | Manufactured Patch | | |
| Championship Banners Signatures | CB-RG | Randy Gregg 1987-88 | Random inserts in Packs | 5 | Auto | Manufactured Patch | | |
| Championship Banners Signatures | CB-RG | Randy Gregg 1989-90 | Random inserts in Packs | 25 | Auto | Manufactured Patch | | |
| Championship Banners Signatures | CB-SS | Steve Smith 1986-87 | Random inserts in Packs | 5 | Auto | Manufactured Patch | | |
| Championship Banners Signatures | CB-SS | Steve Smith 1987-88 | Random inserts in Packs | 25 | Auto | Manufactured Patch | | |
| Championship Banners Signatures | CB-SS | Steve Smith 1989-90 | Random inserts in Packs | 10 | Auto | Manufactured Patch | | |
| Championship Banners Signatures | CB-WG | Wayne Gretzky 1983-84 | Random inserts in Packs | 5 | Auto | Manufactured Patch | | |
| Championship Banners Signatures | CB-WG | Wayne Gretzky 1984-85 | Random inserts in Packs | 5 | Auto | Manufactured Patch | | |
| Championship Banners Signatures | CB-WG | Wayne Gretzky 1986-87 | Random inserts in Packs | 5 | Auto | Manufactured Patch | | |
| Championship Banners Signatures | CB-WG | Wayne Gretzky 1987-88 | Random inserts in Packs | 5 | Auto | Manufactured Patch | | |
| Franchise Ink | FI-AC | Anson Carter | Group F 1:17 (Overall Franchise 1:4) | | Auto | | | |
| Franchise Ink | FI-AH | Al Hamilton | Group G 1:6 (Overall Franchise 1:4) | | Auto | | | |
| Franchise Ink | FI-AM | Andy Moog | Group D 1:64 (Overall Franchise 1:4) | | Auto | | | |
| Franchise Ink | FI-AN | Andrew Cogliano | Group F 1:17 (Overall Franchise 1:4) | | Auto | | | |
| Franchise Ink | FI-AO | Adam Oates | Group E 1:46 (Overall Franchise 1:4) | | Auto | | | |
| Franchise Ink | FI-BE | Bob Essensa | Group G 1:6 (Overall Franchise 1:4) | | Auto | | | |
| Franchise Ink | FI-BG | Bill Guerin | Group D 1:64 (Overall Franchise 1:4) | | Auto | | | |
| Franchise Ink | FI-BN | Bernie Nicholls | Group E 1:46 (Overall Franchise 1:4) | | Auto | | | |
| Franchise Ink | FI-BR | Bill Ranford | Group D 1:64 (Overall Franchise 1:4) | | Auto | | | |
| Franchise Ink | FI-CA | Jimmy Carson | Group G 1:6 (Overall Franchise 1:4) | | Auto | | | |
| Franchise Ink | FI-CH | Charlie Huddy | Group G 1:6 (Overall Franchise 1:4) | | Auto | | | |
| Franchise Ink | FI-CJ | Curtis Joseph | Group C 1:208 (Overall Franchise 1:4) | | Auto | | | |
| Franchise Ink | FI-CM | Craig MacTavish | Group D 1:64 (Overall Franchise 1:4) | | Auto | | | |
| Franchise Ink | FI-CP | Chris Pronger | Group B 1:882 (Overall Franchise 1:4) | | Auto | | | |
| Franchise Ink | FI-CS | Craig Simpson | Group F 1:17 (Overall Franchise 1:4) | | Auto | | | |
| Franchise Ink | FI-DC | Dan Cleary | Group F 1:17 (Overall Franchise 1:4) | | Auto | | | |
| Franchise Ink | FI-DD | Devan Dubnyk | Group G 1:6 (Overall Franchise 1:4) | | Auto | | | |
| Franchise Ink | FI-DL | David Lumley | Group G 1:6 (Overall Franchise 1:4) | | Auto | | | |
| Franchise Ink | FI-DM | Dave Manson | Group G 1:6 (Overall Franchise 1:4) | | Auto | | | |
| Franchise Ink | FI-DP | Dustin Penner | Group D 1:64 (Overall Franchise 1:4) | | Auto | | | |
| Franchise Ink | FI-DR | Dwayne Roloson | Group G 1:6 (Overall Franchise 1:4) | | Auto | | | |
| Franchise Ink | FI-DW | Doug Weight | Group D 1:64 (Overall Franchise 1:4) | | Auto | | | |
| Franchise Ink | FI-EM | Eddie Mio | Group G 1:6 (Overall Franchise 1:4) | | Auto | | | |
| Franchise Ink | FI-FL | Francois Leroux | Group G 1:6 (Overall Franchise 1:4) | | Auto | | | |
| Franchise Ink | FI-FP | Fernando Pisani | Group G 1:6 (Overall Franchise 1:4) | | Auto | | | |
| Franchise Ink | FI-GA | Glenn Anderson | Group C 1:208 (Overall Franchise 1:4) | | Auto | | | |
| Franchise Ink | FI-GF | Grant Fuhr | Group C 1:208 (Overall Franchise 1:4) | | Auto | | | |
| Franchise Ink | FI-GL | Georges Laraque | Group G 1:6 (Overall Franchise 1:4) | | Auto | | | |
| Franchise Ink | FI-GM | Mathieu Garon | Group F 1:17 (Overall Franchise 1:4) | | Auto | | | |
| Franchise Ink | FI-GR | Mike Grier | Group G 1:6 (Overall Franchise 1:4) | | Auto | | | |
| Franchise Ink | FI-HE | Ales Hemsky | Group D 1:64 (Overall Franchise 1:4) | | Auto | | | |
| Franchise Ink | FI-HO | Darcy Hordichuk | Group F 1:17 (Overall Franchise 1:4) | | Auto | | | |
| Franchise Ink | FI-JA | Jason Arnott | Group D 1:64 (Overall Franchise 1:4) | | Auto | | | |
| Franchise Ink | FI-JB | Jeff Beukeboom | Group G 1:6 (Overall Franchise 1:4) | | Auto | | | |
| Franchise Ink | FI-JC | Jason Chimera | Group G 1:6 (Overall Franchise 1:4) | | Auto | | | |
| Franchise Ink | FI-JD | Jeff Deslauriers | Group G 1:6 (Overall Franchise 1:4) | | Auto | | | |
| Franchise Ink | FI-JE | Jordan Eberle | Group C 1:208 (Overall Franchise 1:4) | | Auto | | | |
| Franchise Ink | FI-JK | Jari Kurri | Group B 1:882 (Overall Franchise 1:4) | | Auto | | | |
| Franchise Ink | FI-JM | Joe Murphy | Group G 1:6 (Overall Franchise 1:4) | | Auto | | | |
| Franchise Ink | FI-JN | Janne Niinimaa | Group G 1:6 (Overall Franchise 1:4) | | Auto | | | |
| Franchise Ink | FI-JS | Jason Smith | Group F 1:17 (Overall Franchise 1:4) | | Auto | | | |
| Franchise Ink | FI-KB | Kelly Buchberger | Group F 1:17 (Overall Franchise 1:4) | | Auto | | | |
| Franchise Ink | FI-KM | Kevin McClelland | Group G 1:6 (Overall Franchise 1:4) | | Auto | | | |
| Franchise Ink | FI-KN | Kent Nilsson | Group F 1:17 (Overall Franchise 1:4) | | Auto | | | |
| Franchise Ink | FI-LD | Louie Debrusk | Group G 1:6 (Overall Franchise 1:4) | | Auto | | | |
| Franchise Ink | FI-LF | Lee Fogolin | Group G 1:6 (Overall Franchise 1:4) | | Auto | | | |
| Franchise Ink | FI-LI | Ken Linseman | Group G 1:6 (Overall Franchise 1:4) | | Auto | | | |
| Franchise Ink | FI-LS | Ladislav Smid | Group F 1:17 (Overall Franchise 1:4) | | Auto | | | |
| Franchise Ink | FI-MA | Marty McSorley | Group D 1:64 (Overall Franchise 1:4) | | Auto | | | |
| Franchise Ink | FI-MB | Marc-Andre Bergeron | Group F 1:17 (Overall Franchise 1:4) | | Auto | | | |
| Franchise Ink | FI-MG | Martin Gelinas | Group G 1:6 (Overall Franchise 1:4) | | Auto | | | |
| Franchise Ink | FI-MH | Matti Hagman | Group G 1:6 (Overall Franchise 1:4) | | Auto | | | |
| Franchise Ink | FI-MK | Mike Krushelnyski | Group G 1:6 (Overall Franchise 1:4) | | Auto | | | |
| Franchise Ink | FI-ML | Mark Lamb | Group G 1:6 (Overall Franchise 1:4) | | Auto | | | |
| Franchise Ink | FI-MM | Mark Messier | Group A 1:3,041 (Overall Franchise 1:4) | | Auto | | | |
| Franchise Ink | FI-MO | Ethan Moreau | Group E 1:46 (Overall Franchise 1:4) | | Auto | | | |
| Franchise Ink | FI-MP | Magnus Paajarvi | Group E 1:46 (Overall Franchise 1:4) | | Auto | | | |
| Franchise Ink | FI-MR | Marty Reasoner | Group G 1:6 (Overall Franchise 1:4) | | Auto | | | |
| Franchise Ink | FI-MU | Craig Muni | Group G 1:6 (Overall Franchise 1:4) | | Auto | | | |
| Franchise Ink | FI-NU | Ryan Nugent-Hopkins | Group C 1:208 (Overall Franchise 1:4) | | Auto | | | |
| Franchise Ink | FI-NY | Nail Yakupov | Group C 1:208 (Overall Franchise 1:4) | | Auto | | | Rookie |
| Franchise Ink | FI-PC | Paul Coffey | Group A 1:3,041 (Overall Franchise 1:4) | | Auto | | | |
| Franchise Ink | FI-PO | Patrick O'Sullivan | Group G 1:6 (Overall Franchise 1:4) | | Auto | | | |
| Franchise Ink | FI-RG | Randy Gregg | Group G 1:6 (Overall Franchise 1:4) | | Auto | | | |
| Franchise Ink | FI-RL | Ronald Low | Group G 1:6 (Overall Franchise 1:4) | | Auto | | | |
| Franchise Ink | FI-RN | Robert Nilsson | Group F 1:17 (Overall Franchise 1:4) | | Auto | | | |
| Franchise Ink | FI-RT | Raffi Torres | Group E 1:46 (Overall Franchise 1:4) | | Auto | | | |
| Franchise Ink | FI-SG | Sam Gagner | Group E 1:46 (Overall Franchise 1:4) | | Auto | | | |
| Franchise Ink | FI-SH | Shawn Horcoff | Group E 1:46 (Overall Franchise 1:4) | | Auto | | | |
| Franchise Ink | FI-SM | Ryan Smyth | Group C 1:208 (Overall Franchise 1:4) | | Auto | | | |
| Franchise Ink | FI-SO | Sheldon Souray | Group F 1:17 (Overall Franchise 1:4) | | Auto | | | |
| Franchise Ink | FI-SS | Steve Smith | Group F 1:17 (Overall Franchise 1:4) | | Auto | | | |
| Franchise Ink | FI-ST | Jarret Stoll | Group D 1:64 (Overall Franchise 1:4) | | Auto | | | |
| Franchise Ink | FI-SZ | Justin Schultz | Group E 1:46 (Overall Franchise 1:4) | | Auto | | | Rookie |
| Franchise Ink | FI-TC | Ty Conklin | Group F 1:17 (Overall Franchise 1:4) | | Auto | | | |
| Franchise Ink | FI-TH | Taylor Hall | Group C 1:208 (Overall Franchise 1:4) | | Auto | | | |
| Franchise Ink | FI-TM | Todd Marchant | Group G 1:6 (Overall Franchise 1:4) | | Auto | | | |
| Franchise Ink | FI-TN | Scott Thornton | Group F 1:17 (Overall Franchise 1:4) | | Auto | | | |
| Franchise Ink | FI-TS | Tommy Salo | Group F 1:17 (Overall Franchise 1:4) | | Auto | | | |
| Franchise Ink | FI-VD | Vincent Damphousse | Group E 1:46 (Overall Franchise 1:4) | | Auto | | | |
| Franchise Ink | FI-WG | Wayne Gretzky | Group B 1:882 (Overall Franchise 1:4) | | Auto | | | |
| Franchise Ink Duos | FI2-CH | Paul Coffey/Charlie Huddy | Group B 1:1,729 (Overall Franchise Duos 1:80) | | Auto | | | |
| Franchise Ink Duos | FI2-CS | Tommy Salo/Ty Conklin | Group E 1:160 (Overall Franchise Duos 1:80) | | Auto | | | |
| Franchise Ink Duos | FI2-DS | Devan Dubnyk/Justin Schultz | Group D 1:294 (Overall Franchise Duos 1:80) | | Auto | | | Rookie |
| Franchise Ink Duos | FI2-EH | Taylor Hall/Jordan Eberle | Group B 1:1,729 (Overall Franchise Duos 1:80) | | Auto | | | |
| Franchise Ink Duos | FI2-FM | Grant Fuhr/Andy Moog | Group B 1:1,729 (Overall Franchise Duos 1:80) | | Auto | | | |
| Franchise Ink Duos | FI2-GB | Kelly Buchberger/Bill Guerin | Group C 1:353 (Overall Franchise Duos 1:80) | | Auto | | | |
| Franchise Ink Duos | FI2-GM | Wayne Gretzky/Mark Messier | Group A 1:17,640 (Overall Franchise Duos 1:80) | | Auto | | | |
| Franchise Ink Duos | FI2-GR | Dwayne Roloson/Mathieu Garon | Group E 1:160 (Overall Franchise Duos 1:80) | | Auto | | | |
| Franchise Ink Duos | FI2-HH | Ales Hemsky/Shawn Horcoff | Group C 1:353 (Overall Franchise Duos 1:80) | | Auto | | | |
| Franchise Ink Duos | FI2-KM | Marty McSorley/Mike Krushelnyski | Group D 1:294 (Overall Franchise Duos 1:80) | | Auto | | | |
| Franchise Ink Duos | FI2-KS | Jari Kurri/Craig Simpson | Group D 1:294 (Overall Franchise Duos 1:80) | | Auto | | | |
| Franchise Ink Duos | FI2-LM | Dave Manson/Georges Laraque | Group E 1:160 (Overall Franchise Duos 1:80) | | Auto | | | |
| Franchise Ink Duos | FI2-LS | Ken Linseman/Steve Smith | Group C 1:353 (Overall Franchise Duos 1:80) | | Auto | | | |
| Franchise Ink Duos | FI2-MC | Mark Messier/Craig MacTavish | Group B 1:1,729 (Overall Franchise Duos 1:80) | | Auto | | | |
| Franchise Ink Duos | FI2-MM | Marty McSorley/Dave Manson | Group D 1:294 (Overall Franchise Duos 1:80) | | Auto | | | |
| Franchise Ink Duos | FI2-NY | Ryan Nugent-Hopkins/Nail Yakupov | Group B 1:1,729 (Overall Franchise Duos 1:80) | | Auto | | | Rookie |
| Franchise Ink Duos | FI2-PC | Dustin Penner/Andrew Cogliano | Group C 1:353 (Overall Franchise Duos 1:80) | | Auto | | | |
| Franchise Ink Duos | FI2-SB | Steve Smith/Kelly Buchberger | Group E 1:160 (Overall Franchise Duos 1:80) | | Auto | | | |
| Franchise Ink Duos | FI2-SG | Ladislav Smid/Tom Gilbert | Group E 1:160 (Overall Franchise Duos 1:80) | | Auto | | | |
| Franchise Ink Duos | FI2-WA | Doug Weight/Jason Arnott | Group C 1:353 (Overall Franchise Duos 1:80) | | Auto | | | |
| Franchise Ink Trios | FI3-AMS | Craig Simpson/Mark Messier/Glenn Anderson | Group B 1:1,604 (Overall Franchise Trios 1:300) | | Auto | | | |
| Franchise Ink Trios | FI3-EHN | Taylor Hall/Ryan Nugent-Hopkins/Jordan Eberle | Group A 1:9,800 (Overall Franchise Trios 1:300) | | Auto | | | |
| Franchise Ink Trios | FI3-FRM | Grant Fuhr/Andy Moog/Bill Ranford | Group B 1:1,604 (Overall Franchise Trios 1:300) | | Auto | | | |
| Franchise Ink Trios | FI3-GCK | Paul Coffey/Wayne Gretzky/Jari Kurri | Group A 1:9,800 (Overall Franchise Trios 1:300) | | Auto | | | |
| Franchise Ink Trios | FI3-GFH | Randy Gregg/Lee Fogolin/Charlie Huddy | Group C 1:653 (Overall Franchise Trios 1:300) | | Auto | | | |
| Franchise Ink Trios | FI3-HPG | Dustin Penner/Sam Gagner/Ales Hemsky | Group C 1:653 (Overall Franchise Trios 1:300) | | Auto | | | |
| Franchise Ink Trios | FI3-LMM | Marty McSorley/Kevin McClelland/Georges Laraque | Group D 1:1,470 (Overall Franchise Trios 1:300) | | Auto | | | |
| Franchise Ink Trios | FI3-MRS | Ethan Moreau/Marty Reasoner/Jaret Stoll | Group C 1:653 (Overall Franchise Trios 1:300) | | Auto | | | |
| Franchise Ink Trios | FI3-PSR | Ryan Smyth/Chris Pronger/Dwayne Roloson | Group B 1:1,604 (Overall Franchise Trios 1:300) | | Auto | | | |
| Franchise Ink Trios | FI3-SHG | Ryan Smyth/Sam Gagner/Ales Hemsky | Group C 1:653 (Overall Franchise Trios 1:300) | | Auto | | | |
| Franchise Ink Trios | FI3-SHO | Adam Oates/Jarret Stoll/Shawn Horcoff | Group B 1:1,604 (Overall Franchise Trios 1:300) | | Auto | | | |
| Franchise Ink Trios | FI3-WSG | Ryan Smyth/Doug Weight/Mike Grier | Group C 1:653 (Overall Franchise Trios 1:300) | | Auto | | | |
| Franchise Ink Quads | FI4-AKCS | Glenn Anderson/Jari Kurri/Paul Coffey/Steve Smith | Group B 1:4,009 (Overall Franchise Quads 1:900) | | Auto | | | |
| Franchise Ink Quads | FI4-CGHS | Paul Coffey/Randy Gregg/Charlie Huddy/Steve Smith | Group C 1:4,410 (Overall Franchise Quads 1:900) | | Auto | | | |
| Franchise Ink Quads | FI4-GCKF | Wayne Gretzky/Paul Coffey/Jari Kurri/Grant Fuhr | Group A 1:5,880 (Overall Franchise Quads 1:900) | | Auto | | | |
| Franchise Ink Quads | FI4-GMSF | Wayne Gretzky/Mark Messier/Craig Simspon/Grant Fuhr | Group B 1:4,009 (Overall Franchise Quads 1:900) | | Auto | | | |
| Franchise Ink Quads | FI4-MFAK | Mark Messier/Grant Fuhr/Glenn Anderson/Jari Kurri | Group A 1:5,880 (Overall Franchise Quads 1:900) | | Auto | | | |
| Franchise Ink Quads | FI4-MKWM | Mark Messier/Mike Krushelnyski/Doug Weight/Craig MacTavish | Group A 1:5,880 (Overall Franchise Quads 1:900) | | Auto | | | |
| Monumental Emblems | ME-AH | Ales Hemsky | 1:18 | | | Manufactured Patch | 24-Card Puzzle per Player (all pieces evenly produced) | |
| Monumental Emblems | ME-AM | Andy Moog | 1:18 | | | Manufactured Patch | 24-Card Puzzle per Player (all pieces evenly produced) | |
| Monumental Emblems | ME-BR | Bill Ranford | 1:18 | | | Manufactured Patch | 24-Card Puzzle per Player (all pieces evenly produced) | |
| Monumental Emblems | ME-CH | Charlie Huddy | 1:18 | | | Manufactured Patch | 24-Card Puzzle per Player (all pieces evenly produced) | |
| Monumental Emblems | ME-CM | Craig MacTavish | 1:18 | | | Manufactured Patch | 24-Card Puzzle per Player (all pieces evenly produced) | |
| Monumental Emblems | ME-CS | Craig Simpson | 1:18 | | | Manufactured Patch | 24-Card Puzzle per Player (all pieces evenly produced) | |
| Monumental Emblems | ME-DH | Dave Hunter | 1:18 | | | Manufactured Patch | 24-Card Puzzle per Player (all pieces evenly produced) | |
| Monumental Emblems | ME-DW | Doug Weight | 1:18 | | | Manufactured Patch | 24-Card Puzzle per Player (all pieces evenly produced) | |
| Monumental Emblems | ME-GA | Glenn Anderson | 1:18 | | | Manufactured Patch | 24-Card Puzzle per Player (all pieces evenly produced) | |
| Monumental Emblems | ME-GF | Grant Fuhr | 1:18 | | | Manufactured Patch | 24-Card Puzzle per Player (all pieces evenly produced) | |
| Monumental Emblems | ME-JE | Jordan Eberle | 1:18 | | | Manufactured Patch | 24-Card Puzzle per Player (all pieces evenly produced) | |
| Monumental Emblems | ME-JK | Jari Kurri | 1:18 | | | Manufactured Patch | 24-Card Puzzle per Player (all pieces evenly produced) | |
| Monumental Emblems | ME-JS | Justin Schultz | 1:18 | | | Manufactured Patch | 24-Card Puzzle per Player (all pieces evenly produced) | Rookie |
| Monumental Emblems | ME-MC | Marty McSorley | 1:18 | | | Manufactured Patch | 24-Card Puzzle per Player (all pieces evenly produced) | |
| Monumental Emblems | ME-MM | Mark Messier | 1:18 | | | Manufactured Patch | 24-Card Puzzle per Player (all pieces evenly produced) | |
| Monumental Emblems | ME-NK | Nikolai Khabibulin | 1:18 | | | Manufactured Patch | 24-Card Puzzle per Player (all pieces evenly produced) | |
| Monumental Emblems | ME-NY | Nail Yakupov | 1:18 | | | Manufactured Patch | 24-Card Puzzle per Player (all pieces evenly produced) | Rookie |
| Monumental Emblems | ME-PC | Paul Coffey | 1:18 | | | Manufactured Patch | 24-Card Puzzle per Player (all pieces evenly produced) | |
| Monumental Emblems | ME-RN | Ryan Nugent-Hopkins | 1:18 | | | Manufactured Patch | 24-Card Puzzle per Player (all pieces evenly produced) | |
| Monumental Emblems | ME-RS | Ryan Smyth | 1:18 | | | Manufactured Patch | 24-Card Puzzle per Player (all pieces evenly produced) | |
| Monumental Emblems | ME-SG | Sam Gagner | 1:18 | | | Manufactured Patch | 24-Card Puzzle per Player (all pieces evenly produced) | |
| Monumental Emblems | ME-SH | Shawn Horcoff | 1:18 | | | Manufactured Patch | 24-Card Puzzle per Player (all pieces evenly produced) | |
| Monumental Emblems | ME-TH | Taylor Hall | 1:18 | | | Manufactured Patch | 24-Card Puzzle per Player (all pieces evenly produced) | |
| Monumental Emblems | ME-WG | Wayne Gretzky | 1:18 | | | Manufactured Patch | 24-Card Puzzle per Player (all pieces evenly produced) | |
| Monumental Emblems Signatures | ME-AM | Andy Moog | Random Inserts in Packs | | Auto | Manufactured Patch | One Signed 24-card Puzzle per Player | |
| Monumental Emblems Signatures | ME-BR | Bill Ranford | Random Inserts in Packs | | Auto | Manufactured Patch | One Signed 24-card Puzzle per Player | |
| Monumental Emblems Signatures | ME-CH | Charlie Huddy | Random Inserts in Packs | | Auto | Manufactured Patch | One Signed 24-card Puzzle per Player | |
| Monumental Emblems Signatures | ME-CS | Craig Simpson | Random Inserts in Packs | | Auto | Manufactured Patch | One Signed 24-card Puzzle per Player | |
| Monumental Emblems Signatures | ME-DW | Doug Weight | Random Inserts in Packs | | Auto | Manufactured Patch | One Signed 24-card Puzzle per Player | |
| Monumental Emblems Signatures | ME-GA | Glenn Anderson | Random Inserts in Packs | | Auto | Manufactured Patch | One Signed 24-card Puzzle per Player | |
| Monumental Emblems Signatures | ME-GF | Grant Fuhr | Random Inserts in Packs | | Auto | Manufactured Patch | One Signed 24-card Puzzle per Player | |
| Monumental Emblems Signatures | ME-JE | Jordan Eberle | Random Inserts in Packs | | Auto | Manufactured Patch | One Signed 24-card Puzzle per Player | |
| Monumental Emblems Signatures | ME-JK | Jari Kurri | Random Inserts in Packs | | Auto | Manufactured Patch | One Signed 24-card Puzzle per Player | |
| Monumental Emblems Signatures | ME-JS | Justin Schultz | Random Inserts in Packs | | Auto | Manufactured Patch | One Signed 24-card Puzzle per Player | Rookie |
| Monumental Emblems Signatures | ME-MC | Marty McSorley | Random Inserts in Packs | | Auto | Manufactured Patch | One Signed 24-card Puzzle per Player | |
| Monumental Emblems Signatures | ME-MM | Mark Messier | Random Inserts in Packs | | Auto | Manufactured Patch | One Signed 24-card Puzzle per Player | |
| Monumental Emblems Signatures | ME-NY | Nail Yakupov | Random Inserts in Packs | | Auto | Manufactured Patch | One Signed 24-card Puzzle per Player | Rookie |
| Monumental Emblems Signatures | ME-PC | Paul Coffey | Random Inserts in Packs | | Auto | Manufactured Patch | One Signed 24-card Puzzle per Player | |
| Monumental Emblems Signatures | ME-RN | Ryan Nugent-Hopkins | Random Inserts in Packs | | Auto | Manufactured Patch | One Signed 24-card Puzzle per Player | |
| Monumental Emblems Signatures | ME-RS | Ryan Smyth | Random Inserts in Packs | | Auto | Manufactured Patch | One Signed 24-card Puzzle per Player | |
| Monumental Emblems Signatures | ME-SH | Shawn Horcoff | Random Inserts in Packs | | Auto | Manufactured Patch | One Signed 24-card Puzzle per Player | |
| Monumental Emblems Signatures | ME-TH | Taylor Hall | Random Inserts in Packs | | Auto | Manufactured Patch | One Signed 24-card Puzzle per Player | |
| Monumental Emblems Signatures | ME-WG | Wayne Gretzky | Random Inserts in Packs | | Auto | Manufactured Patch | One Signed 24-card Puzzle per Player | |
| Original Masterpieces | M-BR | Andy Moog | Random Inserts in Packs | 1 | | | Hand-Painted 1-of-1 Card | |
| Original Masterpieces | M-DW | Bill Ranford | Random Inserts in Packs | 1 | | | Hand-Painted 1-of-1 Card | |
| Original Masterpieces | M-GA | Doug Weight | Random Inserts in Packs | 1 | | | Hand-Painted 1-of-1 Card | |
| Original Masterpieces | M-GF | Glenn Anderson | Random Inserts in Packs | 1 | | | Hand-Painted 1-of-1 Card | |
| Original Masterpieces | M-JK | Grant Fuhr | Random Inserts in Packs | 1 | | | Hand-Painted 1-of-1 Card | |
| Original Masterpieces | M-KL | Jari Kurri | Random Inserts in Packs | 1 | | | Hand-Painted 1-of-1 Card | |
| Original Masterpieces | M-MM | Mark Messier | Random Inserts in Packs | 1 | | | Hand-Painted 1-of-1 Card | |
| Original Masterpieces | M-PC | Paul Coffey | Random Inserts in Packs | 1 | | | Hand-Painted 1-of-1 Card | |
| Original Masterpieces | M-RN | Ryan Nugent-Hopkins | Random Inserts in Packs | 1 | | | Hand-Painted 1-of-1 Card | |
| Original Masterpieces | M-RS | Ryan Smyth | Random Inserts in Packs | 1 | | | Hand-Painted 1-of-1 Card | |
| Original Masterpieces | M-TH | Taylor Hall | Random Inserts in Packs | 1 | | | Hand-Painted 1-of-1 Card | |
| Original Masterpieces | M-WG | Wayne Gretzky | Random Inserts in Packs | 1 | | | Hand-Painted 1-of-1 Card | |
| Retired Numbers | RN-AH | Al Hamilton | Random Inserts in Packs | 99 | | Manufactured Patch | | |
| Retired Numbers | RN-GA | Glenn Anderson | Random Inserts in Packs | 99 | | Manufactured Patch | | |
| Retired Numbers | RN-GF | Grant Fuhr | Random Inserts in Packs | 99 | | Manufactured Patch | | |
| Retired Numbers | RN-JK | Jari Kurri | Random Inserts in Packs | 99 | | Manufactured Patch | | |
| Retired Numbers | RN-MM | Mark Messier | Random Inserts in Packs | 99 | | Manufactured Patch | | |
| Retired Numbers | RN-PC | Paul Coffey | Random Inserts in Packs | 99 | | Manufactured Patch | | |
| Retired Numbers | RN-WG | Wayne Gretzky | Random Inserts in Packs | 99 | | Manufactured Patch | | |
| Retired Numbers Signatures | RN-AH | Al Hamilton | Random Inserts in Packs | 25 | Auto | Manufactured Patch | | |
| Retired Numbers Signatures | RN-GA | Glenn Anderson | Random Inserts in Packs | 15 | Auto | Manufactured Patch | | |
| Retired Numbers Signatures | RN-GF | Grant Fuhr | Random Inserts in Packs | 15 | Auto | Manufactured Patch | | |
| Retired Numbers Signatures | RN-JK | Jari Kurri | Random Inserts in Packs | 25 | Auto | Manufactured Patch | | |
| Retired Numbers Signatures | RN-MM | Mark Messier | Random Inserts in Packs | 10 | Auto | Manufactured Patch | | |
| Retired Numbers Signatures | RN-PC | Paul Coffey | Random Inserts in Packs | 10 | Auto | Manufactured Patch | | |
| Retired Numbers Signatures | RN-WG | Wayne Gretzky | Random Inserts in Packs | 5 | Auto | Manufactured Patch | | |
| Team Logo Patches | TL-1 | Dave Hunter | Forwards 1:15 (Overall Team Logos 1:10) | | | Manufactured Patch | | |
| Team Logo Patches | TL-2 | David Lumley | Forwards 1:15 (Overall Team Logos 1:10) | | | Manufactured Patch | | |
| Team Logo Patches | TL-3 | Jari Kurri | Forwards 1:15 (Overall Team Logos 1:10) | | | Manufactured Patch | | |
| Team Logo Patches | TL-4 | Glenn Anderson | Forwards 1:15 (Overall Team Logos 1:10) | | | Manufactured Patch | | |
| Team Logo Patches | TL-5 | Louie DeBrusk | Forwards 1:15 (Overall Team Logos 1:10) | | | Manufactured Patch | | |
| Team Logo Patches | TL-6 | Erik Cole | Forwards 1:15 (Overall Team Logos 1:10) | | | Manufactured Patch | | |
| Team Logo Patches | TL-7 | Curtis Glencross | Forwards 1:15 (Overall Team Logos 1:10) | | | Manufactured Patch | | |
| Team Logo Patches | TL-8 | Radek Dvorak | Forwards 1:15 (Overall Team Logos 1:10) | | | Manufactured Patch | | |
| Team Logo Patches | TL-9 | Scott Thornton | Forwards 1:15 (Overall Team Logos 1:10) | | | Manufactured Patch | | |
| Team Logo Patches | TL-10 | Craig Simpson | Forwards 1:15 (Overall Team Logos 1:10) | | | Manufactured Patch | | |
| Team Logo Patches | TL-11 | Martin Gelinas | Forwards 1:15 (Overall Team Logos 1:10) | | | Manufactured Patch | | |
| Team Logo Patches | TL-12 | Joe Murphy | Forwards 1:15 (Overall Team Logos 1:10) | | | Manufactured Patch | | |
| Team Logo Patches | TL-13 | Ryan Jones | Forwards 1:15 (Overall Team Logos 1:10) | | | Manufactured Patch | | |
| Team Logo Patches | TL-14 | Joffrey Lupul | Forwards 1:15 (Overall Team Logos 1:10) | | | Manufactured Patch | | |
| Team Logo Patches | TL-15 | Kent Nilsson | Forwards 1:15 (Overall Team Logos 1:10) | | | Manufactured Patch | | |
| Team Logo Patches | TL-16 | Todd Marchant | Forwards 1:15 (Overall Team Logos 1:10) | | | Manufactured Patch | | |
| Team Logo Patches | TL-17 | Ben Eager | Forwards 1:15 (Overall Team Logos 1:10) | | | Manufactured Patch | | |
| Team Logo Patches | TL-18 | Ryan Smyth | Forwards 1:15 (Overall Team Logos 1:10) | | | Manufactured Patch | | |
| Team Logo Patches | TL-19 | Fernando Pisani | Forwards 1:15 (Overall Team Logos 1:10) | | | Manufactured Patch | | |
| Team Logo Patches | TL-20 | Mike Grier | Forwards 1:15 (Overall Team Logos 1:10) | | | Manufactured Patch | | |
| Team Logo Patches | TL-21 | Ray Whitney | Forwards 1:15 (Overall Team Logos 1:10) | | | Manufactured Patch | | |
| Team Logo Patches | TL-22 | Ethan Moreau | Forwards 1:15 (Overall Team Logos 1:10) | | | Manufactured Patch | | |
| Team Logo Patches | TL-23 | Dan Cleary | Forwards 1:15 (Overall Team Logos 1:10) | | | Manufactured Patch | | |
| Team Logo Patches | TL-24 | Jason Chimera | Forwards 1:15 (Overall Team Logos 1:10) | | | Manufactured Patch | | |
| Team Logo Patches | TL-25 | Kevin McClelland | Forwards 1:15 (Overall Team Logos 1:10) | | | Manufactured Patch | | |
| Team Logo Patches | TL-26 | Anson Carter | Forwards 1:15 (Overall Team Logos 1:10) | | | Manufactured Patch | | |
| Team Logo Patches | TL-27 | David Perron | Forwards 1:15 (Overall Team Logos 1:10) | | | Manufactured Patch | | |
| Team Logo Patches | TL-28 | Ales Hemsky | Forwards 1:15 (Overall Team Logos 1:10) | | | Manufactured Patch | | |
| Team Logo Patches | TL-29 | Dean McAmmond | Forwards 1:15 (Overall Team Logos 1:10) | | | Manufactured Patch | | |
| Team Logo Patches | TL-30 | Raffi Torres | Forwards 1:15 (Overall Team Logos 1:10) | | | Manufactured Patch | | |
| Team Logo Patches | TL-31 | Dustin Penner | Forwards 1:15 (Overall Team Logos 1:10) | | | Manufactured Patch | | |
| Team Logo Patches | TL-32 | Jordan Eberle | Forwards 1:15 (Overall Team Logos 1:10) | | | Manufactured Patch | | |
| Team Logo Patches | TL-33 | Taylor Hall | Forwards 1:15 (Overall Team Logos 1:10) | | | Manufactured Patch | | |
| Team Logo Patches | TL-34 | Magnus Paajarvi | Forwards 1:15 (Overall Team Logos 1:10) | | | Manufactured Patch | | |
| Team Logo Patches | TL-35 | Nail Yakupov | Forwards 1:15 (Overall Team Logos 1:10) | | | Manufactured Patch | | Rookie |
| Team Logo Patches | TL-36 | Wayne Gretzky | Centers 1:48 (Overall Team Logos 1:10) | | | Manufactured Patch | | |
| Team Logo Patches | TL-37 | Mark Messier | Centers 1:48 (Overall Team Logos 1:10) | | | Manufactured Patch | | |
| Team Logo Patches | TL-38 | Boyd Gordon | Centers 1:48 (Overall Team Logos 1:10) | | | Manufactured Patch | | |
| Team Logo Patches | TL-39 | Eric Belanger | Centers 1:48 (Overall Team Logos 1:10) | | | Manufactured Patch | | |
| Team Logo Patches | TL-40 | Matti Hagman | Centers 1:48 (Overall Team Logos 1:10) | | | Manufactured Patch | | |
| Team Logo Patches | TL-41 | Shawn Horcoff | Centers 1:48 (Overall Team Logos 1:10) | | | Manufactured Patch | | |
| Team Logo Patches | TL-42 | Mike Krushelnyski | Centers 1:48 (Overall Team Logos 1:10) | | | Manufactured Patch | | |
| Team Logo Patches | TL-43 | Kyle Brodziak | Centers 1:48 (Overall Team Logos 1:10) | | | Manufactured Patch | | |
| Team Logo Patches | TL-44 | Craig MacTavish | Centers 1:48 (Overall Team Logos 1:10) | | | Manufactured Patch | | |
| Team Logo Patches | TL-45 | Mark Lamb | Centers 1:48 (Overall Team Logos 1:10) | | | Manufactured Patch | | |
| Team Logo Patches | TL-46 | Jimmy Carson | Centers 1:48 (Overall Team Logos 1:10) | | | Manufactured Patch | | |
| Team Logo Patches | TL-47 | Vincent Damphousse | Centers 1:48 (Overall Team Logos 1:10) | | | Manufactured Patch | | |
| Team Logo Patches | TL-48 | Bernie Nicholls | Centers 1:48 (Overall Team Logos 1:10) | | | Manufactured Patch | | |
| Team Logo Patches | TL-49 | Doug Weight | Centers 1:48 (Overall Team Logos 1:10) | | | Manufactured Patch | | |
| Team Logo Patches | TL-50 | Jason Arnott | Centers 1:48 (Overall Team Logos 1:10) | | | Manufactured Patch | | |
| Team Logo Patches | TL-51 | Patrick O'Sullivan | Centers 1:48 (Overall Team Logos 1:10) | | | Manufactured Patch | | |
| Team Logo Patches | TL-52 | Anton Lander | Centers 1:48 (Overall Team Logos 1:10) | | | Manufactured Patch | | |
| Team Logo Patches | TL-53 | Mike Comrie | Centers 1:48 (Overall Team Logos 1:10) | | | Manufactured Patch | | |
| Team Logo Patches | TL-54 | Marty Reasoner | Centers 1:48 (Overall Team Logos 1:10) | | | Manufactured Patch | | |
| Team Logo Patches | TL-55 | Jarret Stoll | Centers 1:48 (Overall Team Logos 1:10) | | | Manufactured Patch | | |
| Team Logo Patches | TL-56 | Adam Oates | Centers 1:48 (Overall Team Logos 1:10) | | | Manufactured Patch | | |
| Team Logo Patches | TL-57 | Robert Nilsson | Centers 1:48 (Overall Team Logos 1:10) | | | Manufactured Patch | | |
| Team Logo Patches | TL-58 | Sam Gagner | Centers 1:48 (Overall Team Logos 1:10) | | | Manufactured Patch | | |
| Team Logo Patches | TL-59 | Andrew Cogliano | Centers 1:48 (Overall Team Logos 1:10) | | | Manufactured Patch | | |
| Team Logo Patches | TL-60 | Ryan Nugent-Hopkins | Centers 1:48 (Overall Team Logos 1:10) | | | Manufactured Patch | | |
| Team Logo Patches | TL-61 | Al Hamilton | Defensemen 1:135 (Overall Team Logos 1:10) | | | Manufactured Patch | | |
| Team Logo Patches | TL-62 | Justin Schultz | Defensemen 1:135 (Overall Team Logos 1:10) | | | Manufactured Patch | | Rookie |
| Team Logo Patches | TL-63 | Lee Fogolin | Defensemen 1:135 (Overall Team Logos 1:10) | | | Manufactured Patch | | |
| Team Logo Patches | TL-64 | Charlie Huddy | Defensemen 1:135 (Overall Team Logos 1:10) | | | Manufactured Patch | | |
| Team Logo Patches | TL-65 | Paul Coffey | Defensemen 1:135 (Overall Team Logos 1:10) | | | Manufactured Patch | | |
| Team Logo Patches | TL-66 | Randy Gregg | Defensemen 1:135 (Overall Team Logos 1:10) | | | Manufactured Patch | | |
| Team Logo Patches | TL-67 | Matt Greene | Defensemen 1:135 (Overall Team Logos 1:10) | | | Manufactured Patch | | |
| Team Logo Patches | TL-68 | Steve Smith | Defensemen 1:135 (Overall Team Logos 1:10) | | | Manufactured Patch | | |
| Team Logo Patches | TL-69 | Craig Muni | Defensemen 1:135 (Overall Team Logos 1:10) | | | Manufactured Patch | | |
| Team Logo Patches | TL-70 | Janne Niinimaa | Defensemen 1:135 (Overall Team Logos 1:10) | | | Manufactured Patch | | |
| Team Logo Patches | TL-71 | Sheldon Souray | Defensemen 1:135 (Overall Team Logos 1:10) | | | Manufactured Patch | | |
| Team Logo Patches | TL-72 | Jason Smith | Defensemen 1:135 (Overall Team Logos 1:10) | | | Manufactured Patch | | |
| Team Logo Patches | TL-73 | Marc-Andre Bergeron | Defensemen 1:135 (Overall Team Logos 1:10) | | | Manufactured Patch | | |
| Team Logo Patches | TL-74 | Chris Pronger | Defensemen 1:135 (Overall Team Logos 1:10) | | | Manufactured Patch | | |
| Team Logo Patches | TL-75 | Ladislav Smid | Defensemen 1:135 (Overall Team Logos 1:10) | | | Manufactured Patch | | |
| Team Logo Patches | TL-76 | Eddie Mio | Goalies 1:270 (Overall Team Logos 1:10) | | | Manufactured Patch | | |
| Team Logo Patches | TL-77 | Ronald Low | Goalies 1:270 (Overall Team Logos 1:10) | | | Manufactured Patch | | |
| Team Logo Patches | TL-78 | Andy Moog | Goalies 1:270 (Overall Team Logos 1:10) | | | Manufactured Patch | | |
| Team Logo Patches | TL-79 | Grant Fuhr | Goalies 1:270 (Overall Team Logos 1:10) | | | Manufactured Patch | | |
| Team Logo Patches | TL-80 | Bill Ranford | Goalies 1:270 (Overall Team Logos 1:10) | | | Manufactured Patch | | |
| Team Logo Patches | TL-81 | Curtis Joseph | Goalies 1:270 (Overall Team Logos 1:10) | | | Manufactured Patch | | |
| Team Logo Patches | TL-82 | Bob Essensa | Goalies 1:270 (Overall Team Logos 1:10) | | | Manufactured Patch | | |
| Team Logo Patches | TL-83 | Tommy Salo | Goalies 1:270 (Overall Team Logos 1:10) | | | Manufactured Patch | | |
| Team Logo Patches | TL-84 | Ty Conklin | Goalies 1:270 (Overall Team Logos 1:10) | | | Manufactured Patch | | |
| Team Logo Patches | TL-85 | Jussi Markkanen | Goalies 1:270 (Overall Team Logos 1:10) | | | Manufactured Patch | | |
| Team Logo Patches | TL-86 | Dwayne Roloson | Goalies 1:270 (Overall Team Logos 1:10) | | | Manufactured Patch | | |
| Team Logo Patches | TL-87 | Mathieu Garon | Goalies 1:270 (Overall Team Logos 1:10) | | | Manufactured Patch | | |
| Team Logo Patches | TL-88 | Jeff Deslauriers | Goalies 1:270 (Overall Team Logos 1:10) | | | Manufactured Patch | | |
| Team Logo Patches | TL-89 | Devan Dubnyk | Goalies 1:270 (Overall Team Logos 1:10) | | | Manufactured Patch | | |
| Team Logo Patches | TL-90 | Nikolai Khabibulin | Goalies 1:270 (Overall Team Logos 1:10) | | | Manufactured Patch | | |
| Team Logo Patches | TL-91 | Dave Semenko | Enforcers 1:676 (Overall Team Logos 1:10) | | | Manufactured Patch | | |
| Team Logo Patches | TL-92 | Theo Peckham | Enforcers 1:676 (Overall Team Logos 1:10) | | | Manufactured Patch | | |
| Team Logo Patches | TL-93 | Marty McSorley | Enforcers 1:676 (Overall Team Logos 1:10) | | | Manufactured Patch | | |
| Team Logo Patches | TL-94 | Jeff Beukeboom | Enforcers 1:676 (Overall Team Logos 1:10) | | | Manufactured Patch | | |
| Team Logo Patches | TL-95 | Kelly Buchberger | Enforcers 1:676 (Overall Team Logos 1:10) | | | Manufactured Patch | | |
| Team Logo Patches | TL-96 | Don Jackson | Enforcers 1:676 (Overall Team Logos 1:10) | | | Manufactured Patch | | |
| Team Logo Patches | TL-97 | Mike Brown | Enforcers 1:676 (Overall Team Logos 1:10) | | | Manufactured Patch | | |
| Team Logo Patches | TL-98 | Dave Manson | Enforcers 1:676 (Overall Team Logos 1:10) | | | Manufactured Patch | | |
| Team Logo Patches | TL-99 | Georges Laraque | Enforcers 1:676 (Overall Team Logos 1:10) | | | Manufactured Patch | | |
| Team Logo Patches | TL-100 | Darcy Hordichuk | Enforcers 1:676 (Overall Team Logos 1:10) | | | Manufactured Patch | | |