First look: Upper Deck's 2012-13 Fleer Retro Hockey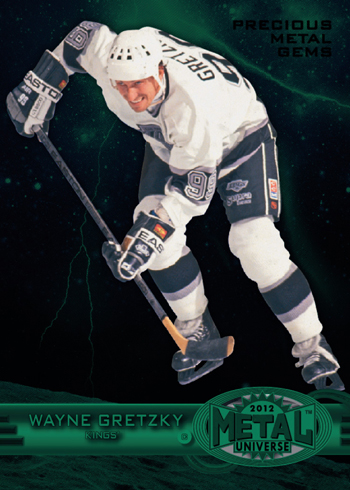 By Susan Lulgjuraj | Beckett Hockey Editor
With the removal of several products on Upper Deck's hockey schedule, there was room for something more.
Upper Deck announced 2012-13 Fleer Retro Hockey, scheduled for an April release.
This is the third sport getting the Fleer Retro treatment from Upper Deck. The company created basketball last year and a football release scheduled for February.
Boxes of basketball and football have ranged in price from $300 to $400.
There are six autographs and four rare 1990s inserts in every display box. Each display box comes with two mini boxes.
There five cards in each pack and 10 packs in each mini box.
The Precious Metal Gems could be some of the most popular cards in Fleer Retro Hockey with Red (numbered to 100), Blue (#'d to 25) and Green (#'d to 10).
List of 1990s inserts in Fleer Retro Hockey:
-1997-98 Precious Metal Gems
-1996-97 Flair Showcase Row 2 Legacy & Legacy Masterpiece
-1997-98 Essential Credentials, Future & Now
-1996-97 Flair Showcase Hot Shots
-1997-98 SkyBox Premium Golden Touch
-1998-99 SkyBox Thunder Noyz Boyz
-1998-99 Playmaker's Theatre
-1997 Fleer Diamond Tribute
-1998-99 Fleer Tradition Electrifying
-1997-98 Ultra Stars
-1997-98 Metal Universe Championship Hardware
-1998-99 SkyBox Premium Intimidation Nation
-1997-98 Jambalaya
Susan Lulgjuraj is an editor of Beckett Hockey. You can email her here with questions, comments or ideas. Follow her on Twitter here. Follow Beckett Media on Facebook.