First look: Upper Deck University of Kansas Basketball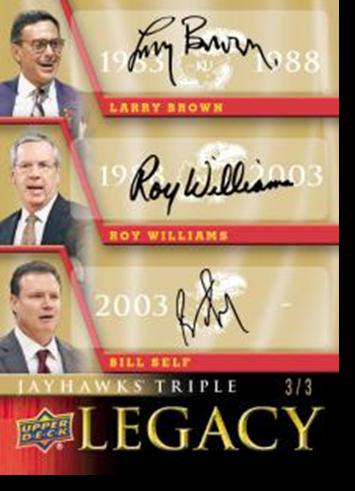 By Susan Lulgjuraj | Beckett Basketball Editor
There are certain college programs that resonate with sports fans. Texas Football. Notre Dame Football.
Now, University of Kansas Basketball.
Upper Deck has focused on several famous sport programs over the years and is now creating a set for one of the oldest and storied collegiate basketball programs in American history.
Upper Deck's University of Kansas Jayhawks Basketball will have 24 eight-card packs per box. Collectors can expect to find one autograph and two Icons cards in every box, on average. Kansas Basketball will have 100 base cards with 24 Monumental Moments.
Highlights from this product include Jayhawks Legacy Trios Autos (numbered to three), Kansas Hall of Fame Autos (numbered to 25), Distinguished Numbers Autos (numbered to 25) and Final 4 Legacy Autos (numbered to 10).
When looking at the list of players that have put on a Jayhawks uniform, there are players that standout. Some of them such as Paul Pierce, Danny Manning, Bill Self, Mario Chalmers and Rex Walters will have autographs in the set. Others who will be on the base cards and inserts include James Naismith, Wilt Chamberlain, Dean Smith and more.
Upper Deck's University of Kansas Jayhawks Basketball is scheduled to come out in October.
Susan Lulgjuraj is an editor of Beckett Basketball. You can email her here with questions, comments or ideas. Follow her on Twitter here. Follow Beckett Media on Facebook and Twitter.