2012-13 SP Game Used Hockey Details
Memories of the 2011-12 Stanley Cup Finals will live on through an Upper Deck product. 2012-13 SP Game Used Hockey features memorabilia from the Stanley Cup Finals, including pieces from the nets in Games 3, 4 and 6. Net pieces will include cords, skirts (which are signed) and the NHL shield.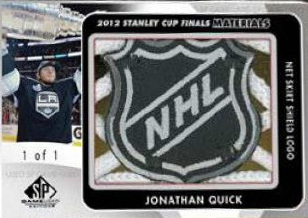 Sounds pretty exciting for Los Angeles Kings fans.
But they're not the only ones who might look forward to SP Game Used Edition. Upper Deck has slightly changed the configuration of the product to add more overall cards.
Now, there will be five cards in every pack with five packs in each box. There will be at least one autograph with four additional hits, which could be autograph or memorabilia cards.
One of the autograph subsets includes Draft Day Marks, letters cards that will feature rookies and veterans with pictures from the NHL Draft.
In addition, there are 50 Authentic Rookies autographs, each with numbering to the player's jersey, but there are also 1-of-1 variations of these cards.
There are a couple of additions to SP Game Used Hockey. Supreme memorabilia cards debut with jumbo windows for patches, sticks and skates.
One of the most popular types of memorabilia cards in hockey is NHL Shield cards. These cards are usually a big hit in whatever product they appear. Well, Upper Deck is bringing them to SP Game Used Edition for the first time.