First Look: Trish Stratus' BSCM cover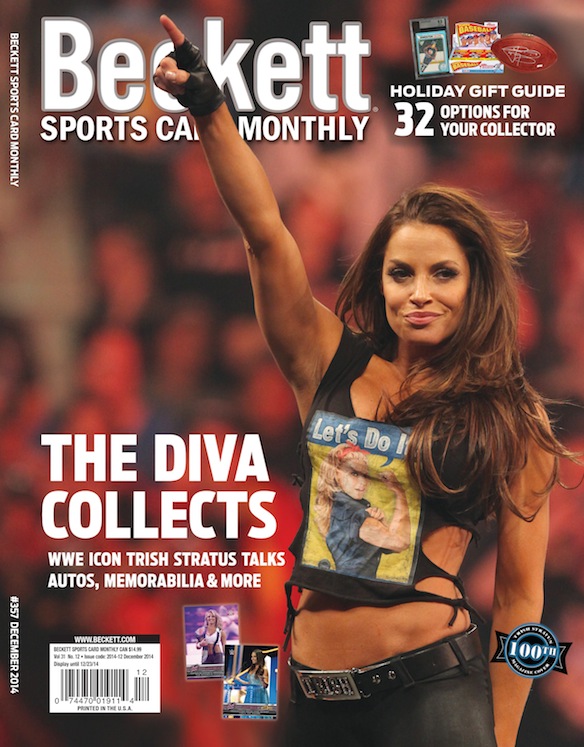 By Chris Olds | Beckett Sports Card Monthly Editor
It's a milestone for her, a collectable for you — one you can get signed if you attend an upcoming card show.
It's the December issue of Beckett Sports Card Monthly, and she's WWE Hall of Famer Trish Stratus, a seven-time women's champ and Topps' Queen of WrestleMania. She'll be signing the magazines at the Beckett Media booth in 11 days at the upcoming Toronto Sportcard and Memorabilia Expo.
The magazine makes its public debut at the show with the Toronto native featured on what is the 100th cover appearance of her career. The two-hour autograph session will begin at 6 p.m. on Friday, Nov. 7. Fans who buy a copy will be able to get it signed and authenticated immediately afterward. Supplies will be limited and there's no additional fee for her autograph.
"I'm so excited to finally hit cover 100," Stratus said on her website. "To be the first from my industry to be on the cover of such a respected and well-known magazine in the sporting world is such an honor. I can't thank the people at Beckett enough for this opportunity."
She is just the third woman to appear on the cover of BSCM in its history and is the first professional wrestler to appear on a cover alone. Stratus is one of the focal points in Topps' recently released Road to WrestleMania WWE product. Each person who gets a magazine at the booth also will receive a free card from her set courtesy of the card company.
Click here for some highlights from our Collect Call with Stratus — and you can learn more inside the issue.
"We knew going in that the 100th cover was going to be special, so there had always been the talk about how to celebrate it," Stratus said. "I can't think of a better way to do so than with the people who made it all possible — my incredible Stratuspherians who have been with me on this amazing journey."
Chris Olds is the editor of Beckett Baseball and Beckett Sports Card Monthly magazines. Have a comment, question or idea? Send an email to him at colds@beckett.com. Follow him on Twitter by clicking here.