First look: 2013 Topps Triple Threads Football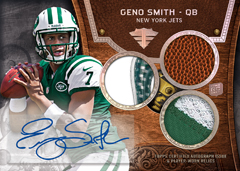 By Susan Lulgjuraj | Beckett Football Editor
Are collectors ready for a new-look Triple Threads?
At least that's what Topps is promising in 2013 Topps Triple Threads Football when it previewed the high-end product on Tuesday. In the exact words of Topps, it called it "redefined."
There is one pack per mini box and two mini boxes in each master box. Each pack will contain one of two configurations: One autograph, one triple relic, TTT Rookie Auto Relic, two base parallels and three base cards OR an autographed triple relic, a TTT Rookie Jumbo Relic, two base parallels and three base cards.
Each case will have a 1-of-1 Autographed Relic, a Triple Autograph Triple Relic and an Autograph Relic Book Card.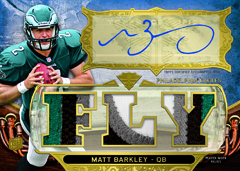 Up to 50 athletes will be used in the checklist for the Base Rookie Auto Relics. The cards will feature two swatches, a relic patch on a horizontal design, numbered to 99, with six parallels: Purple (#'d to 70), Emerald (#'d to 50), Gold (#'d to 25), Ruby (#'d to 15), Sapphire Patch (#'d to 10) and White Whale Patch Printing Plates (1-of-1).
There are also eight different 1-of-1 parallels with an Onyx Foil and Pigskin Foil designs.
The Triple Threads Autograph Relics will be tough pulls. These will feature rookies, veterans or retired stars, but the easiest pull is numbered to just 18 copies. But Topps is offering more on the autograph front with Triple Threads Autograph Relic Trios (three players on one card), Autograph Relics Double Combo book cards (six players), Triple Threads Jumbo plus Autograph Relic book cards.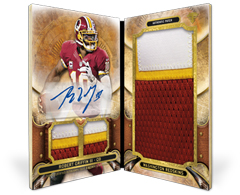 Some book cards will feature leather from the footballs used at the NFL Players Association Rookie Premiere on the outside part ofthe booklet. The inside panels will have two player signatures and six swatches.
Transparencies is a new autograph design for TTT. The signature will be on trapped acetate.
The TTT relic cards will have three relic swatches (including a patch) or three players. Collectors can also find relic cards with NFL Shields. In addition, there are autograph single relics and single relics.
The base set will contain 100 cards of veteran and retired stars, along with seven parallels.
TTT is scheduled to come out the week of Dec. 18.
Hit the comments and tell us what you think.
Susan Lulgjuraj is an editor of Beckett Football. You can email her here with questions, comments or ideas. Follow her on Twitter here. Follow Beckett Media on Facebook and Twitter.
---
Preliminary checklist
Base cards
1 Marshawn Lynch Seattle Seahawks   51 Trent Richardson Cleveland Browns
2 Clay Matthews Green Bay Packers   52 Marshall Faulk St. Louis Rams
3 Stevan Ridley New England Patriots   53 Julio Jones Atlanta Falcons
4 Joe Montana San Francisco 49ers   54 LeSean McCoy Philadelphia Eagles
5 Von Miller Denver Broncos   55 Justin Blackmon Jacksonville Jaguars
6 Darren McFadden Oakland Raiders  56 Jay Cutler Chicago Bears
7 Aaron Rodgers Green Bay Packers    57 Dez Bryant Dallas Cowboys
8 Ryan Tannehill Miami Dolphins   58 Wes Welker Denver Broncos
9 Earl Thomas Seattle Seahawks   59 Cam Newton Carolina Panthers
10 Roddy White Atlanta Falcons   60 DeMarco Murray Dallas Cowboys
11 J.J. Watt Houston Texans   61   Maurice Jones-Drew Jacksonville Jaguars
12 LaDainian Tomlinson San Diego Chargers   62 Eli Manning New York Giants
13 Robert Griffin III Washington Redskins   63 Aldon Smith San Francisco 49ers
14 Alex Smith Kansas City Chiefs   64 Philip Rivers San Diego Chargers
15 Antonio Brown Pittsburgh Steelers   65 Larry Fitzgerald Arizona Cardinals
16 Andy Dalton Cincinnati Bengals   66 Eric Decker Denver Broncos
17 Ben Roethlisberger Pittsburgh Steelers   67 Adrian Peterson Minnesota Vikings
18 Colin Kaepernick San Francisco 49ers   68 Steve Young San Francisco 49ers
19 Randall Cobb Green Bay Packers   69 Lawrence Taylor New York Giants
20 Victor Cruz New York Giants   70 Joe Flacco Baltimore Ravens
21 Steven Jackson Atlanta Falcons   71 Michael Vick Philadelphia Eagles
22 Brandon Marshall Chicago Bears   72 David Wilson New York Giants
23 Santonio Holmes New York Jets   73 Vernon Davis San Francisco 49ers
24 Calvin Johnson Jr. Detroit Lions   74 Sam Bradford St. Louis Rams
25 A.J. Green Cincinnati Bengals   75 Emmitt Smith Dallas Cowboys
26 Alfred Morris Washington Redskins    76 Troy Polamalu Pittsburgh Steelers
27 Matt Forté Chicago Bears    77 Hakeem Nicks New York Giants
28 Tony Romo Dallas Cowboys   78 Matthew Stafford Detroit Lions
29 Jared Allen Minnesota Vikings   79 Barry Sanders Detroit Lions
30 Jake Locker Tennessee Titans   80 James Laurinaitis St. Louis Rams
31 Russell Wilson Seattle Seahawks   81 Matt Ryan Atlanta Falcons
32 Dwayne Bowe Kansas City Chiefs   82 Rob Gronkowski New England Patriots
33 Andrew Luck Indianapolis Colts   83 Reggie Wayne Indianapolis Colts
34 Carson Palmer Arizona Cardinals   84 Richard Sherman Seattle Seahawks
35 Jairus Byrd Buffalo Bills   85 Jimmy Graham New Orleans Saints
36 Eric Dickerson Los Angeles Rams   86 Christian Ponder Minnesota Vikings
37 Arian Foster Houston Texans   87 Patrick Peterson Arizona Cardinals
38 Percy Harvin Seattle Seahawks   88 Drew Brees New Orleans Saints
39 Brandon Weeden Cleveland Browns   89 C.J. Spiller Buffalo Bills
40 Matt Schaub Houston Texans   90 Darren Sproles New Orleans Saints
41 Jason Witten Dallas Cowboys    91 Andre Johnson Houston Texans
42 Luke Kuechly Carolina Panthers   92 Chris Johnson Tennessee Titans
43 Tom Brady New England Patriots   93 Doug Martin Tampa Bay Buccaneers
44 John Elway Denver Broncos   94 Mike Wallace Miami Dolphins
45 Jerry Rice San Francisco 49ers   95 Jamaal Charles Kansas City Chiefs
46 Antonio Gates San Diego Chargers   96 Frank Gore San Francisco 49ers
47 Dan Marino Miami Dolphins   97 Josh Freeman Tampa Bay Buccaneers
48 Demaryius Thomas Denver Broncos   98 Peyton Manning Denver Broncos
49 Vincent Jackson Tampa Bay Buccaneers   99 Patrick Willis San Francisco 49ers
50 Ray Rice Baltimore Ravens   100 Deion Sanders Atlanta Falcons
Featuring Autograph Cards, Autographed Relic Cards and/or Relic Cards of, but not limited to, the following:
Andrew Luck Indianapolis Colts
Cam Newton Carolina Panthers
Colin Kaepernick San Francisco 49ers
Dan Marino Miami Dolphins
Eli Manning New York Giants
Eric Dickerson Los Angeles Rams
Joe Flacco Baltimore Ravens
Joe Montana San Francisco 49ers
Robert Griffin III Washington Redskins
Ryan Tannehill Miami Dolphins
Aaron Dobson New England Patriots
Andre Ellington Arizona Cardinals
Christine Michael Seattle Seahawks
Cordarrelle Patterson Minnesota Vikings
DeAndre Hopkins Houston Texans
Denard Robinson Jacksonville Jaguars
Dion Jordan Miami Dolphins
E.J. Manuel Buffalo Bills
Eddie Lacy Green Bay Packers
Gavin Escobar Dallas Cowboys
Geno Smith New York Jets
Giovani Bernard Cincinnati Bengals
Johnathan Franklin Green Bay Packers
Jordan Reed Washington Redskins
Joseph Randle Dallas CowboysJustin Hunter Tennessee Titans
Keenan Allen San Diego Chargers
Kenny Stills New Orleans Saints
Knile Davis Kansas City Chiefs
Landry Jones Pittsburgh Steelers
Le'Veon Bell Pittsburgh Steelers
Manti Te'o San Diego Chargers
Marcus Lattimore San Francisco 49ers
Markus Wheaton Pittsburgh Steelers
Marquise Goodwin Buffalo Bills
Matt Barkley Philadelphia Eagles
Mike Gillislee Miami Dolphins
Mike Glennon Tampa Bay Buccaneers
Montee Ball Denver Broncos
Quinton Patton San Francisco 49ers
Robert Woods Buffalo Bills
Ryan Nassib New York Giants
Stedman Bailey St. Louis Rams
Stepfan Taylor Arizona Cardinals
Tavon Austin St. Louis Rams
Terrance Williams Dallas Cowboys
Tyler Eifert Cincinnati Bengals
Tyler Wilson Oakland Raiders
Vance McDonald San Francisco 49ers
Zach Ertz Philadelphia Eagles