First Look: 2015 Topps Star Wars Journey To The Force Awakens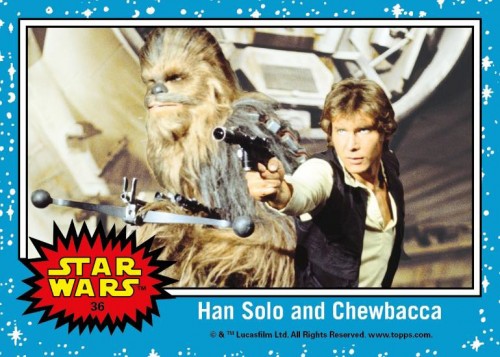 By Stephen Laroche | Beckett Media
The recent Star Wars Celebration event in Anaheim gave fans the opportunity to enjoy their favorite film franchise and while the unveiling of the next installment's latest trailer grabbed its fair share of headlines, there was also some information unveiled about a major set coming from Topps just in time for its release later this year.
Since the beginning, Star Wars trading cards have been a mainstay in the hobby and 2015 Topps Star Wars Journey To The Force Awakens looks to be a product loaded up with retro styling and the features that card collectors have come to expect in recent years such as sketch cards and autographs.
What can Star Wars fans expect to find in packs?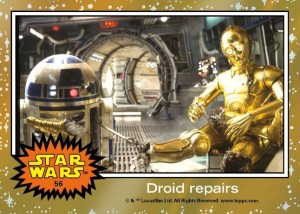 Fans of the original Star Wars card set that Topps produced back in 1977 will appreciate the 110-card base set that is printed on Heritage-style stock. The Blue Starfield design is applied to characters from all six movies this time, but there are plenty of parallel versions which mimic it while changing up the color of the borders. The easiest to find will be the Jabba Slime Green cards (one per pack) which are followed by Black (1:2), Death Star Silver (1:4), Lightsaber Neon Red (1:6) and Battle Damaged (1:12). Four other types are only available in hobby packs and feature serial-numbering. Hoth Frosted Ice (numbered to 150) are the most common of the bunch and the pulls become scarcer with Gold (/100), Hologram (/50) and Red Imperial Guard (1/1).
Topps Star Wars Journey To The Force Awakens boasts a strong insert program and there are seven different sets to collect. Fans of the early Star Wars sets will appreciate the 18 differen Character Stickers that feel like a throwback to 1977 and that theme carries on with the Retro Style Material Stickers that look like the iron-on transfers that millions of fans wore on t-shirts back in the early years of the franchise. Other compelling insert collections include Character Silhouettes, Evolution of the Lightsaber, Concept Art, Blueprints and Behind The Scenes. Topps has noted that there will be two inserts per pack.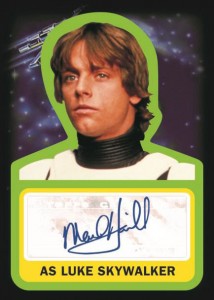 There are also plenty of other strong hits to potentially be pulled from packs as Topps utilized the Character Sticker design for the Autographs collection, which should contain approximately 40 different subjects. In addition to a base autograph, there will be tough parallels which are only available in hobby packs and that rosters includes Silver (/50), Gold (/10) and the incredibly scarce 1/1 Red Imperial Guard parallel. There will also be a small selection of Dual Autographs (/3) and Triple Autographs (/5).
Collectors can also hunt for Sketch Cards that depict a wide variety of subjects from the Star Wars universe and this product will see around 8,000 different works of art unleashed across its production run. There are also Patch Cards (eight varieties with three subjects per patch) plus 500 Buyback cards that Topps has purchased and stamped especially for this release. The company closes things off with 700 Printing Plates that are 1/1s along with an even bigger pull in the form of autographed printing plates (four per subject).
Each box of Topps Star Wars Journey To The Force Awakens contains 24 packs and there are 12 boxes per case.
Stephen Laroche is the editor of Beckett Hockey and a contributor to other Beckett Media publications. Have a comment, question or idea? Send an e-mail to him at slaroche@beckett.com. Follow him on Twitter @Stephen_Laroche.