First look: Topps 2014 Doctor Who Trading Cards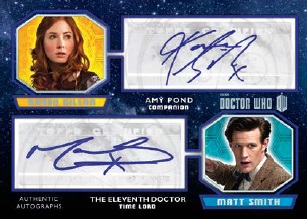 By Susan Lulgjuraj | Beckett Sports Card Monthly Editor
The doctor is in.
Topps is releasing Doctor Who Trading Cards by the end of the year.
Each box will have 24 packs with eight cards in each pack, and will include two hits in every box.
Doctor Who celebrated its 50th anniversary last year. The new set will include 200 base cards with four subsets: characters, aliens, villains and gadgets. There are three parallels of each with Blue (numbered to 199), Red (numbered to 99) and Gold (numbered to 50).
The set will also include 100 inserts with five subsets:
– Memorable Moments (1 in 2 packs): moments throughout the 50 years
– Companions (1:4)
– The Doctor is In (1:6): featuring all 12 doctors
– TARDIS Travel (1:8)
– Stitches in Time (1:12): Fan favorite episodes featuring more than one doctor at the same time
The hits will include autographs, relics, sketch cards, printing plates and Medallion Relics.
The autographs will feature doctors and companies, including cut cards where available. There will also be dual autographs as well.
Relic cards will feature props, wardrobes and manufactured alien relics.
The Doctor Who sell will come out Dec. 10.
Susan Lulgjuraj is an editor at Beckett Media. You can email her here with questions, comments or ideas. Follow her on Twitter here. Follow Beckett Media on Facebook and Twitter.