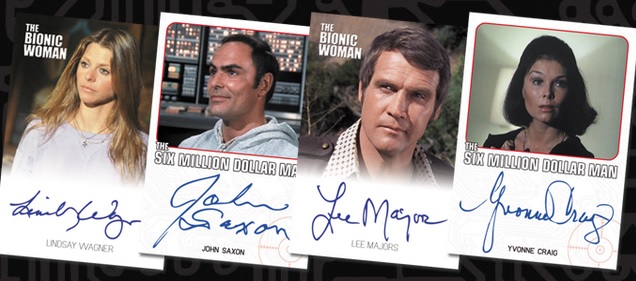 By Susan Lulgjuraj | Beckett Sports Card Monthly Editor
If you're a fan of 1970s TV shows, this might be the trading card set for you.
Rittenhouse Archives is putting The Complete Bionic Collection to cards featuring every episode from of The Six Million Dollar Man (103) and The Bionic Woman, including the three original movies/pilot episode and all three Bionic reunion specials.
Rittenhouse is putting these cards out in its premium pack arrangement. Each pack will come with two autographs and at least nine episode cards.
Signers for this set include the top actors including Lee Majors and Lindsay Wagner.
Other signers include Martin E. Brooks (Rudy Wells), Richard Anderson (Oscar Goldman), Rick Lenz (Dr. Michael Marchetti), Louis Gossett, Jr. (O'Flaherty, "Clark Templeton O'Flaherty"), Erik Estrada (Prince Sakari, "The Deadly Test"), Sandy Duncan (Gillian, "The Return of Bigfoot"), Yvonne Craig (Lena Bannister, "The Infiltrators") and many others.
One box will contain 15 packs and a three-card box topper of the Bionic Woman Implant set.
Rittenhouse offers incentives for multiple box purchases.
Two boxes: a Richard Anderson (Oscar Goldman) Silver Signature Series Autograph
Four boxes: Lee Majors (Colonel Steve Austin) Silver Signature Series Autograph Card
Eight boxes: The Complete Six Million Dollar Man/The Bionic Woman Archive Box, including an exclusive full-color autograph card signed by William Shatner, a Silver Signature Series Autograph Card signed by Wagner and a variation autograph card signed by Martin E. Brooks. In addition, a complete master set of episode cards, all pack-inserted autograph cards, the box topper, and the 2-box and 4-box incentives.
The set is due out Dec. 18.
Susan Lulgjuraj is an editor at Beckett Media. You can email her here with questions, comments or ideas. Follow her on Twitter here. Follow Beckett Media on Facebook and Twitter.