First look: Sportskings Series E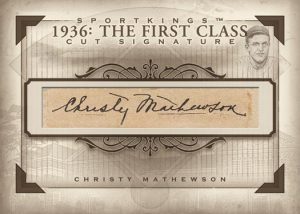 By Susan Lulgjuraj | Contributing Editor
Sports Kings LLP is gearing up for another release this spring with Sportskings Series E, a high-end product featuring athletes across a broad range of sports.
Each box – with a pre-release price around $100 – contains five cards: three base (including random minis), one base with a premium back and an insert, which is a memorabilia or autograph.
The set is scheduled to be released on May 3 and a checklist is not scheduled to arrive until early April.
But it seems the real winners right now are in the case hits. Each 16-box inner case will include either a cut signature, a patch card or a 1/1 art card painted by Jared Kelley.
"Jared will be painting his first cards for Sportkings Series E," Sports Kings owner Dr. Brian Price said. "We will be adding a couple of new wrinkles in the painting of these cards to make them even better than the ones Jared has done before. I am excited to have Jared join our family as we are all dedicated to make trading cards that collectors want to collect."
Some of the artist cards include tennis great Ivan Lendl, boxing legend Angelo Dundee and basketball star Magic Johnson.
Take a look at some of the case hits you can get in Sportskings Series E. We'll post more information as it becomes available.
Susan Lulgjuraj is a contributing editor for Beckett Media. You can email Susan here. Follow her on Twitter here.