First Look: Rittenhouse Marvel Avengers Silver Age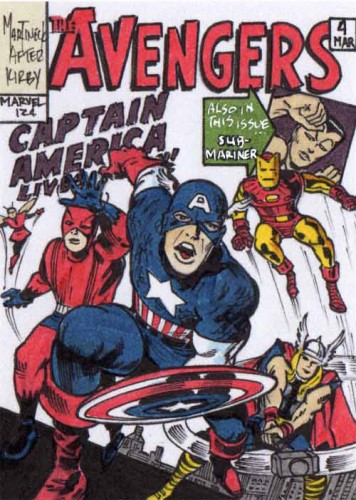 By Stephen Laroche | Beckett Media
Millions of comic book movie fans flocked to see Avengers: Age Of Ultron and while it was one of this summer's hottest releases, it should not be forgotten that the original comics have become increasingly valuable and coveted in recent years. While it is cost prohibitive for many to go out and track them down, Rittenhouse Archives has brought them to the trading card market through its latest Marvel Comics-themed collection.
Released to hobby stores on July 22, comic and card enthusiasts will be able to relive the first 100 issues of The Avengers that began back in 1963 and Rittenhouse has even meticulously cut out panels and embedded them into trading cards at a 1:12 rate, making for a truly unique collectible. Throw in favorites such as sketch cards and this potentially becomes one of this year's hottest non-sports issues.
What else can collectors expect in packs of 2015 Rittenhouse Marvel Avengers Silver Age?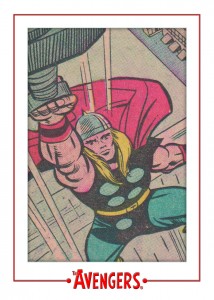 With a 100-card base set that covers the formation and early adventures of Earth's mightiest heroes, new fans are given a history lesson and there are parallels that come in both Silver (numbered to 100, 1:box) and Gold (numbered to 10, 1:case). Putting this product's insert sets together will certainly be a challenge worthy of a hobby hero with 41 different Tales of Suspense (1:12 packs), 17 Avenger Roll Call (1:24), and 12 Classic Villains (1:24) to track down.
Sketch cards are found at reasonable odds and artists who put their pens down to cardboard here include Israel Arteaga, Newton Barbosa, Adam Cline, Eman, Joshua Flower, Dave Fox, Mike Lilly, Rhiannon Owens, Tony Perna, Cezar Razek, and Kevin West. Rittenhouse customers ordering multiple cases will also receive additional incentives. Those purchasing six case will receive either an Anthony Tan or Melike Acar sketch card while those choosing to take the route of a nine-case investment will get a Warren Martineck Cover Recreation sketch card. Doubling that purchase to 18 cases will result in an Archive Box loaded up with plenty of strong content as their incentive.
Stephen Laroche is the editor of Beckett Hockey and a contributor to other Beckett Media publications. Have a comment, question or idea? Send an e-mail to him at slaroche@beckett.com. Follow him on Twitter @Stephen_Laroche.