First Look: Rittenhouse Marvel: Agents of S.H.I.E.L.D. Season One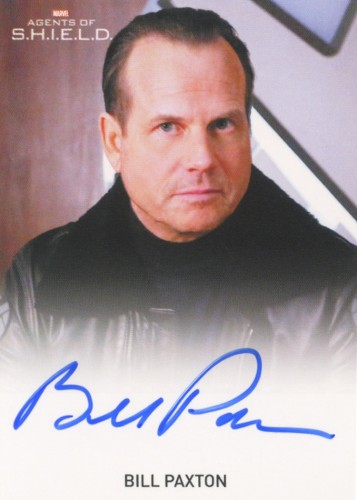 By Stephen Laroche | Beckett Media
One of last season's most-anticipated television shows, Marvel: Agents of S.H.I.E.L.D. took fans of the Marvel Cinematic Universe beyond what they saw at the movies and tied in its stories seamlessly to other comic book-themed projects. Now, Rittenhouse Archives has attempted to recapture the magic of this series on cardboard for fans with a look back the the program's early episodes.
Packing at least one Autograph and one Relic in each box, Rittenhouse Marvel: Agents of S.H.I.E.L.D. Season One hits store shelves next week and is expected to deliver strong value to collectors in addtion to carrying on the strong tradition of trading card sets based off Marvel's movies.
What can be found in boxes of Rittenhouse Marvel Agents of S.H.I.E.L.D. Season One? Find out after the jump.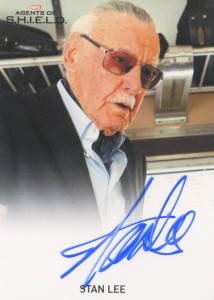 As expected, the 72-card base set will cover all episodes from the first season and the backs provide a quick synopsis of each one from when Agent Coulson (Clark Gregg) builds his team and they end up discovering the secret backer behind Project Centipede. Every box will contain one Gold parallel card as well, which is limited to just 100 copies.
Each collection of non-memorabilia inserts are seeded once in each box and Rittenhouse has drawn on some intriguing themes. The easiest ones to put together are the S.H.I.E.L.D. Agent ID Badges and the Art of Level 7 sets that have six cards each and the latter features work from seven different artists. Many of the cool gadgets from the show like the Thunderstick and Gravitonium are depicted in the nine-card S.H.I.E.L.D. Tech set and the final set of this kind is Allegiance, which examines the loyalties of 18 different characters.
Rittenhouse also brings pieces of screen-worn costumes home for fans with the Relics collection. Falling once per box, there are 19 different cards available with multiple pieces created for Coulson, Agent Grant Ward and Agent Jasper Sitwell.
Inserted at a 1:18 ratio, Autographs will be a major draw due the fact that Rittenhouse has noted that they will all be produced in Limited (300 to 500 copies), Very Limited (200 to 300) or Extremely Limited (200 or less) amounts. In addition to Gregg, the most prominent signers include Cobie Smulders (Maria Hill with silver signature), Ming-Na Wen (Melinda May), Bill Paxton (John Garrett) and Patton Oswalt (Eric Koenig).
Like many of the company's releases, there is also a special binder that is available which will contain an exclusive promo card to help complete the collection. A diffrent promotional card is also presently available through their website at www.scifihobby.com/samples.cfm.
Collectors looking to purchase one or more cases of Marvel: Agents of S.H.I.E.L.D. will have plenty of incentive to do so since Rittenhouse has created some special cards for them. There are two different types of case toppers which bear either a S.H.I.E.L.D. or Hydra logo, but those who have ordered six or nine cards will receive autographs of either Stan Lee as the Debonair Gentleman or Smulders as Maria Hill, respectively. Finally, for those who have purchased a whopping 18 cases, the incentive will be an Archive Box which contains alternate versions of Paxton's Autograph card along with other exclusive items.
Stephen Laroche is the editor of Beckett Hockey and a contributor to other Beckett Media publications. Have a comment, question or idea? Send an e-mail to him at slaroche@beckett.com. Follow him on Twitter @Stephen_Laroche.