First Look: Rittenhouse Game Of Thrones: Season 4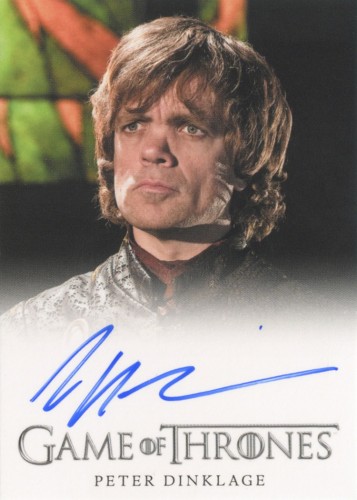 By Stephen Laroche | Beckett Media
One of the most successful non-sports trading card franchises in recent years is based off of HBO's phenomenally popular Game of Thrones and while fans of the show are enjoying new episodes, they can also sit and bust packs of Rittenhouse Archives Game of Thrones: Season 4 once it hits card store shelves on May 13.
Once again, collectors will be able to obtain two autographs inside each hobby box and the lineup includes stars such as Peter Dinklage (Tyrion Lannister), Kit Harrington (Jon Snow), Lena Headey (Queen Cersei Lannister) and Sean Bean (Ned Stark).
What else can be found inside boxes?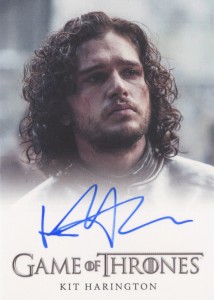 As expected, there is a 100-card base set that will allow collectors to catch up on all 10 episodes from the fourth season. Rittenhouse has noted that these cards will also have biographies for more than 60 different characters as well. A regular parallel card appears once in every three packs and a Gold version drops once per 24-pack box.
The insert program for this release begins with nine Quotable cards (one in 12 packs) that look back on some of the best lines from last season along with a 20-card Valar Morghulis (otherwise known as All Men Must Die) collection that is seeded at the 1:24 rate. The action continues with a set of art cards dubbed Beautiful Death (1:24) which have a scarcer Gold edition (1:144).
Rittenhouse has also added some longer odds hits which are sure to generate some excitement among collectors. There will be six different Game of Thrones Shield/Pin cards that are expected to be a tough pull.
"The Shield/Pin cards contain full size pins of the sigils of the more important Houses (e.g. Lannister, Stark, Baratheon) within Game of Thrones," said Rittenhouse Archives President Steve Charendoff. "Each Shield/Pin has quite a bit of thickness to it, as they are embedded into each card.  Each of the six Shield/Pin cards are sequentially numbered to 300."
Sketch cards will be another major hit within this product and the one-of-one artistic treasures combine with the Shield/Pin cards to come once in every 144 packs. The roster of artists that worked on this project includes Adam Cleveland, Roy Cover, David Desbois, Mick and Matt Glebe, Dan Gorman, Charles Hall, Gavin Hunt, Seth Ismart, Mike James, Achilleas Kokkinakis, Rich Kunz, Tirso Llaneta, Warren Martineck, Eric McConnell, Rich Molinelli, Mary Jane Pajaron, Sean Pence, Jason Saldajeno, Richard Salvucci, Tim Shay, and Helga Wojik.
Game of Thrones fans will also appreciate the special incentives that Rittenhouse provides to those that break multiple cases. While a single case has an embossed Raven poster card, those breaking six cases will get a Gold Autograph of Jack Gleeson (King Joffrey) while a nine-case buster will receive a Gold Autograph of Harrington. However, those going for a whopping 18 cases will be rewarded with the Game of Thrones: Season 4 Archive Box which is the only place to find the exclusive Hand of the King pin card that is limited to just 100 copies.
Finally, Game of Thrones completists can store their set in a customized collector's album for the release that includes a promo card only available in this manner.
Stephen Laroche is the editor of Beckett Hockey and a contributor to other Beckett Media publications. Have a comment, question or idea? Send an e-mail to him at slaroche@beckett.com. Follow him on Twitter @Stephen_Laroche.