FIRST LOOK: 2011 Totally Certified Football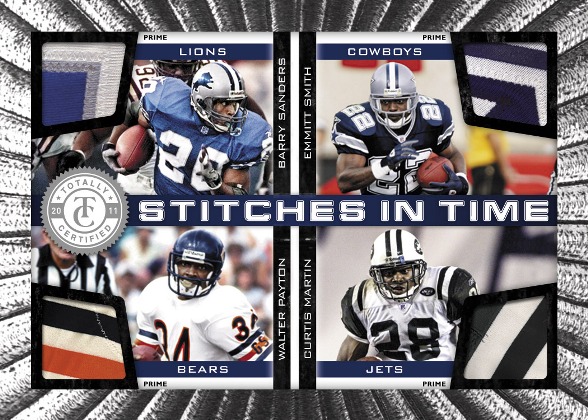 By Susan Lulgjuraj | Contributing Editor
Video cards are coming to football.
Panini America is bringing HRX video trading cards to 2011 Totally Certified Football, which is due out in January.
Panini began the video card experiment with basketball and will be doing a number of similar promotions with it. Just like the basketball cards, the HRX video cards will feature exclusive videos, autographed versions and 1/1 gold autographed versions.
Totally Certified will have 236 cards in the set: 100 base cards, 50 Immortals, 50 Freshman Phenoms and 36 Freshman Fabric rookies with on-card autographs.
One box will deliver six packs with one Freshman Fabric card numbered to 499 or less, an additional autograph (/299) and four memorabilia cards.
There are at least five subsets that should appeal to collectors.
Stitches in Time highlights four players with four memorabilia pieces. These cards are numbered to 249 with a Prime parallel numbered to 49.
Immortals feature 50 of the greatest players to step on the gridiron – all autographed.
Totally Certified Future Materials takes advantage of the 2011 NFL Players Rookie Premiere by using jerseys worn by the players who attended the event.
Pieces of the Game is a 75-card game-worn jersey set.
In addition, Heritage Collection is a game-worn jersey set showcasing 64 retired players.
Totally Certified seems to rely heavily on game-worn jerseys, but there are still some autographs to be had – and, of course, video cards.
Susan Lulgjuraj is a contributing editor for Beckett Media. You can email Susan here. Follow her on Twitter here.