2015 New York Comic Con Funko Exclusives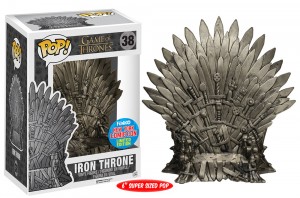 By Matt Bible | Beckett Non-Sports and Gaming Analyst | Commentary
New York City Comic Con will take place October 8 – 11 and Funko will once again be there to release an entire new line of exclusives for collectors and dealers to enjoy.
Take a peak inside to see what wonderful surprises await the Pop! Vinyl world with a full look at all the 2015 New York Comic Con Funko exclusives…
This week, Funko announced the four waves of exclusives they will be releasing at NYCC. These waves contained a hodgepodge of anything and everything that is Funko: Pop! Vinyls, ReAction figures, Hikari, Dorbz, Vinyl Idolz, and Pop! Tees.
Every item comes with an scheduled print run (except for the Tees) and include some of most notable franchises, such as Star Wars, Marvel, TMNT, Universal Monsters, and The Walking Dead.
Each wave is listed below along with a glam shot of the products included. For those attending NYCC, you can pick up any of these exclusive items at Funko's booth #722.
2015 New York Comic Con Funko Exclusives
WAVE ONE
WAVE TWO
WAVE THREE
WAVE FOUR
Fugitive Toys will also be getting into the game at NYCC by releasing their own Funko exclusives. Their booth is #410. Don't miss out on these, as well.
The following are the exclusives that Toy Tokyo will be selling at their booth (#101)
Stan Lee Collectibles will also have a booth at NYCC and they have announced the inclusion of a limited edition solid gold variant of the Stan Lee superhero Pop Vinyl. Booth number is #2708.
BONUS EXCLUSIVE
Funko has also announced a last minute exclusive Pop! Vinyl that collectors can pick up: The Iron Throne from Game of Thrones. Now, collectors can choose which Pop! Vinyl will rule their Vinyl kingdom. Hopefully, it doesn't end in a bloodbath.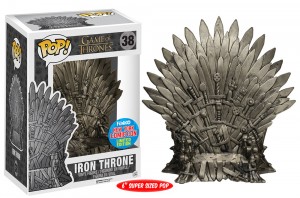 UPDATE: The following NYCC Funko pieces will be available on Thursday, October 8 at the retail outlets listed below:
Hot Topic
Jack with Vampire Teddy
Iron Throne
Barnes & Noble
Deadpool with Red Chimi Truck
Flocked Cookie Monster
TMNT Black & White Dorbz
GameStop
God of War Poseidon's Rage Kratos
Fallout Unmasked Power Armor
Beckett Media also provides checklists and pricing information for many Funko products. Make sure to check out our online figurine price guide, Beckett Sports Card Monthly, Beckett Card Gamer and the new Beckett Non-Sports Almanac 1st Edition for all your Funko pricing needs.
Matt Bible is the non-sports and gaming analyst for Beckett Media. Have a comment, question or idea? Send an email to him at mbible@beckett.com.