First look: In the Game's Forever Rivals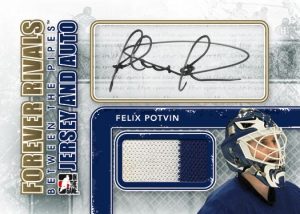 By Susan Lulgjuraj | Contributing Editor
One of the greatest rivalries in sports takes place on the ice between the Montreal Canadiens and the Toronto Maple Leafs.
About 350 miles separate these NHL franchises, but sometimes even that doesn't seem like enough. In the Game is celebrating this storied rivalry with a new set scheduled for October – Forever Rivals.
The 100-card base set will feature some of the best current and past players from both teams such as Howie Morenz, Ace Bailey, Carey Price and Dion Phaneuf.
"In The Game has gone to great lengths to produce the first full-out tribute to this long-running battle for the undying loyalty of hockey fans and it will be loaded with some of the most appealing cards the company has produced to date," the company said in a release.
Forever Rivals will include an assortment on memorabilia and non-memorabilia cards.
The non-memorabilia inserts include:
・ Double Agents (Guys who have played for both teams such as Darcy Tucker, Doug Gilmour, Dick Duff and Lorne Chabot),
・ Playoffs Matchup (Eight dual player cards),
・ Rivalry (Seven cards with quotes about the rivalry),
・ Immortals (A highlight of some of the greatest players such as Georges Vezina, Aurel Joliat, Joe Primeau and Busher Jackson)
・ Great Moments in the history of the rivalry
・ Net Rivals (Dual player cards featuring goalies who have faced each other during the rivalry)
While a breakdown of the product has not been released yet, here are some of the hits collectors can expect to get in a box.
There will be game-used cards as well as patch versions. Goalies will get their own subset with Between the Pipes, which will have pieces of memorabilia from different parts of the goalies ensemble. Postseason Battles pair up players featuring swatches from their jerseys.
Forever Rival Autographs will feature players from the history of the teams dating back to 1930. The autograph set is extensive with more than 120 autographs in the product.
Montreal fans will get a chance to get the last on-card autographs of Hall of Gamer Butch Bouchard, who died in April.
To add a little spice to the rivalry, the autograph cards can't look the same. Each Montreal player signed their autographs in red ink while the Toronto players signed in blue.
In addition, autographed memorabilia cards are available with Between the Pipes, Game-Used jersey autographed cards and Trophy Winners.
We'll release more information as it becomes available. In the mean time, check out the gallery below.
Susan Lulgjuraj is a contributing editor for Beckett Media. You can email Susan here. Follow her on Twitter here.