First look: In The Game's Enforcers II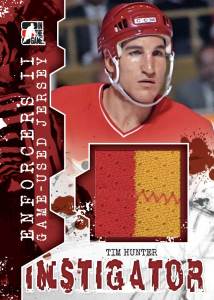 By Susan Lulgjuraj | Beckett Hockey Editor
Remember the backlash In The Game received after Enforcers came out in 2011?
That's not stopping the company from putting out a sequel. The cards will include faux blood splatter once again, which is one of the reasons critics were against it a few years ago. They saw it as promoting violence.
Two years has passed, and it's time for another set.
Each box of Enforcers II will have 12 cards with four autographs, three game-used memorabilia and five base cards. Enforcers II is scheduled for an early-October release.
"Armed with a great amount of collectors' input, we went out to sign the tough guys that collectors wanted in the product," Dr. Brian Price wrote on ITG's blog.
Players in the set include Steve Carlson, Jeff Carlson, Dave Hanson, Tim Hunter, Mick Vukota, Gordie Howe, Ted LIndsay, Ronnie Stern, Darren Langdon, Chris Simon, Dennis Bonvie, Lyndon Byers and more.
The autographs will feature single, dual and triple signature cards. Many of the cards will highlight great fights putting these guys on the same card.
Game-Used subsets from the first edition of Enforcers will be used again such as Instigators, Combatants, Fight Straps and Tough Franchise. Pugilistic Puck Stoppers is new to Enforcers II highlighting goalies who have been known to thrown down including Patrick Roy, Felix Potvin and Ron Hextall.
In addition, In The Game is adding Dual Tough Patches with a jumbo patch on each side of the card.
The base set will include 90 cards with subsets such as Goalie Battles, 3000 PIM Club, League Leaders, Tag Teams, Tale of the Tape and Bloody Battles.
Susan Lulgjuraj is an editor at Beckett Media. You can email her here with questions, comments or ideas. Follow her on Twitter here. Follow Beckett Media on Facebook and Twitter.