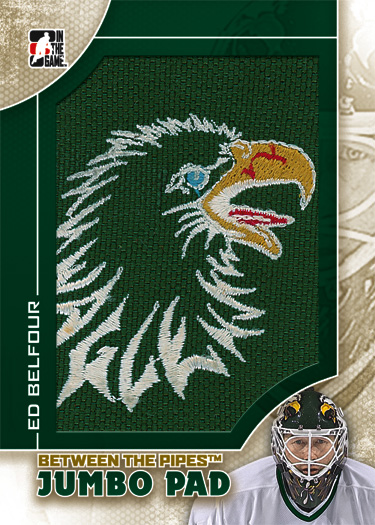 By Susan Lulgjuraj | Beckett Hockey Editor
He Shoots, He Saves!
Collectors know that moniker from In The Game's Between the Pipes products.
The next incarnation comes out April 17 with at least four hits in every box. The set dedicated to hockey goalies will come with 18 packs and nine cards in each pack.
The 2013-14 Between the Pipes base set will consist of 150 players with three subsets: Stars of the Game, CHL Prospect and Greats of the Game.
There will be at least four hits in every box based on the odds given. Hits include Authentic Game-Used Memorabilia Cards (1 in 7 packs) and Goaliegraphs (autographs, 1:7). Game-Used Memorabilia hits include players such as Chris Osgood, Ron Hextall, Ed Belfour, Mike Richter and Patrick Roy, based on an early checklist.
Masked Men inserts are back with at least three in every box. Three non-memorabilia inserts will also be included.
The He Shoots, He Saves program returns and collectors only need 150 points for redemption.
Susan Lulgjuraj is an editor at Beckett Media. You can email her here with questions, comments or ideas. Follow her on Twitter here. Follow Beckett Media on Facebook and Twitter.