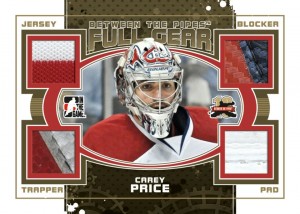 By Susan Lulgjuraj | Contributing Editor
In The Game is having a party where all hockey collectors are invited.
The company is celebrating the 10-year anniversary of Between the Pipes, a product featuring the best goalies in the history of the game.
"This collection has always featured many of the best goaltenders around and it has evolved over time," ITG said in a release. "It was a landmark for hobbyists as it was the first stand-alone product that was devoted to protectors of the crease and had a great mix of autographs and game-used memorabilia as well."
Between the Pipes debuted for the 2001-02 season, but took a year off in 2004-05 when the NHL was in a lockout. It came back the next season on a limited basis and after that returned in full force.
The 10th anniversary issue will have 200 base cards with eight different subsets: Future Star, Stars of the Game, Decades, Stars and Stripes, La Belle Province, Expansion Tandems, International Pioneers and One-Game Wonders.
In the Game feels this set one of its best products yet, which is scheduled to come out on May 3.
There are also special 10th Anniversary cards that will fall at one in every eight packs.
Each box of 2011-12 Between the Pipes will have 18 packs and nine cards in each pack.
Autograph cards will fall at one in every eight packs on average while memorabilia cards fall at the same rate as well. Fans can find autographs from more than 100 subjects, including a number of future stars and current stars such as Henrik Lundqvist, Roberto Luongo and Niklas Backstrom. Past stars include Dominik Hasek, Bernie Parent, Mike Richter and Patrick Roy.
Some of the memorabilia used in the set include jumbo stick pieces, patches, pads and gloves.
ITG is also putting a twist on its He Shoot-He Scores redemption program.
"This season, we have produced the points cards in the form of nine-piece puzzles which can be assembled into a larger photo of some of hockey's greatest netminders," ITG said. "Save up 200 points to redeem them for a special memorabilia card or put them in sheets to enjoy!"
Susan Lulgjuraj is a contributing editor for Beckett Media. You can email Susan here. Follow her on Twitter here.