First Look: The Hobbit: The Desolation of Smaug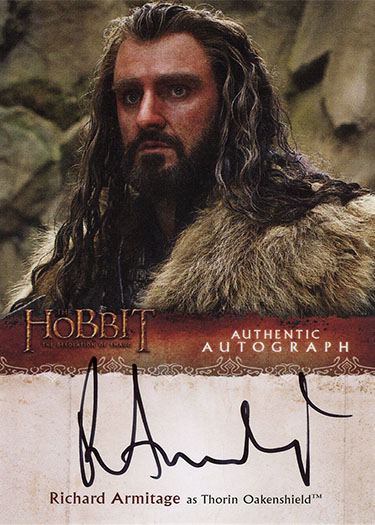 By Stephen Laroche | Beckett Media
The second installment of Peter Jackson's three-part film adaptation of the J. R. R. Tolkien classic, The Hobbit, was a box office smash back in 2013 and Cryptozoic is bringing all of its adventure and excitement to trading card collectors on May 13.
Coming out nearly a year after the previous card set, Cryptozoic The Hobbit: The Desolation of Smaug offers up a strong assortment of inserts, autographs and one-of-a-kind pieces of art to go along with a base set that relives all of the action of the movie.
Read on after the jump for an extensive gallery of cards that can be found in packs.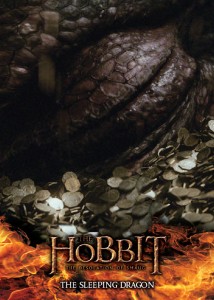 While Cryptozoic has not released odds for the insert sets that can be found inside boxes, they do have compelling themes such as Character Biographies, Smaug, Lake-town, Triptych Collage, and Movie Posters. The latter will be 3-D lenticular cards that are sure to catch one's eye once they pop out of packs.
The biggest draw for this product, of course, is the strong selection of Autograph cards featuring the stars of the film. Included are actors such as Richard Armitage (Thorin Oakenshield), Stephen Fry (Master of Lake-town), and Martin Freeman (Bilbo Baggins). Look for a special signed card featuring Second Unit Director Andy Serkis, who fans of the series will recall portrayed Gollum in the previous films.
An equally intriguing aspect to this release is the presence of Fine Art cards which were created by a strong group of artists. The roster of talent that gave their unique perspective on this film includes Rich Kunz, Joe Corroney, Keven and Nathen Reinki, Ashleigh Popplewell, Carolyn Edwards, Ian Yoshio Roberts, Seth Ismart, Rich Molinelli, Kris Penix, Ted Dastick, Jr., Daniel P. Gorman, Fer Galicia, Mike James, and Ingrid Hardy.
Also available to hobbyists is a full-color limited edition binder that features the principal cast members. It is the only place to find an exclusive lenticular card which will complete the collection.
Stephen Laroche is the editor of Beckett Hockey and a contributor to other Beckett Media publications. Have a comment, question or idea? Send an e-mail to him at slaroche@beckett.com. Follow him on Twitter @Stephen_Laroche.