First Look: Cryptozoic Sons of Anarchy Seasons 4 & 5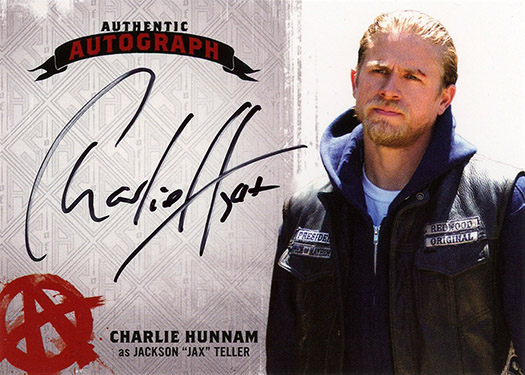 By Stephen Laroche | Beckett Media
While the phenomenally popular Sons of Anarchy series drew to a close a few months ago, fans and collectors have been celebrating the show's first three seasons through a series of trading cards which was a strong hit for Cryptozoic last year.
All of the action and intrigue of the two chaotic and mayhem-filled seasons that followed can be relived starting on April 29 with the release of Cryptozoic Sons of Anarchy Seasons 4 & 5 and each 24-pack box is loaded up with plenty of hits.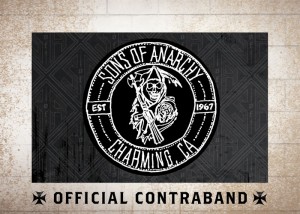 In addition to 72 base set cards covering the complete storyline from both seasons, there is also a chase set element to this release. Found at one in four packs respectively, collectors can hunt for both Character Bios and Gallery cards to build a complete set.
Autographs are one of this products major draws and the roster of actors that chose to sign is quite impressive. In addition to core talents like Charlie Hunnam (Jackson "Jax" Teller), Ron Perlman (Clarence "Clay" Morrow) and Katey Sagal (Gemma Teller Morrow), fans of the show will also be able to get some ink from recurring and guest stars such as Tom Arnold (Georgie Caruso), Drea de Matteo (Wendy Case) and Ashley Tisdale (Emma Jean). There are also Wardrobe cards and Temporary Tattoos that are seeded once in each box as well.
Perhaps the biggest hits, however, are the Replica Patches (one in 192), Printing Plates (1:336) and the hand-drawn Sketch cards (1:672). Cryptozoic has also issued a binder for this collection and it will come with an exclusive metal card to complete the collection.
Stephen Laroche is the editor of Beckett Hockey and a contributor to other Beckett Media publications. Have a comment, question or idea? Send an e-mail to him at slaroche@beckett.com. Follow him on Twitter @Stephen_Laroche.