2015 Topps WWE Undisputed Wrestling Cards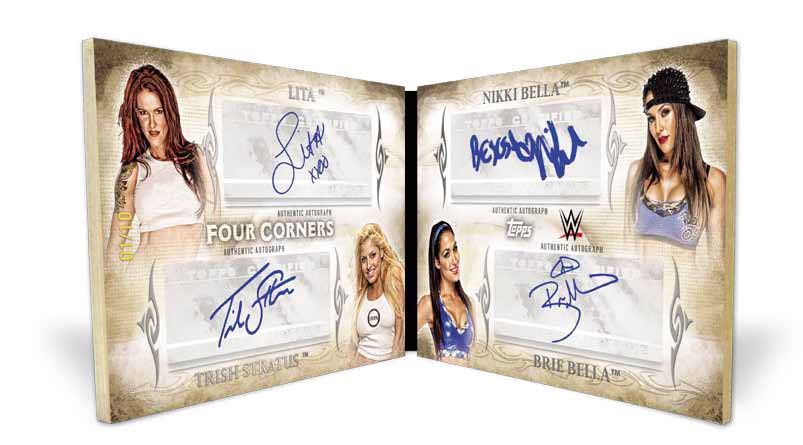 By Chris Olds
World Wrestling Entertainment cards have officially gone high-end. 2015 Topps WWE Undisputed is a hit-based product that packs ten hits — seven autographs and three autographed Relics — per box. Because the product is so different from past Topps WWE products, there's no shortage of firsts.
Each pack contains three base cards, one parallel and one auto or auto Relic. Cases have eight boxes.
See the full 2015 Topps WWE Undisputed checklist and price guide
The autograph lineup will include stars from the past and present as well as WWE Divas and future stars from NXT. There are three parallels for every autographed card with 1/1 Golds as well as Purple (/25) and Black (/50) cards to chase. The NXT cards will be branded NXT In Line.
More than 30 past and present stars signed for the main Undisputed Autographs. Current stars include Brock Lesnar, Roman Reigns, Dean Ambrose, Daniel Bryan, John Cena and Bray Wyatt. Nikki and Brie Bella, Trish Stratus, Lita and Eve Torres represent a couple of eras of Divas. Hall of Famers and retired stars on the autograph checklist include Shawn Michael, Bret Hart, Razor Ramon and Bruno Sammartino.
A pair of celebrities are also among the signers, Pete Rose and football Hall of Famer Lawrence Taylor. Both have been part of past Wrestlemanias. For Rose, this is his first pack-inserted autograph card.
A familiar creation from UFC sets will be found here — Fistographs — where a wrestler's fist print are found alongside their auto on an oversized card limited to only 10 copies. There also will be Undisputed Cut autos — 1/1 creations — and two types of advanced autos. One will be Famous Rivalries Duals — cards limited to 25 pairing rivals — and the other will be Four Corners Quadragraph booklets. These are limited to only ten copies.
Autographed Relics are made for present-day stars with parallels that are the same as the standard autos. An even larger creation for fans is Famous Rivalries dual auto jumbo Relic books — cards limited to only five copies that have oversized swatches alongside autos.
The base set consists of 100 cards — a mix of past and present stars — with six parallels per card. They are Red, Black (/99), Purple (/50), Silver (/25) and 1/1 Gold and printing plates. Among the insert cards are NXT Prospects, Cage Evolution Moments — a set highlighting the steel cage — and Famous Finishers. Each has the same six parallels as the base set.
Contact Chris Olds on Twitter @chrisolds2009.