First Look: 2015 Topps Triple Threads baseball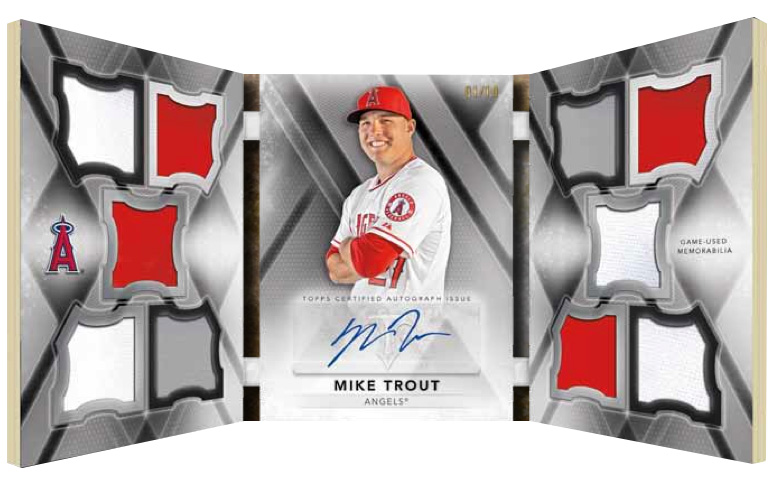 By Chris Olds | Beckett Baseball Editor
The 10th edition of Triple Threads might have more in store than ever — and some cards do.
Topps revealed the first glimpses at 2015 Topps Triple Threads on Monday and it includes four "Deca" sets that include 10 swatches among multiple-panel booklets as a nod to this being the 10th edition of the long-running memorabilia-loaded brand.
It will arrive on Sept. 16 with the familiar two-pack box format and, like in past years, there will be two types of packs. Version 1 will include three base cards, two parallels, a Triple Relic and a Unity auto Relic. Pack Version 2 will include three base, two parallels, one signed Triple Relic and a Unity Relic.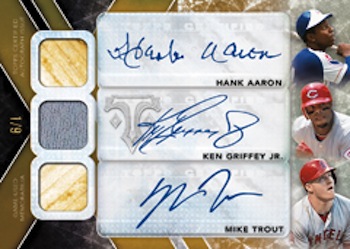 Each 18-box case, which is split into two mini cases, will include a 1/1 auto Relic and an Triple Auto Triple Relic limited to no more than 36 copies.
The base set will consist of 100 cards of players from the past and present — each with seven parallels as well as printing plates. They are Amethyst (/325), Emerald (/250), Amber (/125), Gold (/99), Onyx (/50), Sapphire (/25) and 1/1 Ruby cards.
The Deca cards will showcase a single player on a triple book with 10 swatches on the card. There will be standard and auto versions to be found. Each also will have a Gold (/5) and a 1/1 Ruby version to chase.
Also new will be Deca Auto Relic Combos and Deca Threads Relic Combos. These cards will include 10 players with 10 autos and 10 Relics per card for the signed ones or just 10 Relics per card depending on type. Each of these will, too, have the Gold (/5) and 1/1 Ruby versions.
For the auto triple Relics, there are seven options for collectors, ranging from the standard to the more deluxe. There will be Rookies and Future Phenoms auto Relics where more than 50 young stars will have auto cards limited to only 99 copies. These will have Sepia (/75), Emerald (/50), Black (/35 with silver-ink autos) and 1/1 Ruby, Wood and printing plate versions to chase. More than 65 players will be featured on more than 200 cards in the auto Relic checklist with the most-plentiful version limited to only 18 copies. Then there will be Gold (/9), Sapphire (/3) and 1/1 Ruby, Wood and printing plate versions. Auto Relic Combos will include three players' autos and Relics per card and will be limited to 36 with the rainbow including Sepia (/27), Emerald (/18), Gold (/9), Sapphire and 1/1 Ruby, Wood and plates to be found.
The more-advanced Triple Relic autos include Letter Plus autos — books with three pieces, one being a full letter — Cut Above cut autos, Cut Above dual autos (two players, six pieces and two cuts) and Jumbo Plus auto Relics. Those book cards have a jumbo Relic instead of a letter. All are 1/1s except for the Letter Plus and Jumbo Plus, which are limited to three. They will have 1/1 Ruby parallels, though.
For Relic fans, there are 10 types of Triple Relics to chase. The standard ones will have more than 150 cards with those numbers to 36. They will have Sepia (/27), Emerald (/18), Gold (/9), Sapphire (/3) and 1/1 Ruby and printing plate versions. The Legends lineup — just 20 players — will have the same rainbow minus plates, while Relic Combos will combine three players onto one card with the same volume and array.
The more-advanced Triple Relic Relics will include Bat Nameplate booklets (1/1s), Jumbo Plus Relics (/3 with a 1/1 Ruby parallel),  Letter Plus Relics (same), Bat Knobs (1/1s) and Jumbo Letter/Number/Logo cards that are also 1/1 cards. Jumbo Patch Combos will be booklets showcasing jumbo pieces for three players.
New for this one will be Triple Thr3Ds cards that bring a three-dimensional element to the brand with lenticular technology introduced to Relics for the first time in Triple Threads.
For the fans of the MLB All-Star Game, there is a selection of six familiar sets showcasing pieces from the Midsummer Classic — All-Star Patches (/9 with 1/1 Ruby), Jumbo Sleeve Patches (1/1), Jumbo Sleeve Team Patches (1/1), MLB Logo Patch (1/1) and Laundry Tag (1/1). These will all utilize pieces from players All-Star workout jerseys.
Last but not least, the Jumbo Relic lineup includes Unity Single Jumbo Relics — more than 200 cards with standard versions limited to 36 with Sepia (/27), Emerald (/18), Gold (/9), Sapphire (/3) and 1/1 Ruby versions, while auto versions will be limited to 99 with Sepia (/75), Emerald (/50), Gold (/25), Sapphire (/10) and 1/1 Ruby versions, too.
A preliminary checklist was not released.
Chris Olds is the editor of Beckett Baseball and Beckett Sports Card Monthly magazines. Have a comment, question or idea? Send an email to him at colds@beckett.com. Follow him on Twitter by clicking here.