First look: 2015 Topps Tier One baseball cards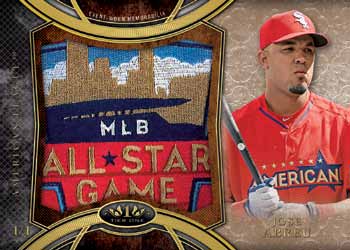 By Chris Olds | Beckett Baseball Editor
Tier One is back for another high-end run.
Topps revealed the first glimpses and basic details for 2015 Topps Tier One on Wednesday, a high-end brand that returns for a fifth season in the lineup from the longest-running MLB card manufacturer.
It will pack two autographs and a Relic in every box — and every fourth pack will have a pair of Relics. The standard autographs in this hit-based brand will be from New Guard (one per pack), Tier One (one per case), Acclaimed autos, Clear Ones, Duals or Triple auto sets when it arrives on May 20, while there also will be autographed Relics in the mix, too.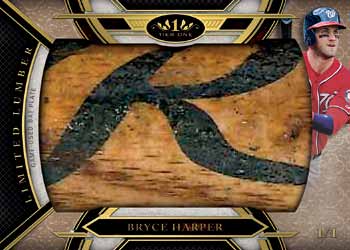 A portion of this product's print run will be packaged and sold in Japan, the company said, continuing its efforts to get MLB cards into the hands of international collectors more easily.
The Tier One autos in the product will be limited to no more than 99 copies per card and be signed in blue ink. That checklist will include the elite players from the past and present. New Guard autos will have upcoming stars and be limited to just 399 copies also signed in blue ink. Acclaimed autos will be limited to 299 and feature popular names from the past and present signing in blue ink. Why does ink color matter? All autographs will have parallels — Red ink limited to 25, Silvers limited to 10 and Golds being 1/1 creations.
A preliminary checklist was not released for the product, but among the players scheduled to sign for this one are Willie Mays, Nolan Ryan, Mariano Rivera, Roger Clemens, Johnny Bench, Yu Darvish, Cal Ripken Jr., Reggie Jackson, Mike Schmidt, Miguel Cabrera, Mike Trout, Clayton Kershaw, Frank Thomas, Ken Griffey Jr. and Hank Aaron to name a few.
Also in the lineup are Clear One autos — multi-layer acetate creations limited to 25 — Duals limited to 25 and Triples limited to 10. Also to be found will be 25 1/1 cut autos of vintage players.
On the autographed Relic front, there will be 25 signed Tier One Relics with those cards limited to 99 copies. These cards showcasing past and present players will have Dual Patch parallels limited to 25 and 1/1 Triple Patch parallels, too. Dual auto Relics will pair past and present players with autos and Relics in book form. They will be limited to 10 copies.
For the higher-end hit-seeker there will be Prodigious Patch autos where 25 players from the past and present are showcased on a jumbo card limited to only 10. These will have Platinum parallels limited to just five copies per card. There also will be Cut Signature Relics for 10 players, each 1/1 creations.
The big hit here in past years has been the bat knob in Tier One and there will be 25 1/1 knob autos to be found, while there also will be more than 100 unsigned knob cards to chase — all also 1/1s — too.
On the Relic front, there will be Tier One Relics limited to no more than 399 copies showing past and present players. There also will be Dual and Triple parallels there limited to 50 and 25 respectively. Legends Relics will showcase 20 retired greats with those limited to 99 with Dual and Triple parallels limited to 25 and five copies.
Prodigious Patches will show off jumbo Relics and be limited to 10, while Tier One 1/1 All-Star Relics will do the same but with pieces from players' 2014 MLB All-Star Game workout jerseys. In addition, 100 1/1 Limited Lumber cards will be found with notable bat pieces showcased inside the card.
Chris Olds is the editor of Beckett Baseball and Beckett Sports Card Monthly magazines. Have a comment, question or idea? Send an email to him at colds@beckett.com. Follow him on Twitter by clicking here.
—
Loading ...
—