2015 Topps Chrome Mini Football Details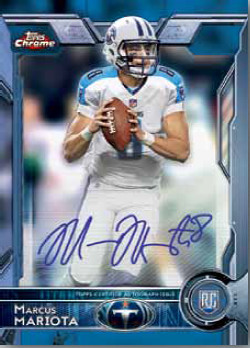 By Stephen Laroche | Beckett Media
Football collectors are bidding a fond farewell to Topps this season, but that does not mean that the company is holding back by any stretch a special edition of their ever-popular Chrome product — 2015 Topps Mini Chrome Football.
The company is looking to end the brand's run in the most spectacular way possible by providing hobbyists with a strong mix of rookies, retro variations, autographs, and a vast array of parallels in every box.
What is slated to be found in packs? Find out after the jump.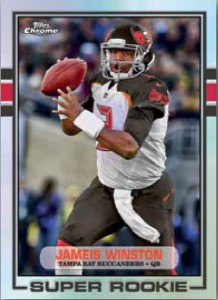 Each pack of 2015 Topps Chrome Mini Football contains four cards and there are 24 packs per box. The 200-card base set is evenly split between veterans and rookies, but there is just one rookie card per pack. As many as 25 freshmen and up to 30 established stars have image variations that also have one-of-one Superfractors to go along with Autograph versions.
Speaking of parallels, Topps is taking them to an extreme level in this release as the base set has 14 different versions to collect. The toughest, of course, is the one-of-one Superfractors and Printing Plates (in four different colors), but the Diamond hot boxes contain one Diamond Refractor per pack. Regular Refractors are seeded three times per box and there rea versions with different-colored borders coming in Blue (1:6 boxes), Green (1:3 boxes), Black (#'d to 15), Gold (#'d to 10), Red (#'d to 5), and Purple (1:case) editions. The action continues with Pulsar (1:box), Sepia-tone (1:12 packs), STS-Bordered (numbered) and BCA-Bordered (#'d to 25) Refractors. Collecting each type from such a wide selection is a massive challenge for even the most savvy of player collectors, so the competition for some cards may be stiff — especially as time goes on.
There is a strong assortment of autographs from stars and rookies to be found in Chrome Mini, too. The Rookie Autographs are all about 2015's big prospects and they have nine different parallels that are numbered and limited to as low as just a single copy for the Superfractors. Many of these freshmen will also appear on the classic 1976 Topps and 1989 Topps designs as well in both a regular insert set (1:24 respectively and an Autograph version. Both types have Pulsar Refractors and Superfractors, but the 1989 set also gets a Gold Bordered Refractor that will be numbered to 50.
As part of their regular insert program, Topps has dug deep into their vault for their most iconic football card designs for the Topps 60th Anniversary collection, which feature many high profile names. Some of the players also put their signatures on these cards, which are sure to generate some excitement. The action closes out with the Super Bowl 50 die-cut cards that mix active stars and the biggest legends and are found once per box.
2015 Topps Mini Chrome Football at a glance:
Packs per box: 24
Cards per pack: 4
Boxes per case: 12
Set size: 200 cards
Release date: December 18, 2015
What to expect in a hobby box:
Autographs – 1
1976 Topps Football Inserts – 1
Super Bowl 50 Die-Cut Inserts – 1
60th Anniversary Inserts – 2
Pulsar Refractor Parallels – 1
Sepia Refractors – 2
Refractors – 3
Stephen Laroche is the editor of Beckett Hockey and a contributor to other Beckett Media publications. Have a comment, question or idea? Send an e-mail to him at slaroche@beckett.com. Follow him on Twitter @Stephen_Laroche.