First Look: 2015 Topps Apex Soccer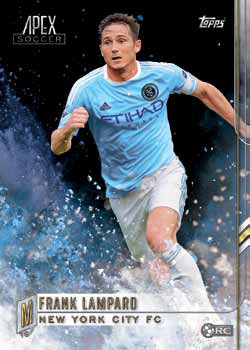 By Stephen Laroche | Beckett Media
Topps is looking to take its Major League Soccer products to a new level this year and with the release of 2015 Topps Apex Soccer, their first high-end venture into the world's most popular sport.
Scheduled for an August release, collectors will find many of the biggest MLS names inside each box, which contains two mini boxes that are expected to yield one autograph card each. Those that break a master box will also be guaranteed one sequentially numbered Crest Jumbo Relic or a Dual Relic.
What else can fans expect from 2015 Topps Apex Soccer? Find out after the jump.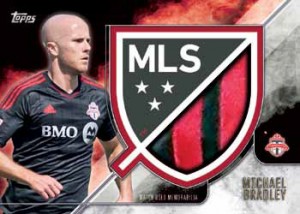 Star power is going to make the 100-card Apex base set a potential hobby favorite and there will be first MLS cards of Mix Diskerud, Sebastian Giovinco, Frank Lampard and David Villa. There will also be short prints that are produced in limited quantities and will depict players that were not included in the base set. Apex is also going to deliver a strong selection of non-memorabilia inserts with Captains and the dual-player Alliances. Both the base and non-memorabilia insert cards will have sequentially parallel Gold, Orange, Red (numbered to 5), and Black (one-of-one) versions. It should be noted that the Orange parallels are only going to be found in hobby packaging and the base set will also have Printing Plates to track down.
Autographs are going to be a big part of Apex and there will be two in every hobby box. Most of these cards will be Base Autographs that parallel the regular set and they also have limited parallel versions will be produced in the same manner as the non-memorabilia inserts. Expect to find some multi-player content as well with Now And Then Dual Autographs that put an iconic player from yesteryear with a current star along with Dual Autographs that pair players based on a specific theme.
Topps has created some compelling relic cards for this release and each hobby box is set to yield one Crest Jumbo Relic which has a swatch that is shaped like the new MLS crest. Naturally, this set will have several parallels, including Gold and Orange (numbered to 25) plus premium versions like Red Patch (numbered to five with a multi-colored patch piece), Black Adidas (one-of-one with the Adidas logo from the depicted player's match worn shirt), and Printing Plates (one-of-one with a prime patch). Dual Relics will thematically pair MLS players and have jumbo swatches. This set is going to have extremely limited versions as well, including Red (numbered to 5), plus one-of-one Black and Printing Plate parallels.
Finally, Match Day Die-Cut Autograph Relics round out the memorabilia and autograph hits and they will give fans a jumbo piece of a match-used soccer ball along with an autograph from an MLS player. Falling once per case, they have the potential to be a big hit on the secondary market and have Red and Black parallels produced in similar quantities as other memorabilia collections in this release.
Stephen Laroche is the editor of Beckett Hockey and a contributor to other Beckett Media publications. Have a comment, question or idea? Send an e-mail to him at SLaroche@beckett.com. Follow him on Twitter @Stephen_Laroche.