First Look: 2015 Topps Allen & Ginter baseball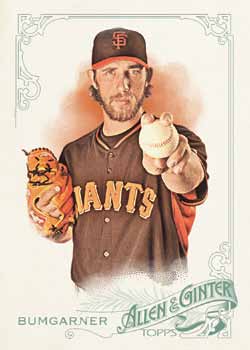 By Chris Olds | Beckett Baseball Editor
Topps' run with Allen & Ginter baseball cards turns 10 this season and the company isn't holding much back when it comes to the unusual inclusions that have made the brand a staple.
The company's first reveal of 2015 Topps Allen & Ginter on Friday includes buyback autographs from past Ginter releases, a new helping of autographs from past Ginter signers and even a 10th anniversary parallel.
Each 24-pack hobby box will include a mix of three autographs, Relics, cut autos, buybacks or Rip Cards per box with the rips falling one per case when it arrives on July 22.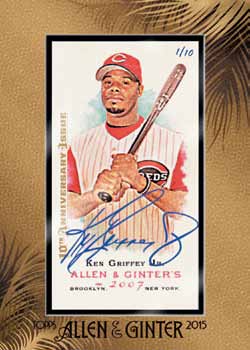 The model for this one hasn't changed. The standard set will be 300 cards capped by 50 short-prints found one in every other pack. The mini parallel lineup will include standard, A&G, black-border, no-number (limited to 50), an A&G Flag back (/25), Wood (1/1) and printing plate (1/1) versions to chase. The red-bordered mini packs will once again be found one per case. There will be a 10th anniversary base card parallel where each card is limited to only 10 copies.
This year, the metal parallels return this time with serial-numbering to just three copies, while cloth cards are back and also limited to 10.
Buyback mini cards from Ginter in 2006, 2007 and 2008 will be included in packs with a 10th anniversary logo stamp and be found one per hobby box. Full-size buybacks will be found two per box. Buyback autos will be found with frames and then also previous autographed cards will be issued as buybacks as well. (One is an original card signed and framed. The other is a framed card with an added stamp.) Also to be found will be 100 A&G buybacks of original cards from the 1800s.
On the autograph front, only a handful of players were teased by Topps. There will be a lineup of baseball signers and non-baseball signers along with Red versions limited to 10 and 1/1 cut autographs to be found, too.
Rip Cards are back with five possible inclusions inside — original art pieces, Red autos (/10), mini exclusives, mini Woods (1/1) and metal minis (/3). Double Rip Cards also return with cards only found inside of them as well as possible Red buyback autos that are stamped with a 10th anniversary logo. Also to be found are Mini Rip cards with a smaller mini mini inside or a redemption for a full set of framed Relics.
The Relic lineup this year will include three types of Relics — a mix of framed and standard Relics that will not be found at the same time in the same box. Relic booklet autos will be limited to only 10 copies and have an autograph as well as a memorabilia piece for the player, while some will have two players' autos.
For standard-sized inserts, there will be Starting Points (player debuts), Ancient Armory (weapons), Menagerie of the Mind (mythological creatures), What Once Would Be (past visions of the future), What Once Was Believed (past concepts) and Great Scott! (discoveries).
For mini inserts, there will be six types of cards to be found (seeded one in every five packs). They are First Ladies (presidents' wives), Hoist the Black Flag (pirates), Birds of Prey, Mythological Menaces, World Beneath Our Feet (bugs) and a set of Magnates, Barons and Tycoons.
Ginter has had a healthy lineup of box-toppers in the last decade and this year's version will include nine different versions. Among them are Pride of the People (monuments), Reprints (base cards of 10 players), Cabinet Relics (game-used jerseys), Cabinet Book Relics (two jumbo pieces) and a lineup of new box-loader player cards that includes Relics (/25), autos (/15), auto Relics (/5) and even 1/1 cut autographs.
A preliminary checklist was not released.
—
Loading ...
—
Chris Olds is the editor of Beckett Baseball and Beckett Sports Card Monthly magazines. Have a comment, question or idea? Send an email to him at colds@beckett.com. Follow him on Twitter by clicking here.