First Look: 2015 Super Break Box Breakers Edition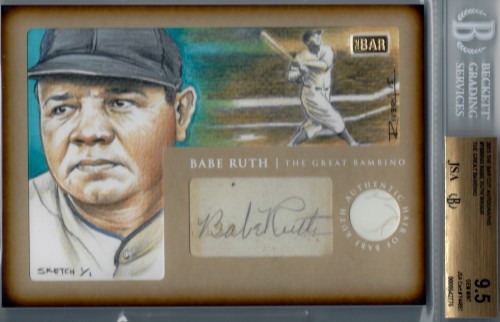 By Stephen Laroche | Beckett Media
One of the most wonderful things about collecting trading cards, autographs and memorabilia are those rare moments when a collector uncovers an incredible jaw-dropping treasure.
With next week's release of 2015 Super Break Box Breakers Edition, the thrill and chase for some of the hobby's most coveted items can be found in one place as there will be at least 10 premium items in each box, including "The Bar" – a one-of-one piece of original artwork coupled with rare signatures which have been graded, slabbed and secured by Beckett Grading Services and James Spence Authentication.
Only 120 total boxes are available to the hobby and Super Break has confirmed that nearly 90 of them will contain one of these remarkable pieces. Each one features a genuine Gold Bar logo on the front and a picture of the actual autograph item is found on the reverse side. Additionally, the precious metal or gem content is listed on the back along with biographical information about the depicted historical figure. Some pieces will have multiple subjects as well.
What else can die-hard collectors expect to find in these boxes? Find out after the jump.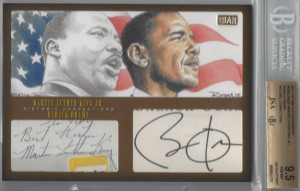 Trading card enthusiasts will be pleased to see a strong selection of high-end content in this product and the potential pulls could include autographs from some of the biggest sporting names from the past and present. Some cards will be professionally graded and may be rookie cards, one-of-ones, patches, or even booklets.
There is also plenty of high-end memorabilia which can include certified pieces such as jerseys, bats, balls (single and team-signed), fight robes, gloves, cleats and more. Those busting boxes that prefer paper goods will also have some strong autographed items to find which can potentially be cuts, photos, books, checks, and even presidential letters. Among the listed subjects are Buffalo Bill Cody, Orville Wright, Walt Disney, Teddy Roosevelt, Thomas Edison, Honus Wagner, Albert Einstein and many more.
Super Break will be posting a list of what can potentially be pulled from these boxes prior to it going on sale next week. With a suggested retail price of $7,250, not every collector will be able to enjoy this release, but those that do are bound to find plenty of premium collectible pieces inside.
Stephen Laroche is the editor of Beckett Hockey and a contributor to other Beckett Media publications. Have a comment, question or idea? Send an e-mail to him at slaroche@beckett.com. Follow him on Twitter @Stephen_Laroche.