First Look: 2015 Rittenhouse James Bond Archives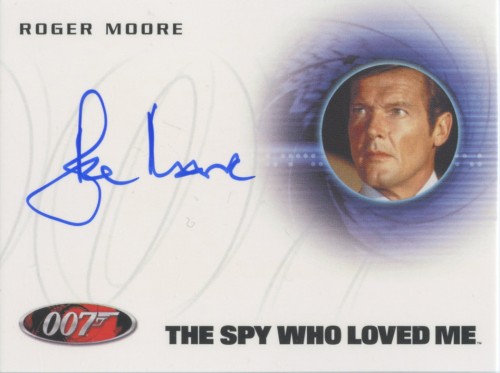 By Stephen Laroche | Beckett Media
Rittenhouse Archives has been the home of trading cards based on the long-running series of James Bond films in recent years and the world's greatest spy will be returning for another cardboard retrospective next month with 2015 Rittenhouse James Bond Archives.
Featuring a look back at several different Bond adventures from different eras, this product will be loaded up with two autograph cards per box and the lineup of signers is rather impressive. In addition to former leading men Roger Moore and George Lazenby, collectors could also potentially pull autographed cards of such notables as Christopher Lee (The Man With The Golden Gun), Teri Hatcher (Tomorrow Never Dies) and Dolph Lundgren (A View To A Kill).
What Bond films are covered in this release? Find out after the jump.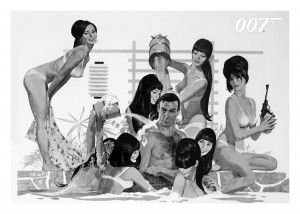 Drawing from several recent and classic Bond films, 2015 Rittenhouse James Bond Archives has a basic 90-card base set that retells Quantum of Solace (2008) and it has a gold parallel that is seeded once per box. Three other films are covered in this release with throwback sets which fall once in every six packs, respectively. You Only Live Twice (1967) is made up of 78 cards, while The Spy Who Loved Me (1977) gets a 93-card treatment. Finally, 1995's GoldenEye is a 102-card effort which looks back on the first Bond film that saw Pierce Brosnan in the title role. It will also have a gold parallel (1:24) and the previously-release Skyfall set gets a small 14-card expansion that is inserted at the same ratio.
In addition to offering a custom-designed album specifically for this product that contains one bonus promo card, Rittenhouse will also reward those who break this product in greater quantities. Each case will contain a preview card for Spectre, the next Bond film that is slated for a November release, but those purchasing multiple cases will receives special autograph cards. A Silver Signature Series card of Britt Ekland is available at the six-case level, while nine cases will get you a Skyfall autograph and relic card of Daniel Craig. Those getting 18 cards will receive the James Bond Archives – 2015 Edition Archive Box which includes a Lazenby Silver Signature Series card.
Stephen Laroche is the editor of Beckett Hockey and a contributor to other Beckett Media publications. Have a comment, question or idea? Send an e-mail to him at slaroche@beckett.com. Follow him on Twitter @Stephen_Laroche.