First Look: 2015 Panini Clear Vision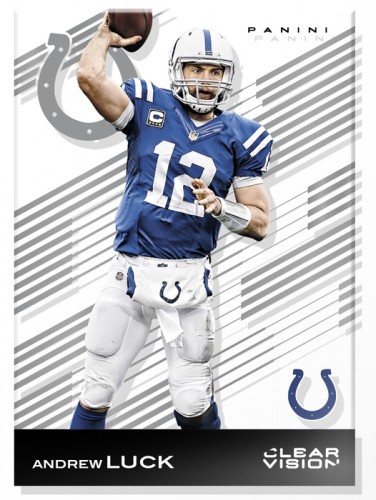 By Stephen Laroche | Beckett Media
An all-new football release, 2015 Panini Clear Vision is all about the acetate and Panini America is going to make some waves in the hobby since it will include the first rookie cards of this year's freshman class where they are pictured with their pro clubs.
Each three-card pack is expected to deliver one hit that draws from a large pool of rookie, parallel, insert, memorabilia or autograph cards in addition to the debuting glass cards which could be a major hit with collectors once it is released on July 29. It is definitely something that the football card market could embrace as it has some fresh concepts and plenty of ink from big names.
What else is in store for those breaking 2015 Panini Clear Vision? Find out after the jump.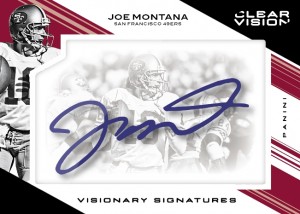 Today's biggest NFL stars are going to make up this product's all-acetate base set and it will have several scarce parallel versions. Blue (numbered to 99) will be the most common, but the scarcity increasing dramatically with the Red (numbered to 25), Gold (numbered to 10), Green (numbered to 5), and Purple (one-of-one) editions. While the specifics for the rookie content in Clear Vision have not been shared at this time, the odds are good that their parallels will be produced in similar quantities and the rookie cards themselves fall two per box. Additionally, there will be photo variations for veteran (1:inner case) and rookie (4:inner) players that will add to the chase.
The presence of a strong non-memorabilia insert program will not only have strong designs, but they also combine to fall almost once per box. Among the announced concepts were Clarity and Stained Glass cards in addition to Team Vision, which features four players and has a tough one-of-one parallel.
Panini has noted that this product will feature the first NFL shield cards for rookie players and a nine-box inner case of 2015 Panini Clear Vision will contain six memorabilia cards that are numbered to 99 or less plus two prime, tag, or patch cards. Clear Cloth Jerseys and Clear Vision Jumbo Jerseys will both bring collectors large pieces of memorabilia and the latter will be limited to 99 copies or less.
There is also one hard-signed card per inner case and every one of them has a maximum of 50 copies available. Panini has stated that it has focused on the hobby's most collectible names for this release and there will be at least two types to collect in Clear Vision Signatures and Visionary Signatures.
Stephen Laroche is the editor of Beckett Hockey and a contributor to other Beckett Media publications. Have a comment, question or idea? Send an e-mail to him at slaroche@beckett.com. Follow him on Twitter @Stephen_Laroche.