First Look: 2015 Leaf Metal Draft Footballl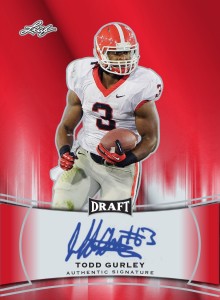 By David Lee | Beckett Football Editor
One of the early 2015 draft picks products, Leaf Metal Draft returns with the top prospects in next month's draft. Each hobby box includes four autographed cards. The product focuses heavily on the draft's top quarterbacks, running backs and receivers. Inserts feature several parallel levels numbered to as low as one.
State Pride Autographs features a flag design of the state in which the featured player played college ball. Touchdown Kings Autographs has a crown-shaped die-cut design and features some of the top touchdown scorers in the 2015 rookie class. More info and images after the jump.
Award Winner Autographs is full of college football's top players who took home individual awards in 2014. Flashback Autographs has the design from the 2014 Leaf Metal set, showing what the featured player's cards would have looked like had they entered the 2014 NFL Draft. Armed & Dangerous features the draft's elite quarterbacks.
Leaf Metal Draft is scheduled to release at the end of March.