First Look: 2015 Leaf Memorabilia Vault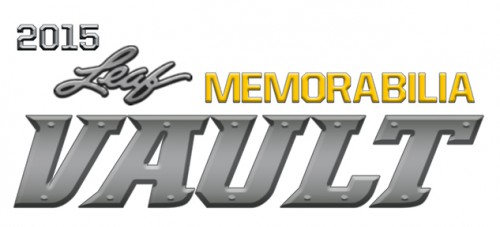 By Stephen Laroche | Beckett Media
Repacked memorabilia products have been growing in popularity as of late and Leaf Trading Cards is about to get in on the action with 2015 Leaf Memorabilia Vault.
Loaded up with a strong and broad selection of memorabilia from a variety of genres, there will be 10 items inside each box and it has a suggested retail price of $1,250. Releasing in August, some of the pulls could include actual worn wardrobe pieces from movies and televisions shows, signed jerseys and even autographed trading cards.
What other types of items can be found in 2015 Leaf Memorabilia Vault? Find out after the jump.
According to the product information sheet for this release, collectors breaking boxes could potentially find signed sports memorabilia such as footballs, football helmets, mini helmets, baseballs and bats. Also included in the mix of autographed pieces are signed government documents and letters, movie posters, guitars and pick guards, record albums and even books. There will also be signed photos of varying sizes, PSA slabbed cut signatures and index cards, and more.
Stephen Laroche is the editor of Beckett Hockey and a contributor to other Beckett Media publications. Have a comment, question or idea? Send an e-mail to him at slaroche@beckett.com. Follow him on Twitter @Stephen_Laroche.