2015 Panini Immaculate Collection Football Cards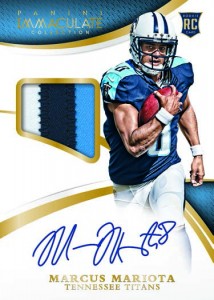 By David Lee
Editor | Beckett Football
The winner for Best Design in the Beckett Football Best of 2014 Awards returns with an unmistakable high-end look. 2015 Immaculate Collection Football promises to bring more on-card autographs, large patches and intriguing themes.
Rookie Patches Autographs look to be the base set Rookie Cards. These are vertical cards with the player image on the right and the patch on the left. These are numbered to 99 with an Acetate-stock parallel numbered to the player's jersey number.
Immaculate Logos promises to deliver a huge logo patch. From the look of the card rendering, it takes up the majority of the card. Immaculate Duals and Trios combing two or three teammates or top stars.
2015 Panini Immaculate Collection Football checklist and price guide access
Signature Moves looks like an interesting theme that pictures players performing a move they are known for, such as Dez Bryant making the X with his arms after a touchdown. Maybe we'll see Peyton Manning calling 19 audibles or the Aaron Rodgers "Discount Double-Check."
Premium Patches Rookie Autographs offer a big jersey patch with the signature on the lower-right portion of the card. These are horizontal cards with a bigger patch than the Rookie Patches Autographs. Immaculate Laces aren't the little pieces of shoe lace we've seen in the past. These are huge cuts of cleats and laces from rookie-worn cleats during the Rookie Premiere.
Immaculate Draft is an autographed set with each card numbered to the featured player's draft spot. These also include veterans. Immaculate Dual NFL Shields pairs two players with an NFL Shield patch. Immaculate MVPs is an extremely exclusive autograph set featuring only NFL MVPs and numbered to the amount of times each player won the MVP award.
2015 Immaculate Collection Football comes in six-card packs, with five of those cards being an autograph or memorabilia card.
2015 Panini Immaculate Collection Football at a glance:
Packs per box: 1
Cards per pack: 6
Boxes per case: 6
Set size: 100 cards
Release date: November 25, 2015
What to expect in a hobby box:
Autographs or Memorabilia Cards – 5