2015 Bowman's Best baseball card details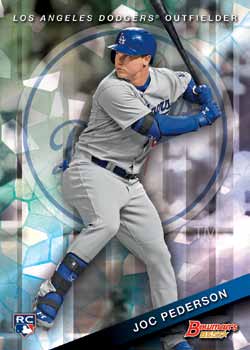 By Chris Olds
The formula for 2015 Bowman's Best is similar to Finest with two six-pack mini boxes per box with every pack including four base cards and a parallel while every box will contain four autographed cards.
The brand has been on the shelf since 2007. It was introduced in 1994 and was a hobby mainstay for years before taking a break in 2006 and then returning for a one-and-done campaign as an autograph-driven product eight years ago. The brand was also one that Topps used in football, basketball and hockey through the years.
Printed featuring Chrome with a mix of on-card and sticker autographs, 2015 Bowman's Best Baseball includes Atomic Refractors as well as Thematics cards that are, according to Topps, inspired by the Bowman's Best sets of the 1990s.
The 100-card base set has a mix of veterans and rookies. There's also a 50-card Top Prospects portion to the release. Each card has at least seven parallels — Atomic (one per box), Green, Gold, Orange (/25), Red (/5) and 1/1 Superfractor and printing plates to chase.
Falling one per eight-box case are Atomic Hi-Def Heritage cards where a modern-day nod to the 1955 Bowman set is found. In addition to those, there are four other types of parallels — Orange (/25), Red (/5), autographs (/TBD) and 1/1 Supers. Also found in the insert card lineup are Mirror Image (a nod to 1995) and First Impressions cards that highlight players from this year's draft. Those have Atomic, Orange, Red, autograph, Supers and autographed Superfractors.
For the autograph collectors there is a mix of present and future players all with six parallels — Green (/TBD), Atomic (/TBD), Orange (/25), Red (/5) and 1/1 Supers and plates. In addition to those, there are 1995 Bowman's Best autos where the memorable striped design is re-created with today's players. These will have Orange (/25), Red (/5) and 1/1 Supers.
2015 Bowman's Best Baseball at a glance:
Packs per box: 12
Cards per pack: 5
Boxes per case: 8
Set size: 100 cards
Release date: December 23, 2015
What to expect in a hobby box:
Autographs – 4
Atomic Refractor Parallels – 1
Chris Olds can be found on Twitter by clicking here.