First Look: 2015 Bowman Inception baseball cards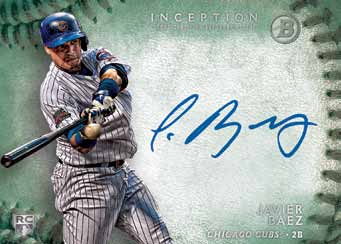 By Chris Olds | Beckett Baseball Editor
One box, five hits — that's the Bowman Inception model for this year.
Topps revealed the first glimpses and basic product information for 2015 Bowman Inception on Friday, the third installment of the hit-driven brand that will arrive on July 8.
Each pack will include four on-card autographs and one autographed Relic — a mix of rookies and prospects. There also will be one Bowman Inception auto — an "Inceptioned" version of the player's 2015 Bowman card — per eight-box case. Those will be found with new parallels this year — Orange (/25), Red (/5) and 1/1 Black versions.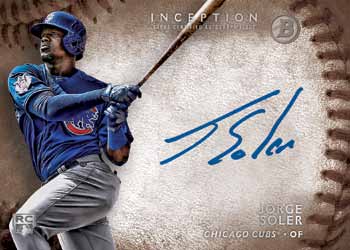 New this year will be Origins autos of rookies, prospects and veterans signing on-card. These will be limited to 25 copies with Red (/5) and 1/1 Black parallels. The Bowman Black autos will continue for another year with those numbered to 25 with a Red parallel limited to five.
The standard cards of prospects and rookies will have five parallels per card — Green, Gold, Orange (/25), Red (/5) and 1/1 Blacks.
The Autographed Relic lineup will include top prospects and rookies with Green, Gold, Orange (/25), Red (/5) and 1/1 Blacks. Signed jumbo patch cards will have Reds limited to only five and 1/1 Black cards as well. Also in the mix will be Logoman autos (1/1s) and Letter Book Cards that have a full letter patch from a jersey. Those will be limited to only two copies per player.
Also to be found in this one will be autographed Relics showcasing players from the Futures Game. The Future Stars Auto Relics will have pieces from the game and be 1/1 creations, while they also will have 1/1 laundry tag parallels. Also to be found will be Quad Auto Relic Books limited to just 10.
Production quantities for parallels not mentioned were not yet finalized, but the cards were not serial-numbered. A preliminary checklist was not released.
Chris Olds is the editor of Beckett Baseball and Beckett Sports Card Monthly magazines. Have a comment, question or idea? Send an email to him at colds@beckett.com. Follow him on Twitter by clicking here.